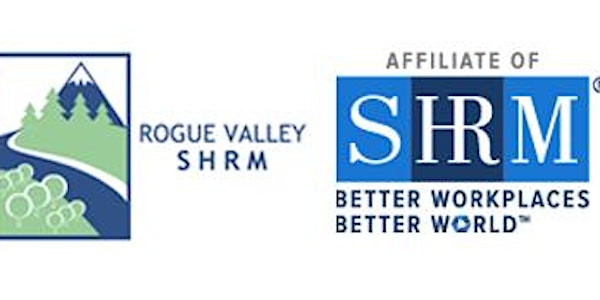 Throw Away Your Traditional Evaluations
Toss those traditional evals everyone hates and learn new, meaningful ways to connect with your staff!
Refund Policy
Contact the organizer to request a refund.
Eventbrite's fee is nonrefundable.
About this event
Throw Out Your Employee Evaluations:
Develop an Impactful Performance Management System
Program Description:
A performance management system cultivates discussions about goals, performance and development. Yet, a staggering 95% of managers are dissatisfied with their organization's performance management system and only 3% of employers believe that their performance management system delivers "exception value". So why in the world do we keep using the same complicated and confusing employee evaluation and performance systems?
It is time to throw out the old and create a new Performance Management System.
An effective system isn't just about that pesky once a year evaluation meeting to discuss things no one really remembers to justify a pay increase. An effective performance management system is about connecting, coaching and developing employees to not only achieve but exceed organizational goals and mission. It is about a continuous process of gathering information and providing feedback. The metrics used to measure performance are based on specific goals that are set in collaboration with managers, supervisors and employees.
An effective performance management system empowers employees to take ownership in setting performance priorities that play a larger role in the achieving of the company's strategic objectives. This includes breaking down goals into achievable objectives or milestones specific to the employee.
Here is what you will learn:
The real purpose of a Performance Management System (it's not about justifying raises)
What Employees need to perform at high levels.
Actionable steps to improve performance, including continuous feedback and stay interviews.
How to stop stressing out your supervisors and employees and create conversations that improve engagement, performance and retention.
About the Presenter:
Tonya Sowles, CEO and founder of Sowles Consulting brings the experience and knowledge from more than 20 years of business management to small businesses. Tonya is a Senior Certified Professional through the Society for Human Resource Management and a Speak to Inspire Method™ Certified Speaker and Facilitator. She earned her Bachelor's Degree in Human Resource Management and Master's Degree in Business Administration.
Her company's mission is to help people and businesses transform their dreams to goals and goals to success. Tonya utilizes her passion for Human Resources to help businesses create and maintain an engaged and loyal workforce.
She's managed a multi-million dollar small business, spearheaded cutting edge processes that transformed an archaic and outdated system into streamlined and efficient digital operations. Tonya has also extensive experience leading training classes and speaking on stages on the topics of professionalism, systems, customer service, employee engagement.
She's a powerful resource to small businesses to maximize their people, productivity and profitability to transform their dreams to success.