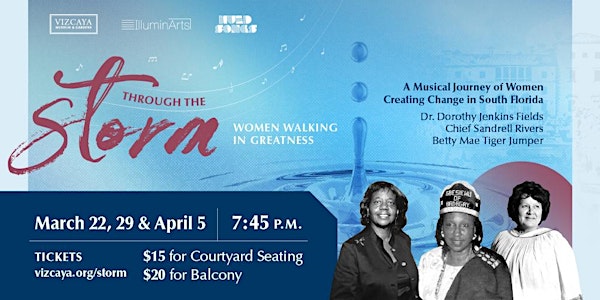 Multiple dates
Through the Storm: Women Walking in Greatness
Music performances honoring women creating change in South Florida
By Vizcaya Museum and Gardens
Date and time
March 22 · 6:30pm - April 5 · 8:30pm EDT
Location
Vizcaya Museum and Gardens 3251 S Miami Ave Miami, FL 33129
Refund Policy
Refunds up to 7 days before event
Eventbrite's fee is nonrefundable.
About this event
Hued Songs, IlluminArts and Vizcaya are thrilled to present a three-part series of musical performances amplifying the historic contributions of three influential women. Dorothy Jenkins Fields, Sandrell Rivers and Betty Mae Tiger Jumper's work has impacted and transformed Miami and South Florida, creating change for their, and future, generations. The musical performances will illuminate the intersections among the women's lives as well as their inspirational achievements and contributions. The programs will feature sopranos Brittany Graham and The Jas Sound, and mezzo-soprano Elise Quagliata
This is a series of three plays/musical performances. Each concert will focus on a different influential woman.
March 22 will highlight Dr. Dorothy Jenkins Fields, Founder of The Black Archives
March 29 will focus on Betty Mae Tiger Jumper, the first Chairwoman of the Seminole Tribe of Florida
April 5 will highlight Chief Sandrell Rivers, a Miami arts advocate.
March 22: Dr. Dorothy Jenkins Fields - Biography adapted from The History Makers
Archivist Dr. Dorothy Jenkins Fields was born in Miami in 1942 and grew up in the African American neighborhood of Overtown, formerly known as Colored Town. In 1960, Fields graduated from Booker T. Washington High School and enrolled at Spelman College in Atlanta, Georgia, as an art major. After graduation, Fields worked as a school librarian, reading teacher and educational specialist for Miami-Dade County Public Schools for 40 years. In 1974, Fields, in preparation for the nation's bicentennial, began a search for information from which curriculum materials could be developed on the black experience in South Florida. Fields was unable to find any information about South Florida's black history in any school or public library. From this experience Fields established The Black Archives, History and Research Foundation, a photographic repository containing the legacies of Miami's black community. She initially began collecting oral histories from older African American residents living in the communities of Overtown and the Brown Subdivision. From her efforts, the city of Miami later designated the community of Overtown as a National Trust "Main Street" community. Overtown is officially named the Historic Overtown Folklife Village. Fields is also responsible for the successful restoration of the landmark Lyric Theater located in Overtown. Renowned artists such as Nat King Cole, Marion Anderson, Etta Moten Barnett once performed at this theater.
March 29: Betty Mae Tiger Jumper - Biography adapted from Florida Memory
Betty Mae Tiger Jumper grew up at the Hollywood Reservation north of Miami, and at a young age recognized the value of a good education. She was not allowed to attend schools in South Florida because of racial segregation, so at the age of 14 she moved to North Carolina to attend Cherokee Indian Boarding School. When she graduated in 1945, Jumper was one of the first two Seminole Indians to earn a high school diploma. Jumper then enrolled at the Kiowa Teaching Hospital in Oklahoma, eventually earning a certificate in nursing and field training. She returned to Florida and worked as a nurse, first at Jackson Memorial Hospital, and then as a traveling nurse providing healthcare services to the Seminole community. In 1967, Jumper was elected the first chairwoman of the Seminole Tribe. She focused on improving the financial situation of the tribe and providing better educational opportunities and healthcare to Seminole youth. She was appointed to the National Council on Indian Opportunity in 1970 by President Richard Nixon. After her term as chairwoman ended in 1971, she became editor of the Seminole Tribune newspaper and director of the Seminole Communications Department.
April 5: Chief Sandrell Rivers - Biography adapted from an obituary on All About Jazz
Miami arts advocate Chief Sandrell Rivers was born in Miami in 1947 and grew up in a large, loving family in Overtown and Brownsville. After graduating from Miami Northwestern Senior High in 1965, Rivers earned degrees in Speech, Theater and Communications at Tennessee State University, where she then taught speech and drama courses, directed plays and supervised production and administration. She moved on to teaching positions at Alabama State University, Cleo Johnson School of the Arts, and Kennedy King College in Chicago, and eventually returned home to positions at the University of Miami and Miami-Dade Community College. In 1981, Rivers began working for Miami-Dade County and made her way from the Budget office, through the County Managers office and finally settled into a position with Parks & Recreation. There she rose to area-wide arts supervisor and strove to bring arts programming into every park countywide. A world traveler, Rivers was dedicated in the quest to reconnect African-Americans and the African Diaspora with the Motherland, volunteering for many organizations, coalitions, task forces, business and trade organizations. In 2004, she was bestowed the title of traditional African Chief by King Akran of Badagry, in Lagos State, Nigeria, in recognition of her outstanding community leadership and service.
Frequently asked questions
Is each performance different?
Are there concessions available?
About the organizer
Vizcaya Museum and Gardens is a National Historic Landmark that preserves the Miami estate of agricultural industrialist James Deering to engage our community and its visitors in learning through the arts, history and the environment. Built between 1914 and 1922, Vizcaya is one of the most intact remaining examples from this era in United States history, when the nation's most successful entrepreneurs built estates inspired by the stately homes of Europe. Vizcaya features a Main House filled with a decorative art collection, 10 acres of formal gardens, a rockland hammock (native forest), mangrove shore, and a historic village that is being restored to tell Vizcaya's full story and provide additional spaces for programs and community outreach, including those on agriculture. Vizcaya has been a community hub since it opened to the public in 1953; it currently welcomes about 300,000 visitors annually.
Located on Biscayne Bay at 3251 South Miami Avenue, Vizcaya is open Wednesday through Monday from 9:30 a.m. to 4:30 p.m. Closed Tuesdays, Thanksgiving Day and Christmas Day. For more information, visit www.vizcaya.org, connect via social media, or call 305-250-9133.