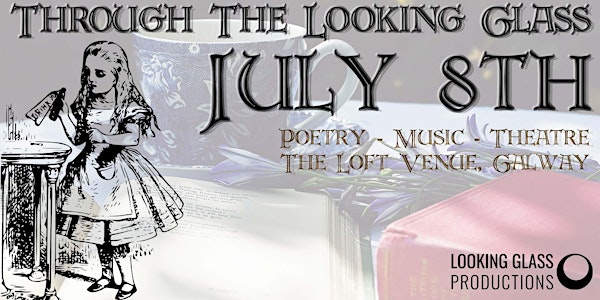 Through The Looking Glass
Location
The Loft Venue
2 Bridge Street
H91 HHN1 Galway
Ireland
An Alice an Wonderland themed night of original music poetry and theatre
About this event
Galway needs something other than its usual. Looking glass productions aims to bring people together through the medium of poetry, music and theatre. All of the best things in this world. We aim to provide a night full of wonder, curiosity and magic - a celebration of mid-summer and a celebration of art, culture, music and everything in between.
The event is hosted by Galway native and current host of the Roisin Dubh Open mic, Blindmicjay
_______
Kicking off with a poetry open mic where for 1 hour, the stage will be available to any budding poets or spoken word artists who wish to express themselves in a safe and welcoming space.
________
The night will then take an unusual twist with a theatrical piece from Aleksandra Alex Aca Demše - actress, dancer, puppeteer and storyteller currently living in Galway City.
________
Local singer-songwriter Cathy Shannon will open the stage for music and serenade us with her beautiful Dido-esque style. A treat for the ears.
Musical legends Undercover Martians will rock the house down soon after with a powerhouse set of original indie-punk tunes.
The night will end with up-and-coming band Bríd Kenny & The Noise, known for their catalogue of folk-rock and ambient indie songs.
________
Please get involved with the festivities and dress up in your best Alice in Wonderland attire.
If any artists based in Galway would like to get involved with this project in any way please email us at lookingglassproductionsgalway@gmail.com