Knowing how to think empowers you far beyond those who know only what to think.
About this Event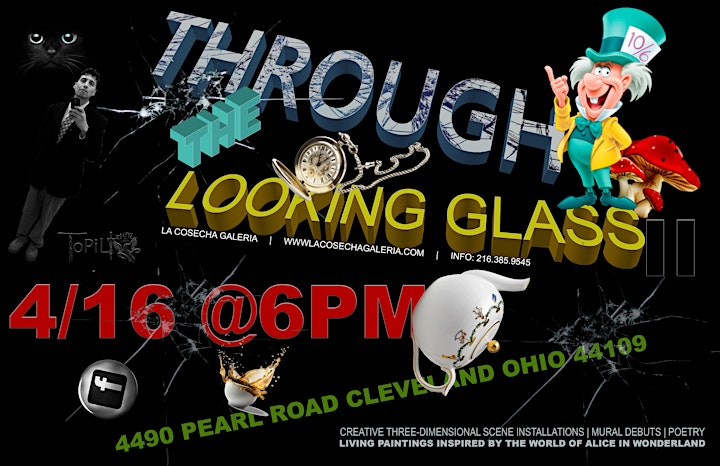 "If I had a world of my own, everything would be nonsense. Nothing would be what it is, because everything would be what it isn't. And contrary wise, what is, it wouldn't be. And what it wouldn't be, it would. You see?"
Info:
La Cosecha Galeria is proud to present "Through the Looking Glass II", an event which will take place on Saturday, April 16, 2021 at 6:00PM, located at 4490 Pearl Road, Cleveland, Ohio 44109. Featuring the original artwork of Will "Topiltzin" Sanchez. Showcasing creative three-dimensional scene installations, mural debuts and poetry displaying living paintings inspired by the world of Alice in Wonderland.
These days, "Creative Placemaking" is the terminology used to explain or describe the evolving field hat intentionally leverages the power of the arts, culture, and creativity to serve a community's interest while driving a broader agenda for change, growth and transformation in a way that also builds character and quality of place.
Artists or the arts culture have been the catalyst of the gentrification process since the beginning of civilization. Today we base redevelopment plans upon it, just look at many of the Cleveland neighborhoods economic strategies implemented to help their communities. All dependent upon the arts or enticement of the artists to come live or work there. The next level is a for profit business to build on this idea, create an actual process, document it and analyze the data as any other business producing products would do. As an artist, I feel it my intrinsic responsibility to open a gallery here, where we were priced out after we gentrified it. A return to where our local arts forefathers had to leave, and hopefully put an end to this cycle of migration by ensconcing ourselves within the very economy of it.
Our vision is to harness this activity as businessmen and creatively improve upon it. As an artist, it's what we do.
Location:
La Cosecha Galeria
4490 Pearl Road
Cleveland, Ohio 44109
For More Info: (216) 385-9545 • lacosechagaleria@aol.com
Please "Like" or Share LCG Facebook Page.