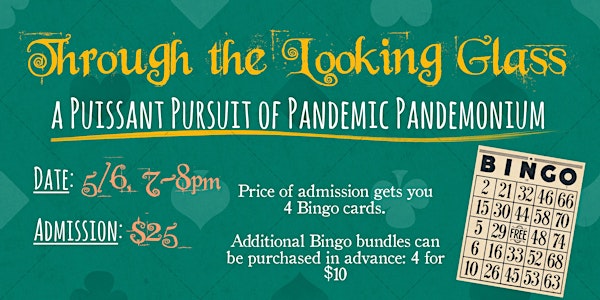 Through the Looking Glass Fundraiser
Join us for a night of fun & laughter as we raise the money needed to continue organizing for racial and social justice in our communities.
About this event
We had so much fun at our Fall virtual "fun"-raiser that we thought we'd have another one this Spring. So let's have a little fun and celebrate the accomplishments of our organizing efforts!
Join in the madness by brewing yourself a spot of tea, dressing up and sharing your favorite insanity-inspiring work of art. And we'll all play a few rounds of BINGO.
❖ Each $25 admission gives you 4 BINGO cards
❖ The first 30 tickets sold will have a coupon for a free pint of Ben-and-Jerry's ice cream mailed to them
❖ Additional BINGO Card Bundles can be purchased in advance - 4 cards for $10. Purchase as many bundles as you wish!
❖ Prizes from Lenny's, Aura's Apothecary, Ben-and-Jerry's and more for character dress-up awards as well as BINGO winners!
For more information, visit www.viavt.org or contact us at the VIA office 802-651-8889 or office@viavt.org
Thank you to our sponsors: