Sales Have Ended
Registrations are closed
Looking to register for the replay? Visit AdventureClub.com > Virtual Events > Active Replays to browse our active replays, which expire one week after the program's original air date.
Sales Have Ended
Registrations are closed
Looking to register for the replay? Visit AdventureClub.com > Virtual Events > Active Replays to browse our active replays, which expire one week after the program's original air date.
Can't make it live? Register and get access to the full replay for one week! New York Adventure Club | www.AdventureClub.com
About this event
Looking to take a road trip through the off-the-beaten-path US of A...from the comfort of your own home? From alien culture in Roswell to Elvis in his Sunday Best, it's time to explore the odd, unusual, and hard-to-find secret places scattered throughout America, through the lens of one award-winning photographer.
Join New York Adventure Club as we embark on an inspirational photographic journey through the wild, weird, and wacky sights of America, from the Desert Towns of the West to The Wildwoods in the East.
Led by NYC-based photographer Julien McRoberts, this virtual road trip showcasing where the spirit of America really shines will include:
A virtual tour along the cross-country route using Julien's colorful and eclectic photographs
Highlights from the most interesting sights and themes; from vintage Vegas, to alien culture in Roswell, to the Salton Sea — a crossroads of 1950s Hollywood celebs, hippies, and those seeking salvation
A virtual trip to Española Valley in New Mexico to see the holy Santuario of Chimayo (America's "Lourdes") and Semana Santa celebration (60,000+ attendees) — plus, the scoop on how that region became the lowrider capital of the world
Personal stories from her road trip, and what it was like to document these magical places
Factoids about many off-the-beaten-path and roadsides attractions
Stick around afterward for a Q&A with Julien — any and all questions about her cross-country experience are welcomed and encouraged!
Can't make it live? Don't worry, you'll have access to the full replay for one week!
See you there, virtually!
*Immediately upon registering, you will receive a separate, automated email containing the link to join this webinar
**For the best possible viewing experience, please ensure you're using the latest version of your internet browser — Google Chrome is the most compatible. Exact technical requirements and a webinar user guide will be shared in the automated confirmation email upon registration.
***A full replay of the experience will be available to all registered guests for up to a week
About Julien
Julien McRoberts is a lifestyle brand and editorial photographer/producer based in New York City. Her unique ability to capture intimate cultural moments, places, and people has garnered her a wide variety of clients, including National Geographic Traveler, Calvin Klein Home, USA Today Magazine, Sunset Magazine, Variety, Marie Claire UK, and more.
Much of Julien's work conveys a sense of the stolen glance, from the bustle of the streets of New York City to ancient Native American rituals. Born in the American West, this world is hardly foreign to Julien. "I have the West in my blood but feel equally as home in a fast-paced city environment," she says. Her website is www.julienmcroberts.com.
Testimonials
"Really enjoyed this. So fun and informative. Julien is an engaging and friendly presenter." -Lindsay
"shes just great- personable, great content, an obvious passion for it. great pace." -Liz
"I liked Julien's passion for traveling and interesting sites. I like quirky, run down attractions, too." -Jean
"Julien is not just a fabulous photographer, she is also a great storyteller with a warm, joyous personality that is just great for these events!" -Deborah
"I liked the fun, relaxed atmosphere of the discussion, the wealth of information and resources, and the gorgeous, gorgeous images!" -Meaddows
"Her style was great; geographically and content organised; great and clear images; unusual things." -Debbie
"The host is organized and has great visuals. she's very knowledgeable in the subject." -Marsha
"The presenter is quirky, emotional, a good cross section of hidden gems." -Monte
"Leader was well informed and entertaining." -Sharon
"Julien's passion for capturing the wacky. Loved the seminar." -Linda
"Host was very good. Good visuals." -Roy
"Wide variety of interesting photos & films. Well-thought out and narrated." -Sharlene
Disclaimer
By attending a New York Adventure Club experience, you accept our terms of service.
Categories: Virtual, Art & Entertainment
Organizer of 'Through the Lens: Wild, Weird, and Wacky America' Webinar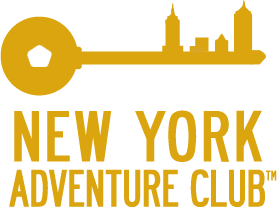 NEW YORK ADVENTURE CLUB
Unlock Your City
We give you insider access to the city's best-kept secrets. But we're so much more than a tour company.
WHO WE ARE

We are a community-driven club that curates the most unique experiences in town, with a focus on history and storytelling. We show you a city you never knew existed, and offer a community you can't live without.
You won't find our special-access tours and exclusive events anywhere else. Think after-hours tours of New York City's most celebrated spaces, themed parties in unexpected locations, and weekend excursions to incredible destinations. All of our events end with social hangouts so you can meet people who love exploring as much as you do.
THE 'CLUB' IN NEW YORK ADVENTURE CLUB

Our current community is more than 23,000 members strong and includes everyone from recent NYC transplants to lifelong residents. Whatever borough you're from (or city or country, for that matter), we'll make it easy for you to take full advantage of the unique places and great people this city has to offer.  
WHERE WE GO
To ensure a one-of-a-kind experience each and every time, we handpick events and outings specifically for the New York Adventure Club community. Recent events include:
* An after-hours tour of New York City Hall
* Special access into some of New York's most coveted private social clubs, including the Explorers Club and National Arts Club
* Petting baby kangaroos, holding sloths, and feeding leopards at Staten Island Zoo

* An NYPD Precinct tour, including a meet-and-greet with detectives and Emergency Service Unit crew members
* A tour of the Polish Consulate led by the Consul General and Vice Consul General of Poland

* A special-access tour of Brookhaven National Laboratory and its Relativistic Heavy Ion Collider (RHIC)
* A Halloween party in a historic gothic crypt, complete with a five-piece brass band
Subscribe with our newsletter to get the inside scoop on the city's most interesting events: http://eepurl.com/1cnVH
Unlock Your City with New York Adventure Club