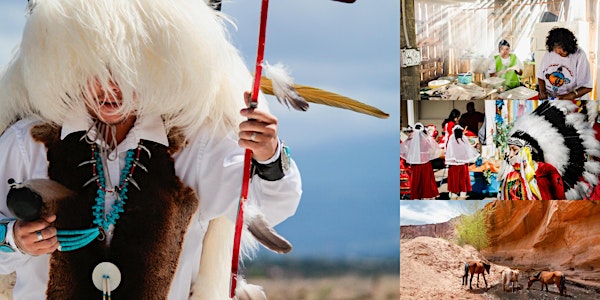 'Through the Lens: Native American Tribes of the Southwest' Webinar
Can't make it live? Register and get access to the full replay for one week! New York Adventure Club | www.AdventureClub.com
About this event
Ya'at eeh! Or shall we say, "welcome" in Dine, the language of the Navajo.
Spanning tens of thousands of square miles across portions of the West, Native American communities — including Navajo Nation and 19 Pueblos — are considered Sovereign Nations, and exist in a world of their own. While they're primarily only accessible to members of their tribes, photographer Julien McRoberts was granted rare access to capture the beauty of their land, culture, and people due to her personal relationships within the Native communities. This is her story, told through the lens.
Join New York Adventure Club as we embark on an inspirational photographic journey to the unique and fascinating Native cultures in New Mexico, from Navajo Nation to the many pueblos throughout the state.
Led by American West born-and-bred photographer Julien McRoberts, our visual feast surrounding our Native neighbors will include:
Pueblo ceremonial feast day dances featuring traditional multi-colored outfits
Spanish/Moorish influenced Matachine dances
Miss Navajo Nation — the most unusual "Beauty Pageant"
Scenes of everyday life in the tribe, including a traditional Navajo family feast to a churro sheep herder
Inside the studio of world renown artist, Roxanne Swentzell
Afterward, we'll have a Q&A with Julien — any and all questions about the Native American Tribes of the Southwest are welcomed and encouraged!
Can't make it live? Don't worry, you'll have access to the full replay for one week!
See you there, virtually!
*Immediately upon registering, you will receive a separate, automated email containing the link to join this webinar
**For the best possible viewing experience, please ensure you're using the latest version of your internet browser — Google Chrome is the most compatible. Exact technical requirements and a webinar user guide will be shared in the automated confirmation email upon registration.
***A full replay of the experience will be available to all registered guests for up to a week
About Julien
Julien McRoberts is a lifestyle brand and editorial photographer/producer based in New York City. Her unique ability to capture intimate cultural moments, places, and people has garnered her a wide variety of clients, including National Geographic Traveler, Calvin Klein Home, USA Today Magazine, Sunset Magazine, Variety, Marie Claire UK, and more.
Much of Julien's work conveys a sense of the stolen glance, from the bustle of the streets of New York City to ancient Native American rituals. Born in the American West, this world is hardly foreign to Julien. "I have the West in my blood but feel equally as home in a fast-paced city environment," she says. Her website is www.julienmcroberts.com.
Testimonials
"I especially like how Julien weaves in history which adds context and depth to her presentation" -Linda
"Photos were stunning, interesting info and very good presenter." -Patricia
"Really enjoyed this. So interesting to learn about the Native Americans of this region. Julien is lovely and her passion about photography and her subjects is infectious." -Lindsay
"Great shots. Great stories. Well organized." -Liz
"Julien has an innate ability to tell a story with just one photo. By sprinkling this incredible collection with just enough factual background for context, I felt led on a beautiful and respectful journey into the cultural heart of these Native communities." -Linda
"Beautifully presented. Comprehensive and educational. Will watch it again. My wife and I have traveled extensively in the Southwest especially NM. Her photos and narrative truly captured the spirit of the Native people and their their culture in the Land of Enchantment. You need to have her do more." -Joseph
"Enthusiastic moderator. She loved the subject matter which made you feel the same way." -Maria
"Julien is very engaging, easy to listen to, and ethical as a photographer of possibly sensitive subjects. Her photos are excellent, as was the verbal/information portion. It was very detailed and I learned a lot about things that I may seek out on my own (the events in the southwest, etc.). I felt that I had a view into events that your average person may not have." -Christine
"The lecturer was knowledgeable and passionate about her subject : she was able to bring a current view into the celebrations of the native Americans and their ceremonies" -Michael
"The photography was stunning" -Jeanne
"The pictures were very educational and allowed us a window to something we may never would have seen." -Natasha
"Beautiful photos, informative commentary, her cultural sensitivity" -Nancy
"The photography and the videos were wonderful. She took us places we would never see otherwise. And I liked the range of topics, and sharing her understanding and sensitivity toward these cultures who predate us." -Ellen
"I like the photos of some of the things the photographer took that are privy normally to the tribe. I have visited some of those places and I went back in my mind. I love the culture too" -Minnie
"Photographs were beautiful and Julien was very informative. Loved learning about all the different pueblos and ceremonies." -Lana
"The pictures and the speaker were fantastic" -Cynthia
"The photos and information were so interesting. I especially enjoyed the videos." -Kristin
"Loved the videos/pictures of the First Nation tribal ceremonies" -Janet
"Just a fascinating glimpse into the subject and very well presented" -Leon
"The photos were just fantastic and loved how Julien talked with knowledge and passion about everything. Another brilliant event!" -Lucy
Disclaimer
By attending a New York Adventure Club experience, you accept our terms of service.
Categories: Virtual, Art & Entertainment