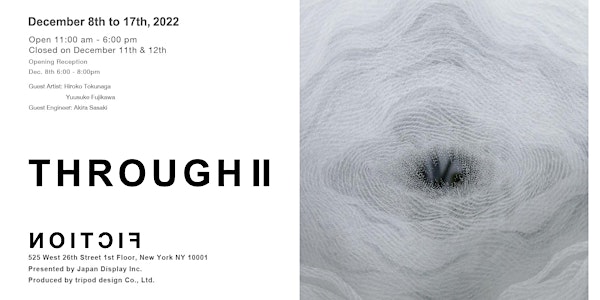 THROUGH Ⅱ - Opening Reception @FICTION Gallery
ART and TECH intersect at FICTION to imagine the displays of the future.
When and where
Location
FICTION Gallery 1st Floor 525 West 26th Street New York, NY 10001
About this event
OPENING RECEPTION for the THROUGH II Exhibition
The THROUGH II exhibition (to be held from Dec 8th to the 17th) features Japan Display Inc.'s "Rælclear", a unique two-way transparent display monitor that was developed based on their proprietary technology. At this exhibit, works by Artist Hiroko Tokunaga will be shown on that display monitor and an interactive installation by AI engineer Akira Sasaki has been commissioned for this space as well, using the very same technology.
At the Opening Reception to this exhibition, there will be a special jazz performance with internationally-reknowned musicians, along with light food and drink. We hope to see you there!
——————————————————-
DATE & HOURS
Dec. 8th (Thu), 6:00 - 8:00 pm
——————————————————-
Click on the "RESERVE A SPOT" button to join us at the Opening Reception!
* Read more about the exhibit and the "Rælclear" techology below.
——————————————————-
ABOUT THE THROUGH II EXHIBITION
Developed as a new technological challenge toward upending the conventional view on display monitors, Japan Display Inc. first exhibited its transparent display "Rælclear" at the FICTION gallery in 2018.
At this upcoming "THROUGH II" exhibit, which will be held once again at FICTION starting from December 8th of this year, they will be introducing their new Rælclear display monitor, which has evolved greatly over the last four years.
The THROUGH II exhibition will also include an art installation with a "YUKI" (snow) theme by HIROKO TOKUNAGA, a leader in Japan's next-generation art scene, as well as an interactive installation by AI engineer AKIRA SASAKI.
We hope you can come and enjoy the latest technological achievements of "Rælclear", which will color future life scenes with a new aesthetics through a collaboration of various arts and technologies.
——————————————————-
DATES & HOURS
December 8th to 17th, 2022
11:00 - 6:00 pm
Closed on Sunday and Monday
——————————————————-
Origin of Rælclear
Rælclear's name was born from its unique two-way transparency: starting from the middle letter, "c", Rælclear reads as "clear" in both directions. With the world's highest display transparency, Rælclear enables brand-new display applications with unprecedented two-way communication.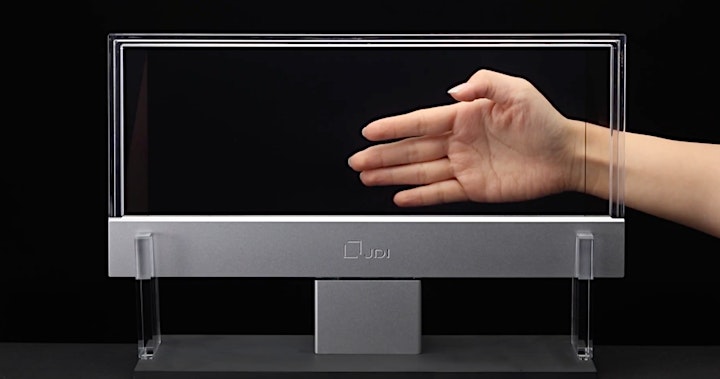 ——————————————————-
WORKSHOPS
Please feel free to join us at each of the following workshops that will be held during the THROUGH II exhibition period as well!
HOLIDAY LANTERN WORKSHOP
December 10th, 2022
10:00 - 11:30 am
——————————————————-
DESIGN WORKSHOP
December 10th, 2022
1:00 - 3:30 pm
——————————————————-
UNIVERSAL DESIGN WORKSHOP
December 17th, 2022
10:00 - 11:30 am
——————————————————-
NEW MEDIA / ART WORKSHOP
Date: December 17th, 2022
1:00 - 2:30 pm
FEATURED ARTISTS AND COLLABORATORS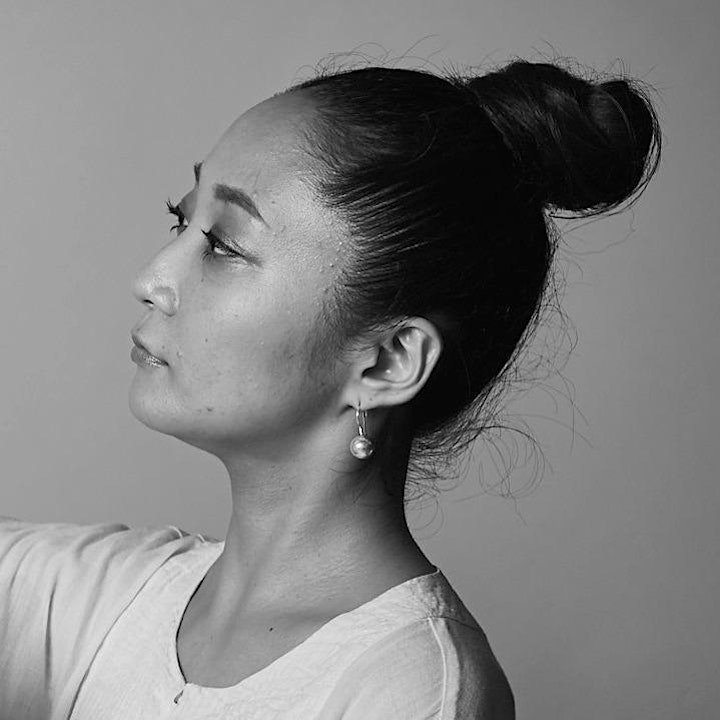 Hiroko Tokunaga - Artist
Artist. Born in Nagasaki Prefecture in 1983. Currently based in Tokyo.
After studying graphic design, entered the Department of Fine Arts at Tokyo Zokei University to study oil painting.
From the structural point of view that the world is made up of particles, she is focused on not only physical but also conceptual commonalities. While searching for methods of expression from her own unique perspective, the concept of her work is "perceived" things through the minute patterns, the collection of fine points and lines, and the "accumulation" and overlapping of strokes that emerge on transparent acrylic boards.
In recent years, she has been exhibiting new development targeting both domestic and international exhibitions and art fairs, with a focus on a diverse range of production, including works with motifs of natural phenomena like fog, installations, three-dimensional works, and photographic works.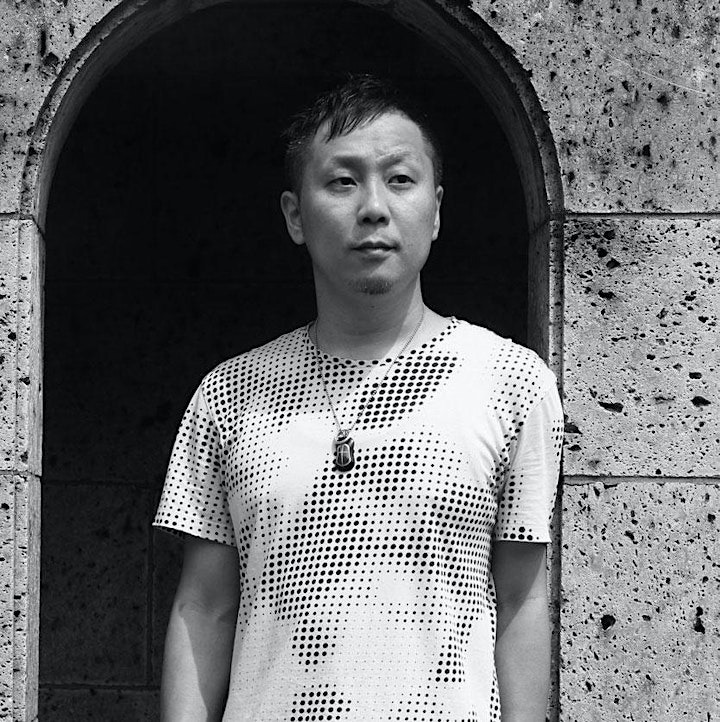 Yuusuke Fujikawa - Visual Artist
After participating in the Adobe Flash Player development project for mobile use, became involved in video production and other activities.
Currently exhibits mainly digital art, but also works on video for film and commercials, and is also involved in the design of the video system for FICTION gallery.
Also writes books and holds seminars on video software in order to nurture human resources and talent.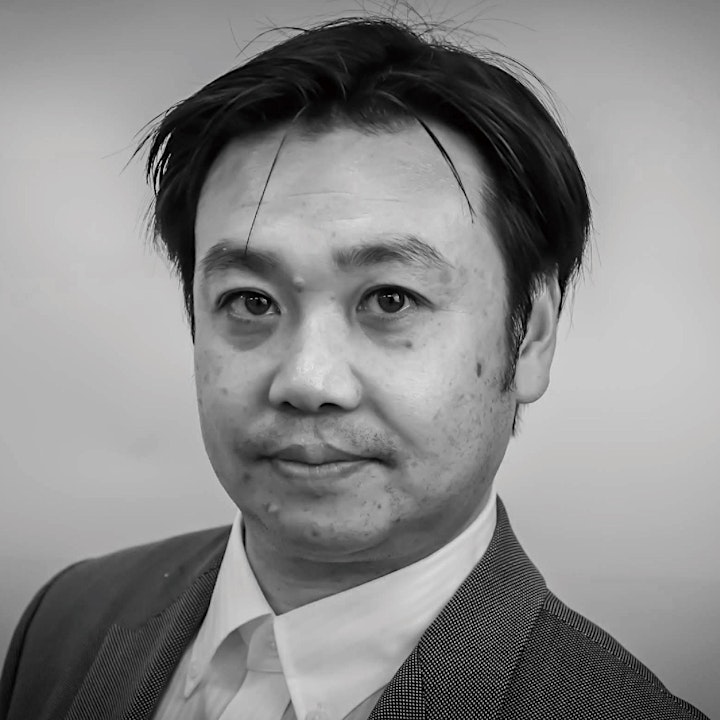 Akira Sasaki - AI Application Developer (Ph.D)
Founder of FaBo, which develops AI x Robotics hardware and sells JetRacer, JetBot and DonkeyCar kits in Japan. FaBo is a partner of NVIDIA Jetson Education, with Akira included on the list of NVIDIA Jetson Champions.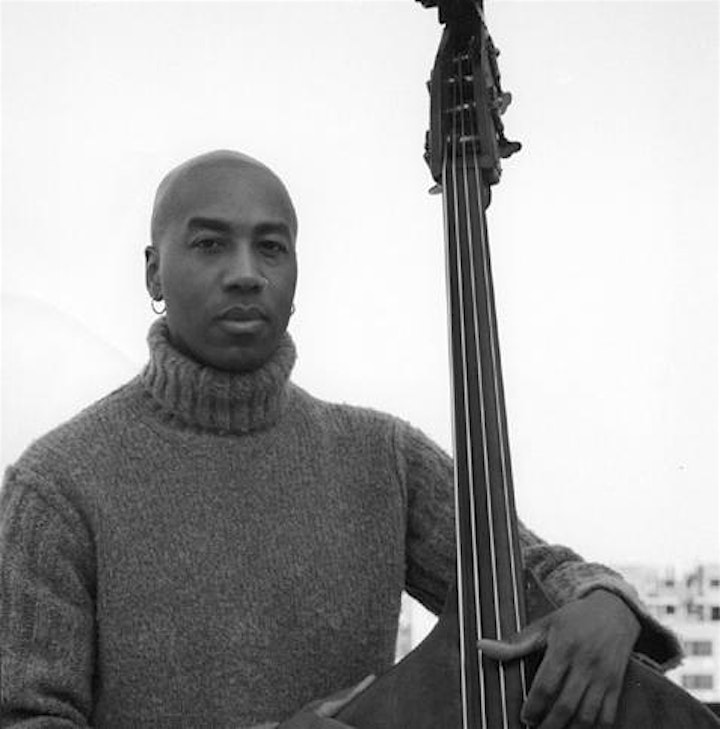 Lonnie Plaxico - BASS
In 1980, Plaxico moved to New York and soon began to appear with such artists as Chet Baker, Dexter Gordon and Wynton Marsalis. His first extended tenure was with Art Blakey's Jazz Messengers: between 1983 and 1986, Lonnie performed on twelve of Blakey's albums, including the Grammy Award-winning New York Scene. In 1986, he joined Jack DeJohnette's Special Edition, continuing with that group until 1993. Presently, Plaxico is the musical director and featured bassist for Cassandra Wilson; their critically acclaimed and award-winning collaboration has now spanned fifteen years.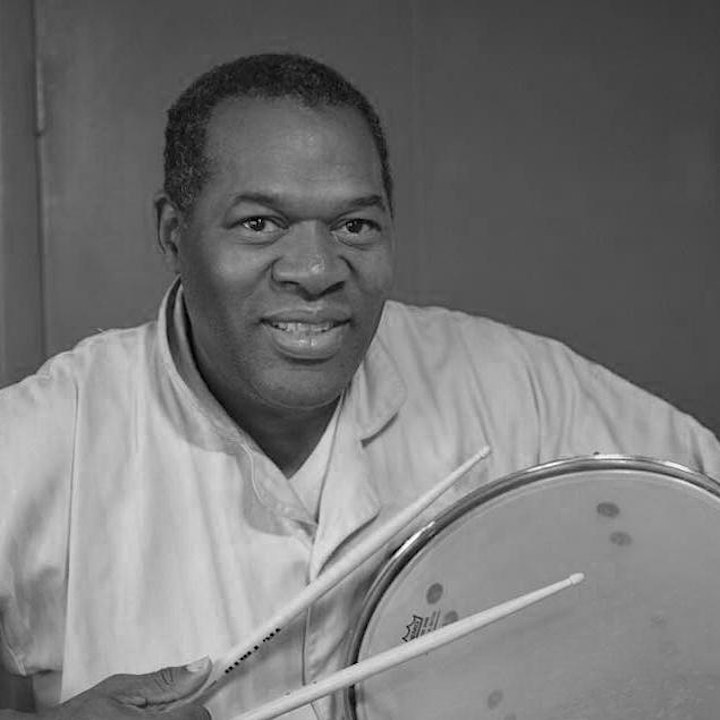 Dwayne Cook Broadnax - DRUMS
Currently the drummer with The Dwayne Cook Broadnax Quartet. Was the drummer with Jazz vocal legend Mr. Jimmy Scott, aka "Little" Jimmy Scott, for 14 amazing years. Dwayne has been an Adjunct professor at Long Island Universilty (Brooklyn branch) since 1995. Dwayne was asistant professor and drummer for Jazz Appreciation Classes at New York University from 2004 to 2010. Dwayne also plays on Vic Firth sticks and brushes.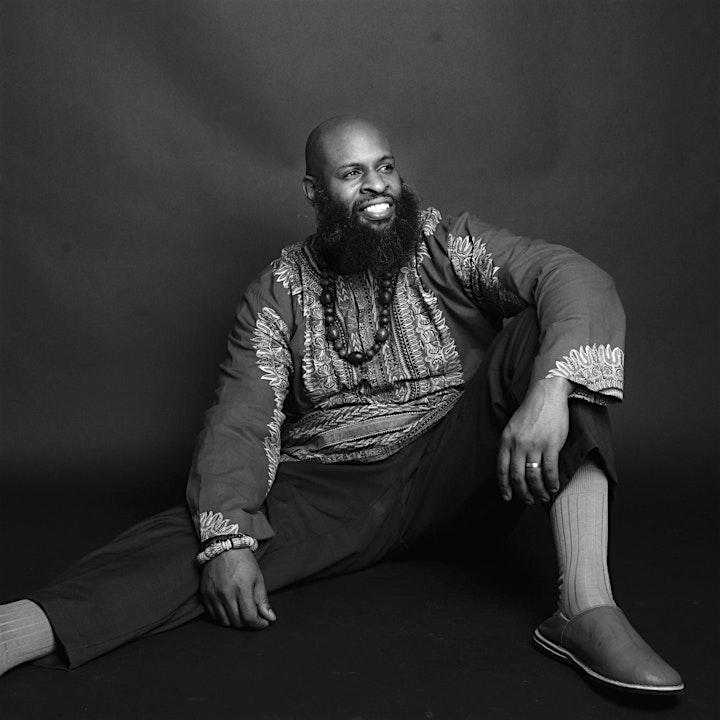 Sharp Radway - Piano
Sharp Radway is a pianist, composer, arranger, recording artist, and author. He is a protégé of Dr. Randy Weston. Sharp is a formidable and seasoned bandleader, heading various groups of his own and has also worked with several Jazz luminaries. Among them are Yusef Lateef, Benny Golson, Hamiet Bluiett, Slide Hampton, James Spaulding, Louis Hayes, Curtis Fuller, Benny Powell, Candido Camero, Eddie Henderson, Red Holloway, Fred Wesley, Steve Turre, Bucky Pizzarelli, Diane Schuur, Nnenna Freelon and Randy Brecker, to name a few. He also served as music director, pianist, and arranger for The Celebration of Lionel Hampton Big Band and The New York City Ska Orchestra.
Sharp has also appeared in film with Mos Def, Beyonce Knowles, Cedric The Entertainer, and several others in the major motion picture "Cadillac Records". He acted and performed in the historic Off-Broadway play "The Connection" under the direction of Judith Malina. In addition to being a seasoned performer he is an educator and also author of the book "Musicianship 101 (What They Don't Tell You In School)". Sharp Radway remains in demand throughout the country and abroad.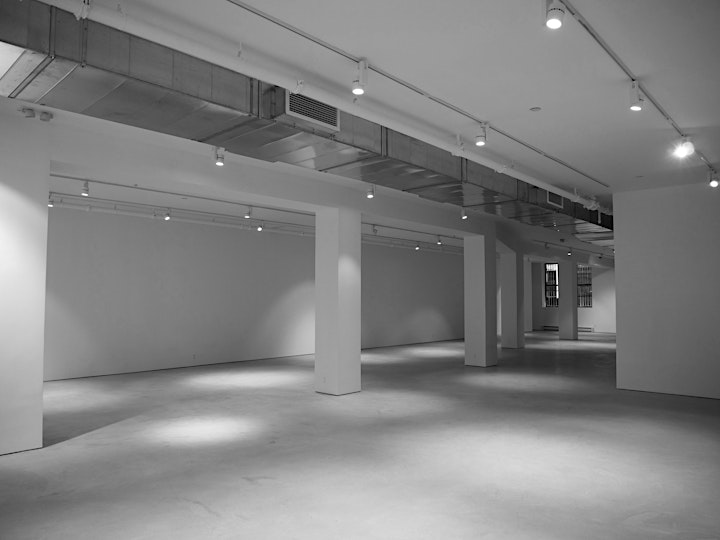 "FICTION" is the world's only prototype gallery on a theme of science x design x technology. Opened under the slogan "Making Fiction Reality", it is a space for giving structure to various latent scientific technologies and design ideas from around the world, from "FICTION" to "NON-FICTION". By creating opportunities for collaboration between technology and design in locales such as New York where diverse creators converge, new designs and methods will be constructed, thus creating a community of knowledge and sensitivities that will lead the next generation.
Website: www.fiction-space.com
Facebook: www.facebook.com/fictionspace
Instagram: www.instagram.com/fiction_space