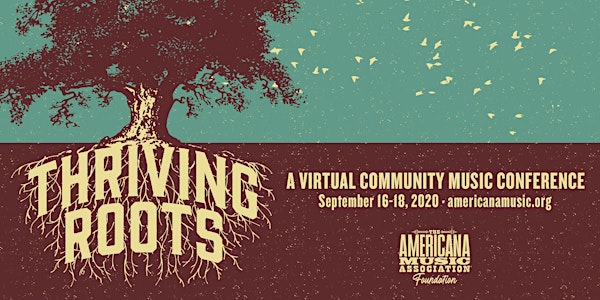 Thriving Roots: A Virtual Community Music Conference
Join us for 3 days of industry insight and unforgettable connections at Thriving Roots: A Virtual Community Music Conference, Sept. 16-18.
About this event
You can still watch all the sessions from Thriving Roots even though the live event has ended! Buy your pass to access everything here. Content will be available for up to a year!
Presented by the Americana Music Association Foundation, Thriving Roots is a brand new event with almost 70 online sessions that go beyond today's webinar-style virtual conferences.
Hear from industry experts + trendsetting artists: With live engaging panels, you'll have a front-row seat to insight you won't find anywhere else. We're going to be bringing you today's top industry leaders and artists for intimate conversations on music, culture and everything in between.
Experience music through entertaining special events: Give your mind some time to unwind in between panels and let loose a little. Our industry friends will invite you into their own world for some great music and quality virtual hangs from the comfort of your own home.
Create lasting relationships wherever you are in the world: On the Thriving Roots platform, you'll have the opportunity to connect with one another by creating your own attendee profile, browsing our attendee directory, private messaging and even starting an open discussion on our forum. If you want to talk shop with other attendees, simply schedule one-on-one virtual meetings. You can also check out our live exhibit hall filled with friends of the music community.
Before Thriving Roots begins on September 16, you'll be able to create your attendee profile and customize your own daily schedule. If you end up missing something on your schedule, don't sweat it - you'll be able to access our content after the conference ends.
Find out more information about programming and other exciting announcements at www.americanamusic.org.
View our Refund Policy here.