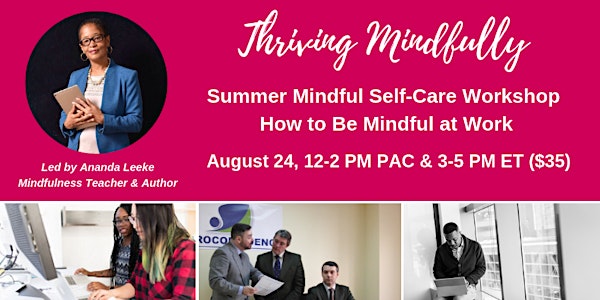 Thriving Mindfully Online Workshop: Be Mindful at Work
Description
Are you challenged and/or stressed out by what's happening in your workplace? Do you want to develop and/or strengthen your capacity to take better care of yourself, be more present, communicate clearly and effectively, and improve your level of concentration and productivity at work? Join Ananda Leeke, a mindfulness teacher, author, and consultant, for an online workshop that will show you how mindfulness can become your new BFF and help you embrace thriving mindfully at work.
In this workshop, Ananda will help you understand and reclaim mindfulness as your birthright through interactive breathing exercises and mini meditations designed to strengthen your ability to be present, focused, and engaged at work. You will also learn how to create and practice mindful moment rituals that can be used to manage your energy, projects, and communication with colleagues and clients (in-person, phone conversations, email, social media, and text).
The workshop will be offered via Zoom. A link to the workshop will be emailed. You will need access to the Internet to participate. PLEASE NOTE THE WORKSHOP IS OFFERED DURING EASTERN STANDARD TIME.
Who Should Attend This Workshop: Anyone who is interested in applying mindfulness in their work life including beginners and experienced mindfulness practitioners