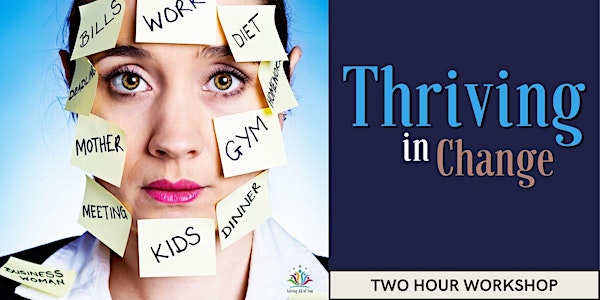 Thriving in Change-Philadelphia, PA
Change is a constant. It's time to THRIVE in change and stop being at the mercy of the changes around us!
When and where
Location
Philadelphia, PA Philadelphia Philadelphia, PA 19106
About this event
Are you ready to step into your power and own your future?
This workshop will help you understand what's happening right now in your life and how you can approach change differently. We'll talk about the necessary steps for transformation. By the end of this workshop, you'll have a clear idea of what it means to become a more powerful version of yourself. The version of you who can handle the changes coming at you and CREATE the changes you want in your life.
So often, we are expected to wear many hats and excel in everything we do. Instead, we just end up stressed and deflated. But there's a way out of this cycle (and we can have fun doing it!)
This exclusive workshop will be held live on Zoom.
You have a great job, and an awesome team, your family and friends are beautiful and growing, and you have everything you ever wanted.
But something is missing…
"Having it all" isn't making you happy. Things are all changing so quickly.
"My children are growing so fast in an ever-changing world. I'm not sure I'm equipped to handle it all."
What we'll uncover during the workshop:
We all respond the same way to change - even if it's a "good" change! Knowing this can help us frame change differently in our lives.
There are tools to manage change.
It takes a lot of energy to pretend to be what you're not. Letting go of the roles and being ALL OF YOU makes a difference.
We'll shift hearts and minds and refocus our energy on the real barriers to our happiness, peace, and fulfillment. It's time to thrive!
Here's what's happening inside this 2-HOUR EVENT:
Part 1: Understanding Change
Learn how we respond to change and how to approach life's changes in a more powerful way.
Part 2: Managing Change
Take charge of the changes you want or need to implement.
Part 3: Thriving in Change
We'll introduce you to an approach to life's changes that puts you in control of your priorities and personal achievements.
LIVE PARTICIPATION INCLUDES THE FOLLOWING:
Access to the recording of the workshop
Introductory coaching session
Workbook summarizing concepts and walking through the process
Premier access to new offerings and tools
The life of your dreams is real and will be here before you know it. You'll get a sense of what it's like to be in a supportive community and gain tools to take with you!
A few things to keep in mind:
We will be going LIVE online
Plan for two hours to do this work
Bring a pen and paper and get ready to take lots of notes!
Get ready for lots of sharing, A-ha moments, and exciting new strategies!
Sign up now and check your email for details. We can't wait to see you!