Event Information
Refund Policy
Contact the organizer to request a refund.
Eventbrite's fee is nonrefundable.
This workshop will meet you where you are in your business planning and show you how to take it to the next level!
About this Event
You've identified your business niche, you know exactly who your ideal audience is, you even have your goals set...but have you taken the time to map out your strategy? This is an important part of your business plan, and in this workshop led by marketing & business guru Beatrice Adenodi, we will show you new tactics to create the best step-by-step plan to connect with your audience. Once you have your strategy, you will learn about how to analyze your wins and losses and come back with a stronger strategy each time you collect new data.
In this course, you will:
Discover new revenue streams
Create a strategy that resonates with your audiences
Learn how to analyze your losses in business to understand what happened, and turn those losses into wins
Be exposed to different types of tactics and ideas to approach your business with a fresh perspective
About Thriving Brands Workshops:
Thriving Brands is our robust advancement program designed to meet you where you are in your business's development and take it to the next level. Through our series of 10 in-depth group sessions, we elevate your life perception and give you unparalleled perspective on your business. These sessions help you tap into your purpose and discover a balanced approach to this often demanding lifestyle.
Workshop packages are available - purchase single workshops, groups of 3, 6 or all 10!
Workshop1: Analyzing Your Blueprint
Workshop 2: Focus: Establishing Your Identity Within Your Business
Workshop 3: How to Narrow Down Your Perfect Client
Workshop 4: Communicating with Your Audience
Workshop 5: Building Your Genius Plan
Workshop 6: Strategy Makes the World Go Round!
Workshop 7: Understanding Your Marketing
Workshop 8: Defining Your Process
Workshop 9: How to Execute Your Plan!
About Your Leader:
Beatrice Adenodi is a marketing guru, awareness advocate, and founder/CEO of Mirror Ink, a full-service business consulting firm based in Minneapolis, MN celebrating 20 years of business this year. As a first-generation Nigerian-American immigrant, Beatrice had to figure everything out on her own. Over the years, she had to learn how to navigate life by building her own set of tools to overcome the challenges of life, inspiring her to share her story to help others. Through her unique perspective, Beatrice has been able to help many people get out of unfortunate situations by guiding them from being reactive to reflective in their setting.
Beatrice was driven to create her platform Mindless Behaviors in 2014 after a tough transitional phase led her to reflect on her relationships, faith, and career. Feeling powerless and invisible, she discovered she had been ignoring her own voice and reacting without thinking in difficult situations. Beatrice set out to reclaim her power. As she grew into her voice, she realized she wasn't alone. She recognized the impact her newly reflective mindset could make on society and developed an innovative new approach to guide others to find their own voices.
With the completion of her book about these experiences, Mindless Behaviors: Breaking Through Unseen Barriers, her platform is now poised to help create generations of hopeful people.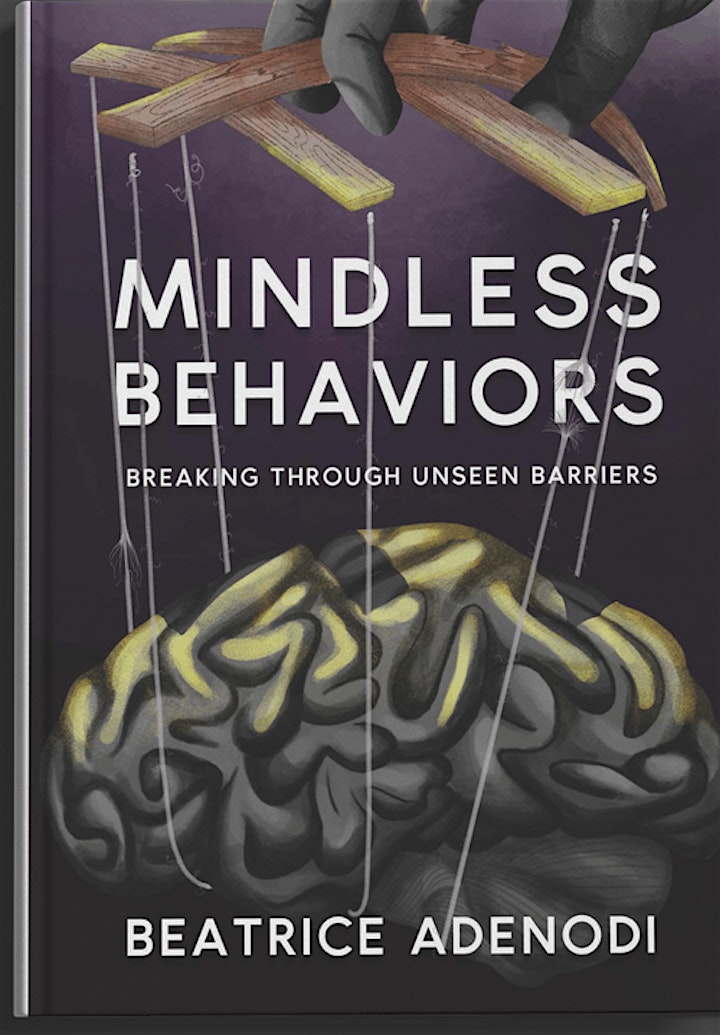 About Mindless Behaviors:
When you closely analyze all the problems you've had in life, what patterns emerge? If you're like Beatrice Adenodi, you see that most of life's problems can be boiled down to the same handful of issues. Mindless Behaviors: Breaking Through Unseen Barriers sheds light on seven examples of reactive, negative cycles of human behavior and how effective communication is the answer to breaking them.
As these seven stories examine life through the lens of mindless behaviors, you'll learn that if you change the way you perceive your circumstances and actions, you have the power to change your life forever. Let this book motivate you to gain a new perspective, acknowledge your unconscious biases, and activate your untapped potential.
Date and Time
Location
Refund Policy
Contact the organizer to request a refund.
Eventbrite's fee is nonrefundable.