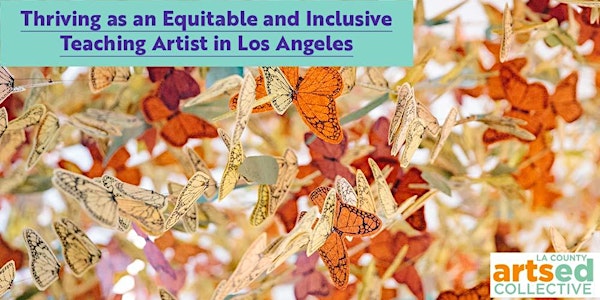 Thriving as an Equitable and Inclusive Teaching Artist in Los Angeles
Join in conversation to explore ways to thrive as an equitable and inclusive teaching artist in the Los Angeles region.
By LA County Arts Education Collective
Date and time
Wednesday, April 6, 2022 · 3 - 4:30pm PDT
About this event
Thriving as an Equitable and Inclusive Teaching Artist in Los Angeles
How do you create a sustainable and enjoyable career as a teaching artist? With all the initiatives around race, equity, diversity, and inclusion, how do you make sure your work contributes to the solution and not the problem? We'll explore these questions during this 90-minute interactive conversation with teaching artists throughout greater Los Angeles.
By the end of the workshop you will:
Define what thriving looks like for you, not only in your career but in your whole life.
Discover the values that drive your teaching artist practice.
Feel empowered to create work opportunities that are, not only artistically rewarding but financially satisfying.
Determine the role you want to play in using your teaching artist career to disrupt racism and other inequities while creating culturally responsive, culturally relevant, and inclusive spaces and curricula for the students you serve.
Bring your notebooks and pens for what will surely be a jam-packed and inspiring conversation.
Teaching artists from all disciplines are welcome.
About the Facilitator: P. Valerie Dauphin has created parallel careers sharing her gifts and talents as a multi-disciplinary teaching artist and as a confidence and mindset certified life coach. Valerie is the Company K!ds Director, Dance Teaching Artist, DEI (Diversity, Equity, and Inclusion) Lead Teacher and Strategic Planning Committee Brain Trust member at Gabriella Charter Schools. As The Dancing Life Coach™, she is the founder of Feel Good Kick Ass Coaching and the author of the book FEEL GOOD KICK ASS CONFIDENCE: USING YOUR BODY TO ROCK YOUR LIFE.
As a dancer, Valerie is most passionate about fusion styles like Afro House and Salsa Hip Hop. For over a decade, she has taught group dance classes at various studios and gyms in L.A., including the YMCA of Metropolitan Los Angeles, Heartbeat House, Your Neighborhood Studio, and Sweat Pilates, as well as having served as Adjunct Faculty in Sports and Wellness at Mount Saint Mary's University.
Additional teaching artist residencies and guest facilitation include the California State Summer School for the Arts (CSSSA), the 2020 Virtual Arts Summit, artworxLA, YouTHink, L.A. Arts Group, American Cancer Society Relay for Life, The I Have a Dream Foundation, Inner-City Arts, The Los Angeles LGBT Center, Venice Eco-Festival, and a special dance class for a top 10 tech company.
In 2017, Valerie graduated from the Sony/Actor's Fund Teaching Artist Intensive. As a 2018-2019 Arts for LA ACTIVATE Fellow and California Arts Education Leadership Cohort Emerging Leader, Valerie worked towards the attainment of equitable access to the arts for all California youth. In 2021, she completed UCLArts & Healing's Social Emotional Arts (SEA) on a Shoestring and Dance for All Online Facilitator trainings to further enrich her practice as a trauma-informed facilitator.
For more info and to connect with Valerie, follow her on Instagram at www.instagram.com/feelgoodkickass.
About the organizer
The Los Angeles County Arts Education Collective is a public-private, collective impact initiative dedicated to making the arts a core part of every child's growth and development. Established in 2002 by the LA County Board of Supervisors, the Arts Ed Collective works to advance goals and strategies outlined in the new LA County Regional Blueprint for Arts Education. With a commitment to prioritizing resources for youth historically excluded from learning in the arts, the initiative supports regional efforts to expand school-based arts education, community-based arts education, learning and leadership among practitioners and advocates, creative career pathways for youth, research and evaluation, and public awareness about the value of arts education. The initiative is coordinated by the LA County Department of Arts and Culture.