Description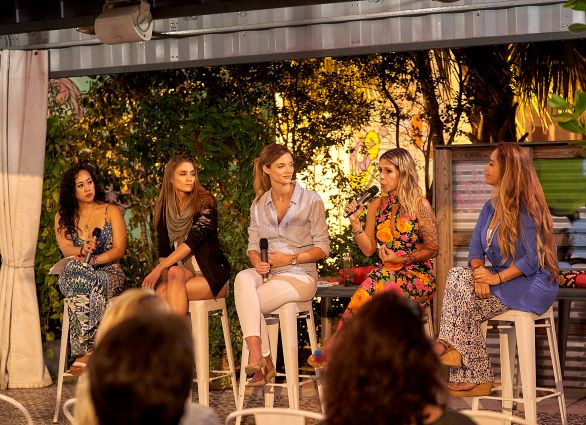 * Photo from previous Thriver Lifestyle event in Miami, FL
Join us at Hotel Indigo's gorgeous penthouse lounge, 18 Social, for an inspiring evening of conscious entrepreneurship, spirituality and women's empowerment! Our four panel speakers are change-makers and influencers in their industries and champions for social good. Event attendees will receive a wealth of information from our female entrepreneurs who have successfully weaved together their passions, purpose and profit! They will share personal experiences, stories, practices for "Creating Magic and Money" in their lives!
Enjoy delicious bites, drinks, entertainment and support local female-owned businesses!
Ticket Includes: Access to private event, speaker panel and vendor lounge with light bites and desserts. All attendees will receive a swag bag with goodies from Savage Babe Collection, Beekeepers Naturals, Touchland, Energy Muse, Four Sigmatic, OWYN and Kali. All attendees will get a chance to win prizes as well!
25% of all ticket sales will be donated to Project by Project. Project by Project (PbP) is a national 501(c)(3) volunteer organization of social entrepreneurs that serve Asian American non-profits in need by raising public awareness and volunteerism.
Opening Cacao Ceremony by Christine Olivia Dargas. Christine is the author of A Child of Magic. An author, muse, and artist. She's been writing since the age of seven, expressing herself through poetry and short stories. She has been a ceremonial artist for three years and is in the process of working on mixed media art for women's empowerment.
Panel Speakers:
Heather Hoffman - Holistic Nutritionist, Wellness Coach, Intuitive Cosmic Channel
Heather Hoffman is a multi-dimensional being with many extrasensory abilities and talents. Her infatuation with alternative forms of healing has been a theme her entire incarnation, and her dedicated journey of healing others became a full-time purpose in 2013 when she traveled South America teaching yoga, meditation, and light body work. Her focuses express in many forms, all encouraging merging of the different aspects of Self- Mind, Body, and Soul. She founded the largest healthy medicinal edible supplier of California in 2014- and has used her self developed platform to continue expanding and evolving. Lately she has been focusing on 'Light Body Healing' techniques, which derives from a powerful ancient energy activating one's personal and collective 'Ka.'
She is also a holistic nutritionist, wellness coach, cosmic channel, writer, public speaker, blogger and YouTube personality. She is currently working on an online series with a production company called "Wellness" which focuses on alternative healing and was picked up by major platforms. Her gifts continue to translate in many ways- which she shares daily through her significant social media following; inspiring many to lead a more fulfilling and connected lifestyle.
For more info on this cosmic being and to book Heather for personal and intuitive readings visit www.holisticheather.org
Libby Crow - Business Mentor, Founder of LC International, Co-Founder The Daily Shift
Libby Crow is a global mentor for entrepreneurs helping them grow their businesses and their minds. She is the founder of LC International, a marketing strategy company for digital consultants, and Co-Founder of The Daily Shift, a personal development company for aspiring and accomplished entrepreneurs alike. She's dedicated to helping entrepreneurs see the journey as a bridge to raising the vibration of the planet and then later as a portal for giving back philanthropically.
Samantha Skelly - 7-Figure Entrepreneur, Speaker, Author
Samantha Skelly is a 7-figure entrepreneur, sought after international speaker, best-selling author, and wellness coaching expert. As a leading authority on disordered eating and body image issues, Samantha has made it her life's mission to empower women to overcome their struggles with food and body so they can live happy, authentic, and fulfilling lives.
Hay House author of the soon to be released Hungry For Happiness, and host of the popular Hungry for Happiness podcast, Samantha continues to spread her message and inspire thousands of people through her programs, worldwide international retreats, and motivational speaking engagements. Samantha has shared her mission on an international platform, with appearances on Global TV, Shaw, NBC, CBC, and BBC. She's been featured in various publications, such as Forbes, The Huffington Post, The Elephant Journal, and The Prevail Project, and she's also a monthly contributor on Recovery.org, one of the most well-known addiction and recovery resources.
Natalia Benson - Women's Empowerment Coach, Astrologer, Modern Mystic
Natalia Benson is a Modern Mystic, Astrologer & Women's Empowerment Coach living in Los Angeles. Born and raised in Phoenix, Arizona Natalia has forged her own career path in LA fusing esoteric wisdom with practical modern tools in order to live a more empowered, peaceful and conscious life.
She encourages women to honor their Natal Charts, Menstrual Cycles and cyclical natures while keeping it light, relatable & inspiring. Natalia has worked with the likes of Who What Wear, Away, Melissa Shoes, Mother Denim, Alo Yoga, Google, Conde Nast x Glamour Magazine, The Zoe Report, Bustle, Bliss Skincare, Boscia, OPI, Bacardi & many more, offering her unique brand of pragmatic mysticism that encourages self awareness and a positive outlook on life.
Marian Bacol-Uba (Moderator) - Founder of Thriver Lifestyle, Speaker, Conscious Business Coach
Marian Bacol-Uba is a Conscious Business Coach, Speaker and the Founder of Thriver Lifestyle. She helps women step into their POWER and soulfully THRIVE in life and business. Marian is also a Certified Pranayama and Meditation Teacher and the host of Thriver Lifestyle Podcast and Mondays with Marian on YouTube.
Marian advocates for women's empowerment, mental health and wellness. She merges her 15+ years of marketing, event production and business development experience with her mission to create positive social impact. Marian has been featured on CBS Los Angeles, ABS-CBN, Thrive Global, Elephant Journal, Bustle, SWAAY Media and over 30 podcasts and publications. For more info visit www.marianbacoluba.com and follow her on Instagram @mbacoluba.
Schedule:
5:30pm - 6:30pm - Check-In & Networking/Vendor Lounge
6:30pm - 8:30pm - Speaker Panel & Q&A
8:30pm - Music & Entertainment
Venue Sponsor: 18 Social Lounge, Hotel Indigo - Surrounded by floor to ceiling glass walls with the view of LA Live and DTLA as your backdrop, 18 Social Lounge is a contemporary penthouse lounge that celebrates the Golden Age of Hollywood and LA's world-famous nightlife. Commemorate the end of the prohibition like FDR did, with their signature FDR martini, or one of their many handcrafted cocktails. Enjoy a wide selection of locally brewed drafts, as well as some of California's finest wines, all the while you bask in the spectacular panorama of Downtown Los Angeles. For more info visit, 18 Social at Hotel Indigo and follow them on Instagram.
Check out the Vendors who will be at our Vendor Lounge!