About this Event
Trusted By Basketball's 1%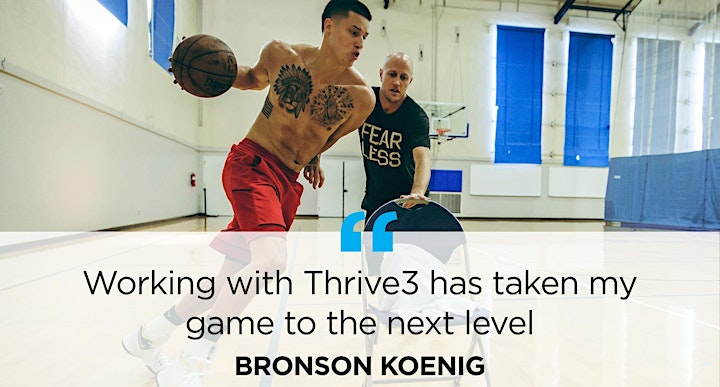 CREATE THE GAME YOU DESIRE
Stop settling for less. If you desire a game that let's you blow by defenders off the dribble, score with ease in traffic and create your own shot, the most effective solution is an innovative, cutting-edge and dynamic player development program.
Learn how to surpass your own limitations, turn a weakness into a strength and transform your game at our Thrive3 Holiday Basketball Academies. Enroll today to secure your spot.
NEW - each day will conclude with "League" games and a championship series
Limited to 40 players to ensure individual attention and instruction
This is NOT your traditional basketball camp. Think individual workout with a few more players.
The chance to compete and test your skills in our proprietary game-like drills and partner drills
Players will be separated by age and gender for all competitive drills
INDIVIDUAL SKILLS ACADEMY
12/30/2019 | Day 1
Building the Foundations for Sustained Basketball Excellence
A challenge that even NBA players have is that they missed the foundation. The highlights on SportsCenter don't show up unless you have a solid base to improvise off of. Build your foundation on day 1 to blow by your defender, implement Signature NBA Moves and create game carryover.
12/31/2019 | Day 2
Blowing By Your Defender
Learn the simple, subtle details — most players miss — that will help you break down your defender off of the dribble and out of triple threat.
SHOOTING AND SCORING ACADEMY
1/2/2020 | Day 1
NBA Signature Scoring Moves
Learn over 30 different moves we've implemented from studying NBA players. Ones that you can use, at your level, to score more points.
1/3/2020 | Day 2
Level Up Your Game With An Improved Shot
Customized instruction and .proven drills to help you improve your shooting ability off the dribble, off the catch and in game-like situations
WHO IS THIS FOR?
Co-Ed Grades 5-9 looking to transform their game
DIRECTOR
Mike Lee
TIMES
9AM-11:30AM: Session 1
11:30AM-12:30PM: Lunch
12:30PM-3PM: Session 2
REFUND POLICY
No refunds 7 days prior to event