Description
Online ticket sales will close today at 4pm. There will be plenty of tickets at the door. We look forward to seeing you there. Thanks.
Friday May 4, 2012

Cinema Connect and Unity in Marin present...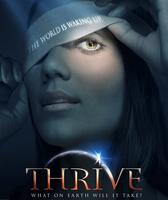 THRIVE
What On Earth Will It Take?
A Feature Documentary by Clear Compass Media
Post-Film Dialogue with Filmmakers Foster Gamble and Kimberly Carter Gamble
Launched on 11/11/11, THRIVE has been viewed by over 3 million people. Now is your chance to see this milestone film and dialogue with the filmmakers. Come participate in what could be looked upon as the turning point in the history of our planet. Come, join us in the THRIVE movement. It is how we are truly meant to live!
Venue
Unity in Marin
600 Palm Drive
Novato, CA 94949
Evening Schedule
7:00pm Doors open for tea and socializing
7:30pm Film and post-film discussion with filmmakers Foster Gamble and Kimberly Carter Gamble

Tickets

Advance $12
Door $16
Free tea and parking
Film Synopsis

Have you ever wondered why the human race and all species are not thriving on this planet? We know we have the resources to clean up the environment, feed, house, clothe and educate all 7 billion of us and take care of everyone's health needs. So what is going on?
Foster Gamble asked himself that question and has spent the past 8 years creating a documentary that provides answers. Together with his wife, Kimberly Carter Gamble, they have created an amazing film that reveals the facts and provides a breadth and depth of resources for solutions that are bound to make everyone of us smile at the possibilities.
THRIVE is an unconventional documentary that lifts the veil on what's REALLY going on in our world by following the money upstream -- uncovering the global consolidation of power in nearly every aspect of our lives. Weaving together breakthroughs in science, consciousness and activism, THRIVE offers real solutions, empowering us with unprecedented and bold strategies for reclaiming our lives and our future.