Description
THRIVE Innovation Forum
Discover the Future of Food & Agriculture


Join corporates, growers, startups and investors in advancing the future of food and agriculture through innovation this February 7 in Menlo Park, California. The event will feature agtech panel discussions with leading industry experts, an executive fireside chat, startup lightening pitches featuring THRIVE Top 50 companies, and leadership networking opportunities throughout the day.
AGENDA
8:00 AM Registration and Networking

8:45 AM THRIVE Intro and welcome, John Hartnett and Introduction to this year's TOP 50 Awards

9:15 AM Technology Presentations from the THRIVE Top 50

9:45 AM Assembly Member Anna Caballero, 30th California Assemble District
An overview of California's legislative efforts aimed at helping the agriculture industry modernize, including easing burdens to the adoption of emerging agriculture technologies, fostering the market for agtech research, development, and deployment within the state, and ensuring that rural regions are connected to the Internet to ensure statewide adoption.

10:00 AM Fireside chat with Pramila Srivastava, General Manager of Coca-Cola's Global Juice Center, with moderator Mareese Keane, THRIVE Platform Director, centered on the changes in consumer trends and how these shifts are moving up the food supply chain.

10:20 AM Coffee break and networking

10:45 AM Introduction by Pam Marrone, CEO & Founder, Marrone Biotech Innovations including an overview of this year's Top 50 Biotechnology companies

11:00 AM Technology Presentations from the THRIVE Top 50


12:25 PM Lunch

1:20 PM Keynote by Neal Gutterson, Chief Technology Officer, Agriculture Division of DowDuPont
1:40 PM Fireside chat with Rob Leclerc, CEO Agfunder discusses with John Hartnett: Agfunder's 2017 Investment Report and the past years of agtech investment.

2:35 PM Introduction by TJ Rodgers, Chairman, Waterbit | Next Gen Tech in the Vineyard

2:50 PM Afternoon break

3:10 PM Introduction by Nolan Paul, Head of R&D Strategy & Emerging Tech, Driscoll's Berries

3:25 PM Technology Presentations from the THRIVE Top 50

3:55 PM Fireside chat with Jorge Heraud, CEO of Blue River Technology discusses with Manish Kothari, SRI the Blue River Technology M&A to John Deere

5:15 PM Networking & Cocktail Reception

By the Numbers



2017 HIGHLIGHTS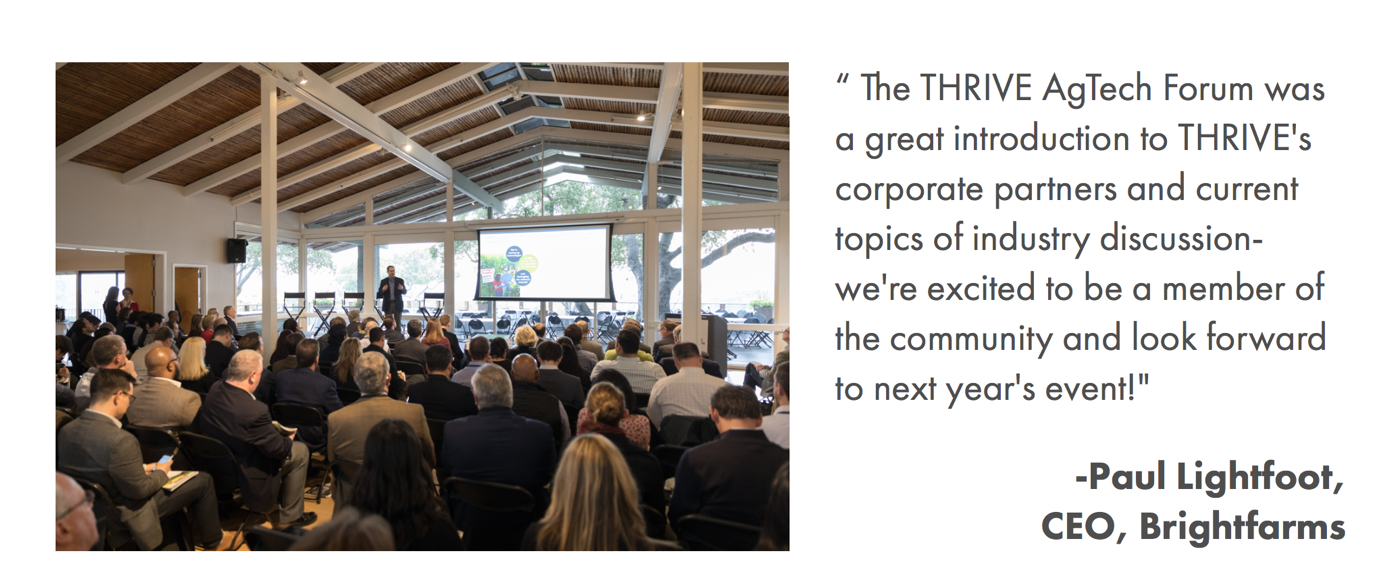 "The THRIVE AgTech Innovation Forum was outstanding! It felt like the epicenter of the AgTech ecosystem with important thought leaders, new companies and technologies."