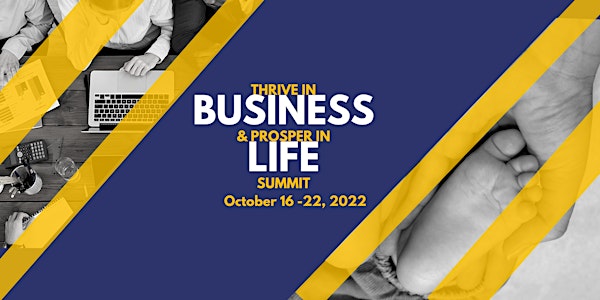 Thrive in Business & Prosper in Life Summit
This "Thrive in Business & Prosper in Life Summit" is interactive
Refund Policy
Contact the organizer to request a refund.
Eventbrite's fee is nonrefundable.
About this event
*Note, this training will be recorded.
Join leadership teams from across the globe for The Thrive in Business & Prosper in Life Summit. This event takes place over 7 days, October 16-22, 2022, from 9 AM-4 PM PST, with 2 networking opportunities every day.
We will have seven days of learning from those who have already been where you want to go.
Here's a list of our headline speakers:
Sandy Skaar
Owner / Executive Director of Self-Directed Choices who serves people with diverse abilities for over 14+ years. The company has 22 employees and serves over 600 clients in three separate programs throughout the state of New Mexico
Owner / Intuitive Coach of Heartfelt Coaching 333. This business started in 2022 and its mission is to empower individuals to seek their full potential and to follow their dreams. Has over thirty years of experience as an intuitive.
Raj Kapur
Founder & CEO – Options Ahead, Inc. – Coaching & Training organization
Wealth Mindset Expert
Maxwell Leadership Team Executive Program Leader
Certified Life Coach & Meditation Trainer
Non-Profit Expert
Published Co-Author & Radio Show Host
Francois Lupien
CEO of How To Become More, keynote speaker, Business Mindset and Sales Performance Coach and Mentor
National trainer for Tony Robbins and has been involved in 2000+ person events
Certified Consultant for Bob Proctor
Jan Robberts
Co-owner of Ki Leadership Institute
Maxwell Leadership Team member
Les Brown Platinum Speaker
Values Based Leadership Specialist engaged in many transformational projects
Dr. Arthie Moore-Robberts
Founder of Ki Leadership Institute Pty Ltd and Celebrating Humanity International Pty Ltd
Published co-Author of Inspirational Women at Work - foreword by Oprah.
Distinguished Fellow and Specialist Doctorate from Oxbridge Institute of Professionals -UK
Carla Cherry
Digital Marketing Consultant to Carla Cherry Productions
Former executive producer for Larry King
Producer for the show "Inside Versaille" with over 100,000 views per episode
Leisa Hart - Content Producer is no longer a speaker
These and other phenomenal speakers will be talking about ALL aspects of your life as an entrepreneur, everything from your strategies for getting clients to the ways you boost your productivity, and in between...how to make it work for the core of your business. Yes, the person who makes it all go: YOU.
That is not all! You get to leave something behind for the next generation too.
Day 1 ( Sunday): Business Growth
On Day One, we talk about business-building tools and strategies that will save you time and money while making the most of your value in the marketplace.
Day 2 (Monday): Sales & Lead Generation
On Day Two, we talk about exciting and novel ways to capture leads and more. We walk through the journey of getting attention to client conversion.
Day 3 (Tuesday): Personal Growth
On Day Three, we talk about self-care and recognition: The core of your business is YOU!
Day 4 (Wednesday): Spirituality & Transformation
On Day Four, we talk about discovering the blind spots that keep you disempowered. How to choose your aligned path.
Day 5 (Thursday): Self-care and recognition: the core of your business is YOU!
On Day Five, we talk about the pillar of your business, you. Nothing runs well if you're not well.
Day 6 (Friday): Wealth Accumulation: Make money grow for you
On Day Six, we talk about securing your financial stability for years to come in ways you would never think of!
Day 7 (Saturday): Leaving A Legacy
On Day Seven, we talk about giving something of meaning to the next generation and leaving this world a better place.
The schedule for every day is:
9:00 AM - 12:00 PM PST: Speaker presentations
12:30 - 1:00 PM PST: Meal break
1:00 - 1:30 PM PST: Open networking
1:30 - 3:00 PM PST: Speaker presentations
3:00 - 3:15 PM PST: Break
3:15 - 4:00 PM PST: Open networking
I am still working on getting more speakers so there will be updates in the coming week.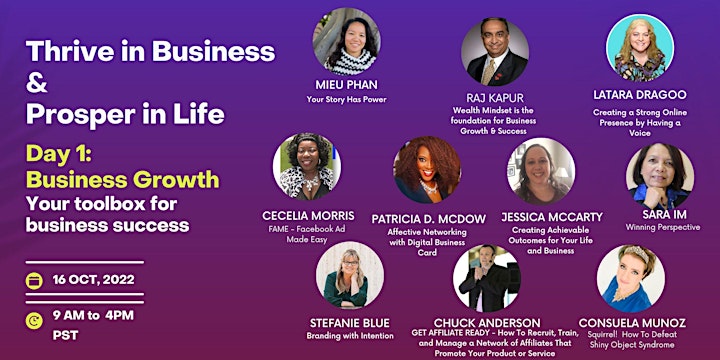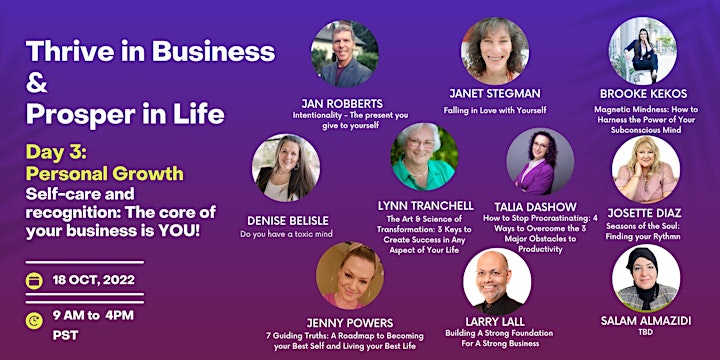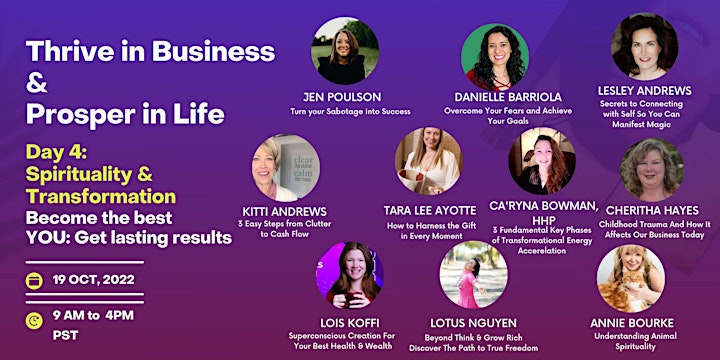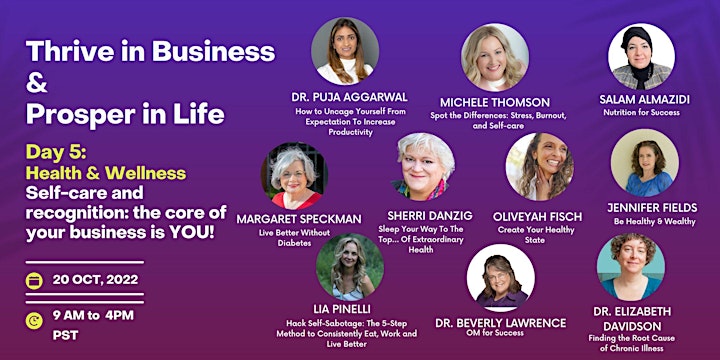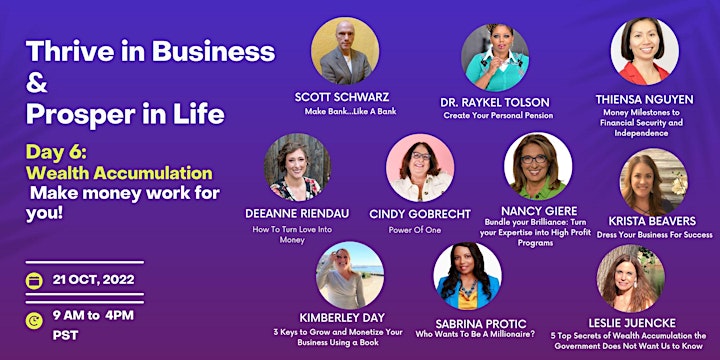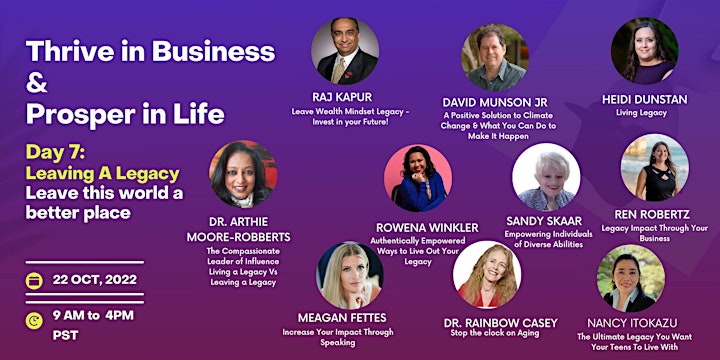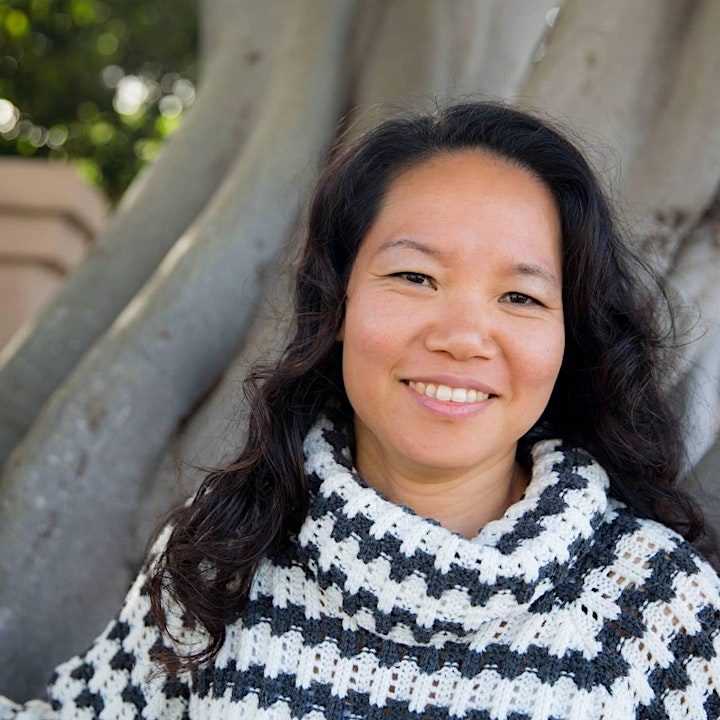 About Organizer
I am a workshop strategist. I help entrepreneurs get clients from workshops. This is for entrepreneurs who want to quit cold messaging for good! For 6-figure entrepreneurs, that is an extra $30K/month from workshops within 4 weeks.
I come from a computer science and mathematics background. My work as a data analyst at a hedge fund company with over $5 Billion under management. My job involved collaborating with financial analysts to trade stock 24/7 at all the major exchanges in the world. From this experience, I learned to spot trends and detect patterns that are happening in real-time.
In my personal life, I am a mom of three and I have been married since 2002. As a family, we love to travel and have lived internationally. Our travels have brought us to many continents for personal reasons as well as supporting our children with competitions like TaeKwonDo. If I am taking care of the needs of my family, I love to read and try new cuisine.