THRIVE FORWARD Empowerment Session for Entrepreneurs Create an entirely new level of success!
About this event
Do you want to create a new level of success?
Do you want to finish 2019 strong?
Do you want to jump start your 2020?
Join us in Stone Mountain, GA Saturday, October 12, 2019, 9 AM to 4 PM.
Create an entirely new level of success!
THRIVE Forward Empowerment Session THRIVE Forward Empowerment Session is an interactive, hands-on session for entrepreneurs who are ready to elevate their performance and create an entirely new level of success.  This session is designed for those who are committed to intentionally taking action to finish strong in 2020.
Participants will:
*Brainstorm/Generate Ideas
* Set Goals
*Create Action Plans
*Develop Strategies
*Establish accountability
Establish, redefine or clarify your priorities and core values
*Get clear, focused and reset your vision
*Align your actions and path to accomplish your vision
*Identify distractions and limiters keeping you from achieving your goals and implement strategies to overcome them
Is THRIVE Forward Empowerment Session for you?
If you answer yes to any of the questions below, this session if for YOU! I encourage you to register today, don't procrastinate!
Is this your story right now?
You don't feel that you are prepared to finish 2020 strong.
You take your work day by day without rest or confidence. You don't have a plan for your business.
You have no clear vision, plan for 2020.
You feel stuck.
You are following someone else's game plan instead of creating your own.
You are creating products and services only to throw them out on social media and see what sticks.
You are unfocused, unclear and foggy around your ideas. You second guess your "good" ideas because they don't have much of a foundation.
You're not passionate about your product or service.
You've been thinking about giving up on your vision.
Things are going well but you sense there is so much more (time, money, opportunity, connections, leverage) available to you.
Details:
Date: March 28, 2020
Time: 9:00 am - 5:00 pm
Venue:
The THRIVE Center
Stone Mountain, GA
Attire: Casual
What to bring: Note taking materials (note book, laptop, tablet, etc)
Prep Paperwork : This information will be emailed to you upon registration.
Registration includes lunch
Investment:
Early Bird Registration only $49.00 includes a complimentary 1 hour LEVEL UP Coaching session with Denise Williams, Certified Coach, Speaker, Trainer, John Maxwell Team. Early Bird Registration ends March 13, 2020 at 11:00 p.m.
Registration $69.00 begins March 27, 2020 at 5:00 p.m.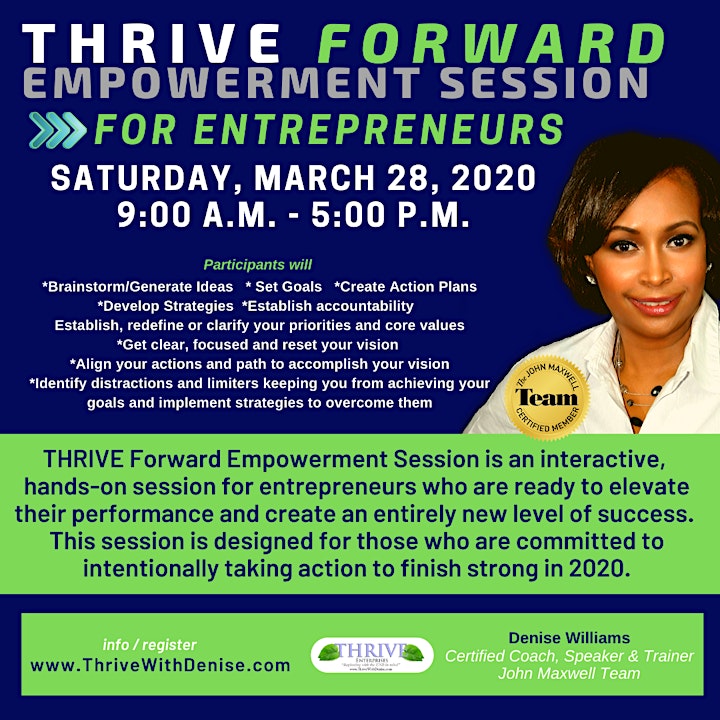 Organizer of THRIVE Forward Empowerment Session for Entrepreneurs
Our mission is to help individuals, entrepreneurs and organizations to succeed by overcoming challenges, embracing their strengths and unlocking their potential to THRIVE.  
We are committed to developing, implement and provide services and products to facilitate those in pursuit of their goals and purpose.  
Throughout everything we do, we promote personal growth and empowerment.   
Contact us today, for assistance on your journey to unlocking your fullest potential to THRIVE!!!.