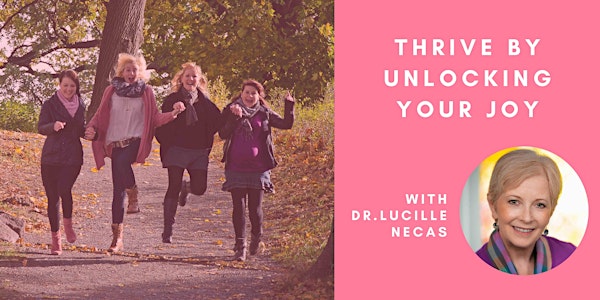 Thrive By Unlocking Your Joy
Do you feel "meh" much of the time, especially since the start of the pandemic?
About this event
Get 50% off tickets for this workshop by signing up for a FREE month of the Wellpreneur Club! Join here: https://hhwglobal.com/pages/lucilles-wellpreneur-club
Have you worked hard all your life believing that a feeling of joy would be the natural outcome, but you're still waiting for it?
Are you puzzled as to why you don't feel more happiness given that you have it all? Do you have a hard time figuring out what would bring you joy?
Not only is joy the spice of life, but we're hardwired to feel it. If you find that hard to believe, then look at healthy infants – just about everything gives them delight without them having to work at it.
Joy is not just a non-essential reward at the end of our to-do list. In fact, you may not feel joy when you finish one item on the list, because you're too focused on rolling into the next item. Or, you may be so worn down by hard work and no play, that you've chucked the to-do list and are mindlessly scrolling through social media or binge-watching Netflix? Yet, without enough joy, we shrivel and start deteriorating on all levels. Studies have shown that people who report being happy live longer and with less chronic illness that those who don't.
It's not your fault if you're not experiencing joy. Soon after the blissful joy of infancy, our society starts programming us to become good workers. It's not that we can't experience joy in adulthood, it's just that it becomes more of an optional extra that's low on the list of survival and climb-the-ladder priorities. Rather than being supported in our natural tendency to feel joy, we're expected to focus on completing tasks.
If you've had enough of feeling less than fully alive;
if you desire to recapture your joy;
if you'd love to thrive no matter what the state of this world and its restrictions; then I'd love to have you join me in my workshop entitled:
"Thrive By Unlocking Your Joy"
You'll learn:
– why joy is important for all aspects of healing and growth especially in times of global crises;
– what may be getting between you and your innate ability to feel joy;
– strategies for how to unlock the door to your joy and stay there more consistently;
– fun and revealing exercizes you can easily use in any situation.
When: Monday, August 22, 2022 from 6:00 – 7:30 pm ET
Where: Online. A zoom link will be provided on registration.
Looking forward to co-creating more joy in your life!
Get 50% off tickets for this workshop by signing up for a FREE month of the Wellpreneur Club! Join here: https://hhwglobal.com/pages/lucilles-wellpreneur-club