Description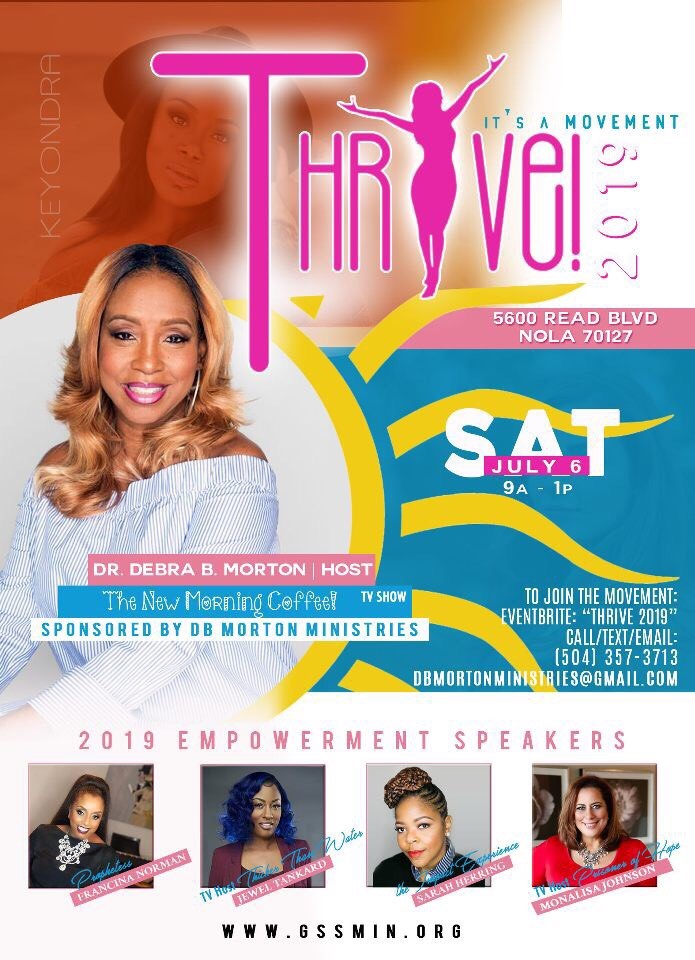 Welcome to Thrive 2019: It's A Movement!
As we welcome Essence's 25th year, DB Morton Ministries vision is to place 1k "Beyond The Storm" books in women's prisons, shelters, and re-entry houses so they can not only survive, but THRIVE.
This event is free and open to the public.
Mark your calendars for this dynamic event Saturday, July 6th, from 9 am until 1 pm at Greater St. Stephen (East Campus), 5600 Read Blvd in NOLA, 70127.
If you'd like to be a part of the mission and movement:
a.) You may donate a seed of $25 or more to sponsor a "THRIVER" or more via CashApp | PayPal | On-Site Donations. Please note "THRIVE" when giving via CashApp and Paypal.
b.) DB Morton Ministries will purchase the book and have you sign your donated with an inspiring message at Thrive Empowerment Session.
c.) DB Morton Ministries team will deliver the books directly to women's facilities.
---
The New Morning Coffee: Wake Up, It's Time To Thrive
Join us as we highlight walking in purpose, entrepreneurship, women in prison & re-entering society, human trafficking and a pilot of the taping of "The New Morning Coffee Show: Wake Up, It's Time to Thrive.
---


The Empowerment Speakers
Dr. Debra B. Morton | Author, Empowerment Speaker, Pastor
Instagram @PastorDBMorton

Prophetess Francina Norman | Founder of Francina's Prophetic Word


Cyrene Tankard | From the hit show "Thicker Than Water"


Sarah Herring | Visionary of The IMPACT Experience


MonaLisa Johnson | TV Personality on the show PRISONER of HOPE & hit show 60 Days In
---


Vendor Information
We are no longer accepting vendor applications.
---

Ticket Information
This event is free and open to the public.

---


Itinerary
8 am Vendor Mall Opens

9 am - 12 pm Morning Empowerment Sessions

12:00 pm - 12:30 pm Lunch Break

12:30 pm - 1:00 pm The New Morning Coffee Show Live Taping"