Thrival NOT Survival: An Entrepreneurship Workshop for Startup & Emerging A...
Event Information
Location
GVCCC offices 40 W 27th St.
Description
Running an arts business is no joke! Not only do you have to make great work and challenge yourself creatively, but you also have to complete the litany of other tasks that happen behind the scenes to make art happen, including: developing a strong brand, building a great website, engaging your audience, writing newsletters, managing social media campaigns, cultivating donors, soliciting funds, handling your accounting, paying bills, working on budgets, dealing with contracts, and so much more!
As a startup and/or emerging artist, there's no other way to put it: You're running a small business!
The trouble is this: you didn't study finance & accounting, you weren't born wedded to excel spreadsheets, you can't figure out what it means to develop a 'comprehensive inbound marketing strategy' that includes SEO/SEM (what's the difference anyways...), you detest bookkeeping, and tax and legal issues don't make much sense either.
So, what can you do?
First, you have to face the fact that these are issues every arts entrepreneur must address. That's easier than it sounds, of course, but there's a way to embrace this as so many successful artists have. The good news is that you can learn from others and don't have to go at it alone as there are resources out there to help.
Second, you need to know where to start and understand what your priorities should be before you embark on the next creative project. You need to have, dare I say, a business plan and a clear strategy for execution. And once you have some clarity how you're going to get the work done, it ultimately comes down to understanding how the work you do as an entrepreneur can actually elevate your creativity too. The goal, with such limited resources, is to kill five birds with one stone… only without the death of an innocent tweety of course!
Join CEO of SUM Innovation and Co-founder of NYC-based dance company Left Side Labs, Mathew Heggem, as he discusses his journey in the world of artsentrepreneurship and shares some insights as the 'dancing CEO'. Together with his Co-founder Emma Batman and a few other business savvy artsprofessionals, they will unpack some of your biggest questions about how to build a thriving arts business.
ABOUT LEFT SIDE LABS
Founded by choreographers Emma Batman & Mathew Heggem, Left Side Labs is a movement incubator on a mission to generate new dance through quality choreography & intelligent technique. Part community builders seeking sustainable environments for artists, they are driven by purpose too: Left Side Labs aims to be a job creator in the arts focused on viable business models that generate paid opportunities for those who work within the creative ecosystem.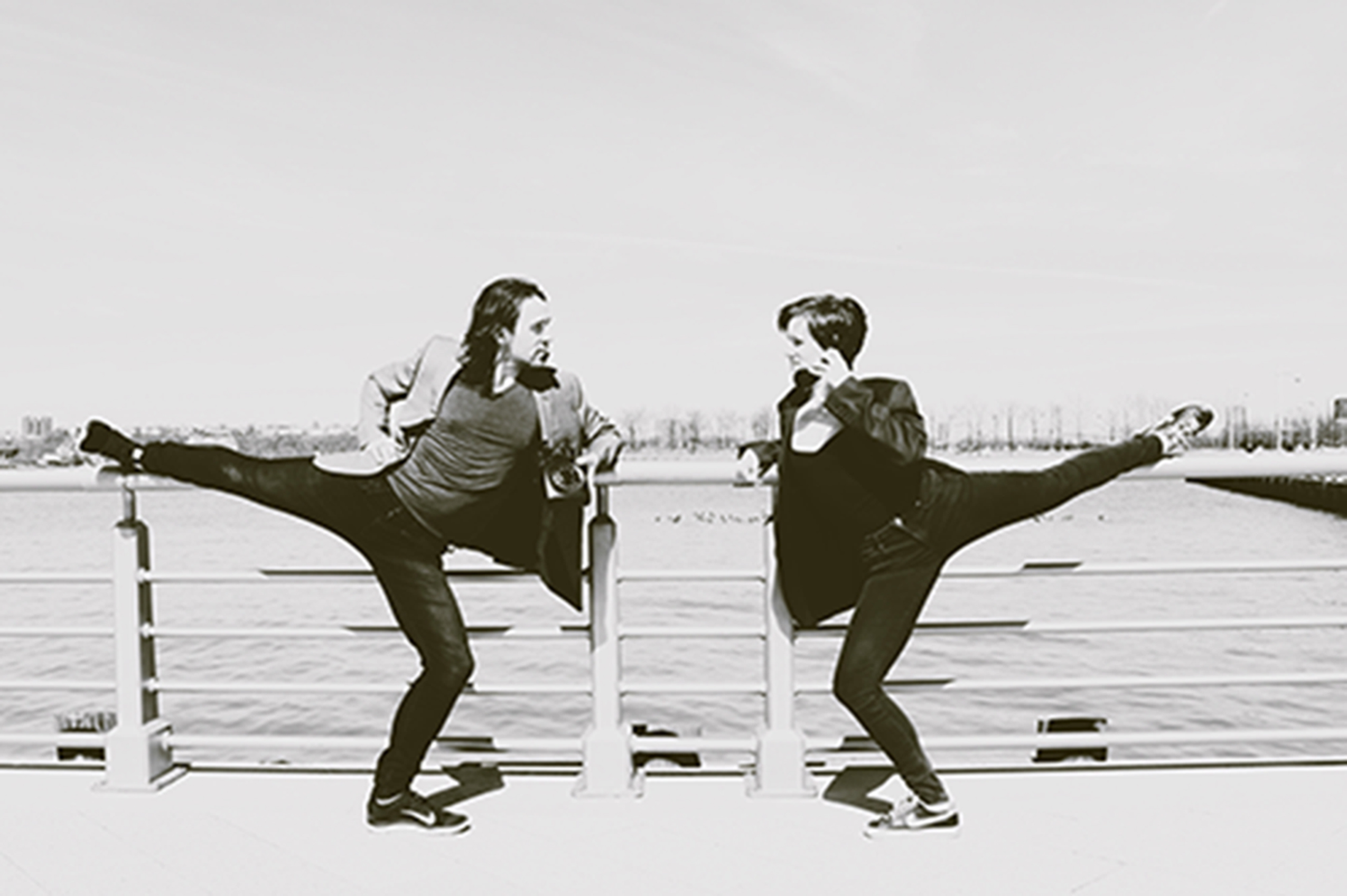 Mathew Heggem is co-founder of Left Side Labs, where he choreographs and performs in collaboration with Emma Batman. As a dancer, he has worked with Nicholas Leichter Dance, ClancyWorks Dance Company, Clyde Forth Visual Theater, and Jennifer Monson. He was also a soloist for historical reconstructions of Ted Shawn and Doris Humphrey works as part of 'The Art of the Solo.' For over 10 years, he has presented his own work at arts festivals, cabarets, and theaters throughout the Northeast, including: Cabaret Cataplexy; Queer Art Impact's 'Come As You Are' Festival and Gay Wars; various evenings at Dixon Place and The Tank; the New Dance Alliance's 'Performance Mix Festival', the Gloucester New Arts Festival and the Transmodern Festival, as part of a duet company, Kineasthesia, co-directed with artist Wendell Cooper. He was also an artist in residence for the acclaimed Djerassi Resident Artist Program. As an arts educator, he has been on faculty at the Goucher Summer Arts Institute and Experimental Movement Concepts, was a resident artist for the Trinity College LaMaMa Summer Arts program, and taught workshops for various colleges, high schools and private performing arts institutions. Mathew holds a BA in Dance from Goucher College and completed a 2 year certification in Awareness Through Movement at The Feldenkrais Institute. Mathew also works as the CEO of an accounting consulting firm, SUM Innovation.
Emma Batman is a dance artist, choreographer and co-founder of LeftSide Labs. Emma has performed with numerous artists in NYC and internationally, including Roger C. Jeffrey, Giorgio Rossi, and Teriaca. Emma self-produced and premiered her first full length evening of work, in collaboration with Sound Designer Zac Mosely at the Center for Performance Research in 2010. The evening included a collaborative video and interactive art installment by Visual Artist Kathleya Afanador. Emma has also self-produced work at The Tank and has shown her work in venues and festivals throughout the city, including Cabaret Cataplexy, Gay Wars, White Wave Festival, Dance Theater Workshop, and The Slipper Room; as well as regionally at Concord Academy as recipient of a choreographer's scholarship program at Summer Stages Dance. Her work has also been performed internationally in Copenhagen, DK, Accademia Dell'Arte in Arrezo, IT and The House of Dino in Cortona, IT. Emma has taught dance and movement at Peachtown Elementary School as part of their afterschool and summer programming. She also has given private adult fitness instruction to various clients. Emma holds a BA in Dance with a Minor in Peace Studies from Goucher College. Emma also works as a full time Executive in Manhattan and as well as a full time Mom.
Learn more about Left Side Labs at http://www.leftsidelabs.org/
SPECIAL GUEST
Emileena Pedigo, Executive Producer/Artistic Director of The Show Goes On Productions
Emileena was managing producer of the Midtown International Theatre Festival for seven years before resigning in 2011. She helped structure the annual festival, building it up to 60 shows in seven venues. Since then she general managed multiple NYC showcases and launched The Show Goes On Productions (TSGO). Both her theatrical concert series ROCK TONIC, and Rock Musical Reading Series serve to introduce progressive commercial acts to the theatre and music industries. Emileena recently began managing cross-over artists for music, theatre, and film, and venue manages at the Tribeca Film Festival each year. She teaches regular seminars on producing for Theatre Resources Unlimited and the Kansas City Fringe Festival. She is a graduate of the Commercial Theatre Institute and SUNY/Kaufmann's Fasttrac program for entrepreneurs. She assisted 5-time Tony Award winning producer Stewart F. Lane on 4 Broadway productions, including the Off-Broadway transfer of The 39 Steps. In addition to managing 8 rehearsal studios and 2 small theatres for 4 years, Emileena assisted in operations for the Palace Theatre on Broadway for 2 years. She co-produced Oberon Theatre Ensemble's 9th and 10th seasons on Theatre Row and Six Figures Theatre Company's 14th and 15th seasons at the West End Theatre. Emileena also production stage-managed extensively Off-Broadway, opera, national tours, and regionally at length in NYC, Chicago, and the SF Bay Area.
Learn more about The Show Goes On Productions at http://www.theshowgoeson.org/
Date and Time
Location
GVCCC offices 40 W 27th St.