About this Event
Written and Directed by Jeremiahya Anderson
Choreographers Shakeria Davis and Gwendolyn Gray
Saturday, October 19th, 2019.
6387 W. Colonial Dr. Orlando, FL. 32818
THRILLER IN PINE HILLS IS BACK AND EVEN BETTER THAN BEFORE!!!! PART 1 WAS COMPLETELY SOLD OUT WITH STANDING ROOM ONLY! THRILLER IN PINE HILLLS PART 2 IS GURANTEED TO LEAVE YOU COMING BACK FOR MORE!!!
THRILLER IN PINE HILLS PART 2 is a theatrical dance extravaganza filled with timeless Hip-Hop and R&B Icons that are ready to take the stage in this live production. Join us as the Johnson family have what would seem to be a normal family night at the movies. While some families are out trick-or-treating for Halloween, the Johnson family finds themselves on an adventure through time and on the run for their lives as the Dopple Ganger family set out to make this a Halloween the Johnson family won't forget.
Enjoy timeless LEGENDZ such as Tina Turner, MC Hammer, Missy Elliott, Jay-Z, Beyonce', Mary J. Blige and more. Not to mention, a live performance from the KING of Pop, Michael Jackson himself. Grab your tickets and bring a friend. This night will be filled with scary family fun for the whole community. Come ready to enjoy some of the city's finest vendors in our HAUNTED VENDOR ROOM and food.
HURRY AND GET YOUR TICKETS!!! TICKETS ARE GOING FAST!!!! SO BUY YOUR TICKETS FOR YOUR FRIENDS AND FAMILY TODAY!!!
THRILLER IN PINE HILLS PART 2 TICKET PRICING:
EARLY BIRD SPECIAL: $15 ENDS SEPTEMBER 29th, 2019
GENERAL ADMISSION: $15 for kids ages 12 & under, $25 at the door for ages 13 & up
V.I.P. $40 (limited seating) includes: Reserved seating, preferred parking, red carpet entrance, early entry for photo booth is 6pm-7pm.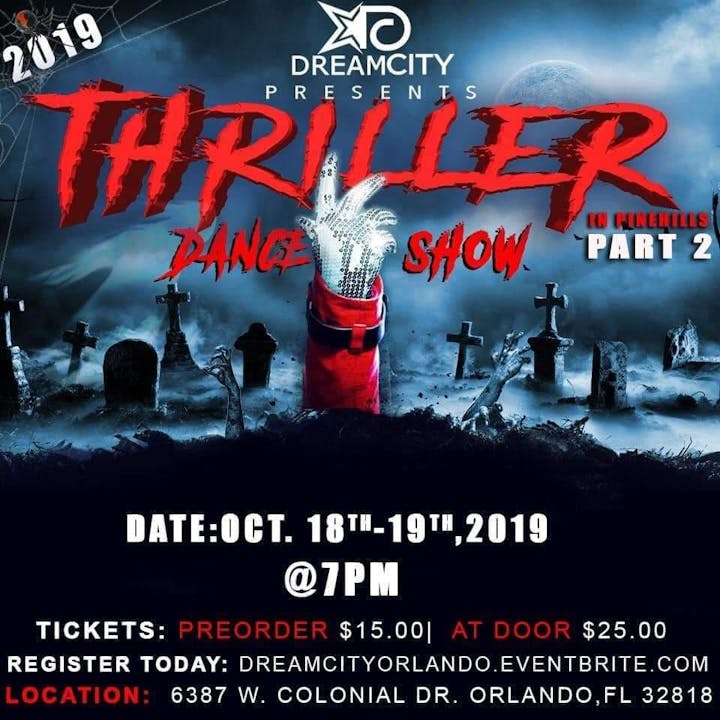 ENJOY THRILL-O-WEEN FOR HALLOWEEN AT DREAM CITY!!!!A SAFE PLACE FOR FAMILY FUN AND ENTERTAINMENT.
FOLLOW US ON FACEBOOK, INSTAGRAM, AND TWITTER @ DREAM CITY.
LIKE SHARE AND FOLLOW US AS A DREAM CITY FAMILY FAN.
IF YOU WANT TO BE A VENDOR CALL (321) 276 - 6597 OR (407) 704-6538 FOR MORE INFORMATION.
Vendor Prices:
$50.00 for a Marketing Table (ADVERTISEMENT ONLY) Table includes:6ft table, includes table cloth & two chairs.
$75.00 TO SELL PRODUCT & SERVICES Table includes: 6ft table, includes table cloth & two chairs.
CAN'T WAIT TO SEE YOU THERE!