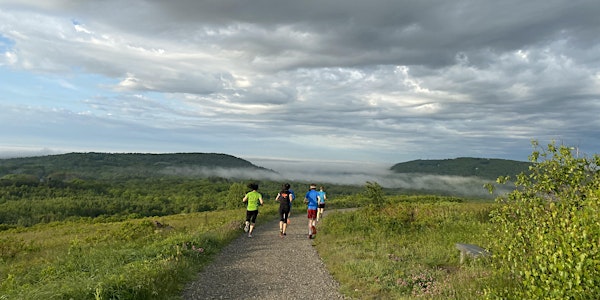 Thrill of the Hill Race
A 5k(ish) trail race on Beech Hill Preserve for solo runners or teams of up to 5. Community minded, kids run free, adults $20.
When and where
Location
Beech Hill Preserve 316 Beech Hill Road Rockport, ME 04856
About this event
UPDATE: 8/12/22: The race has changed to a single5k(ish) race, rather than a relay. If you plan to run as a team you are still encouraged to do so, but all runners will start at 9:00, rather than running in legs. This means there are effectively two races running simultaneously, a race with all runners, and a race amongst registered teams for fastest average runner. We apologize for change, but limited signups and requests for a solo option led to the change.
REGISTRATION INFO, PLEASE READ: There are two race options, solo runners or team runners. If you are signing up with friends or family we encourage you to run as a team, it will be more fun! We have prizes for the fastest runners AND the fastest teams, so please team up if you can. To register: solo runners select a solo ticket, team runners must select the team ticket and join a pre existing team (or create a new one for their friends to join). Day of registration will be available, but please consider registering online.
Summary: A short trail race in Rockport, on Beech Hill and Erickson Fields Preserves. The course starts and at the historic Beech Nut (stone hut at top of hill). This is a relaxed and community minded race that is open to all who love Beech Hill (and can tolerate the running). Speedier walkers are welcome. Sat August 20th at 9:00 AM – 10:30am. Rain or shine. Registration is from 8:00-8:45, race begins at 9:00am sharp.
Race Details:
Park at 316 Beech Hill Road (there are two parking lots here, follow signage on the road for directions to the larger one). Registration and the start are at the top of the hill. It is a 10-15 minute walk from the parking area, so plan accordingly.
Course description 5k(ish) miles out and back on trails. Start at the top by the historic stone hut and run-down farm road 1/4 mile, then turn right onto the Hill extension trail. Run 3/4 and cross Beech Hill Road to the Erickson Fields Preserve (a Maine Coast Heritage Trust property) and run to the loop. Run around the loop counter-clockwise and repeat the course to the top of Beech Hill. Trail surface is all smooth gravel or dirt 6-10 feet wide (there are some, but generally few roots on the Erickson Field Trails). Approximately 3.75-mi 500ft elevation gain. (See the course on Strava).
Snacks and water will be provided for runners (please bring a water bottle), as well as a blueberry themed treat at the finish of the race.
All proceeds will help support maintenance and improvements of Coastal Mountains Land Trust trails.