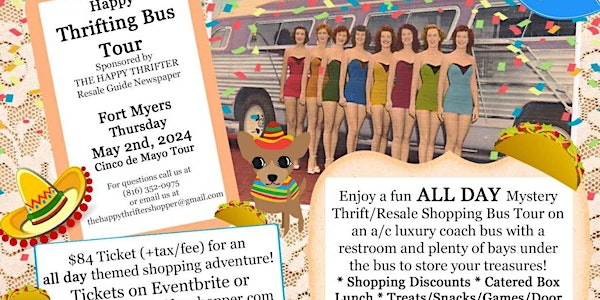 Thrifting Happy Bus Tour -5/2 FORT MYERS -Mystery Resale Shopping-CINCO
The Happy Bus that Goes Thrift/Resale Shopping and it's a Mystery Tour- We put the "FUN" into resale adventures! ALL DAY ADVENTURES
By THE HAPPY THRIFTER Resale Guide Newspaper
Date and time
Thursday, May 2, 2024 · 7:30am - 5pm EDT
Location
Time and Location for Boarding (4 PICK UP SPOTS) #1-SARASOTA- McDonalds' (ext 207) Bee Ridge and Cattlemen -7:30 am #2 CHURCH OF THE NAZARENE 8:05 AM 1535 East Venice Avenue, #PUNTA GORDA WALMART PARKING LOT 8:50 AM-5001 Taylor Road (Jones Loop Road) by t 3901 Cattlemen Road Sarasota, FL 34233
About this event
9 hours 30 minutes

Mobile eTicket
THEME: CELEBRATING CINCO De MAYO! THINK SOMBRERO'S, BRING YOUR MARACA, Let's SHAKE UP THIS RESALE TOUR!
LOVE THRIFTING? LOVE RESALE SHOPPING? Join us once again for our popular and so much fun, Mystery Resale Shopping Bus Tours as we explore our area thrifting/consignment and eclectic spots. We take care of everything, all you have to do is sit back, relax, ride in style, on a private motor-coach bus, with local "pick-up" points in Bradenton, St. Pete, Sarasota, Venice, Punta Gorda, Fort Myers and more. It's the Ultimate Resale Shopping Bus Tour Experience EVER!
We don't disclose the shops until you are on the bus, you will love being treated like a Resale Queen, with a yummy catered lunch, big discounts at our stops, snacks, games, laughs, special guests, contests, door prizes, swag/goodie bags and so much more!
You are welcome to bring your coffee with you to start your day, just make sure it has a lid on it. We have a catered lunch for everyone-Turkey-Ham or Cheese/Veg with packets of mayo and mustard plus chips and cookies. Plus we have snacks and water for the entire day just for our resale queens.
The return dates to our pick up spots, could be later due to the growth or our area, 1-75 traffic and detours, so don't plan another event that evening. Thank you
See photos from our web page of last years Mystery Resale Shopping Bus Tours!
http://www.thehappythriftershopper.com
Look below at the things we can fit under the bay of the bus. And, if you want to purchase something larger, our merchants will help you make arrangements. Our Bus Driver helps take your packages to the bus and after each stop, and will help you unload your items at the end of the day.
WE ARE TREATED LIKE RESALE QUEENS ALL DAY! And with our many NON-PROFITS Resale MERCHANTS, OUR PURCHASES HELP RAISE MONEY FOR their CHARITY , CAUSE and Mission.
WE SEND OUT PICK UP TIMES AND LOCATIONS CLOSER TO THE RESALE SHOPPING DATE-VIA YOUR EMAIL ADDRESS- THESE ARE AN" ALL DAY SHOP TIL' YOU RESALE" DROP EVENTS. And, most of our pick up locations are less than 20 minutes from your home.
OUR MYSTERY RESALE SHOPPING BUS TOURS are sponsored by THE HAPPY THRIFTER Resale Guide newspaper, voted as THE BEST of (by Sun Publications) SW FLORIDA BEST AND ONLY THRIFTING RESALE GUIDE NEWSPAPER, featuring over 200 miles of SHOPPING FUN from Tampa, Apollo Beach to Naples, FL. HUGE, FULL SIZE NEWSPAPER, 4 PAGE PULLOUT "KEEPER MAP" and HUNDREDS OF MERCHANTS. Your BUS TOUR INCLUDES YOUR OWN COPY OF THE HAPPY THRIFTER RESALE GUIDE NEWSPAPER, plus pick up extras to take home for your thrifting friends, your community clubhouse, or your girls club.
PLUS EACH MERCHANT INSIDE HAS A STORY ABOUT THEM- IT'S A MUST READ!
CONSIGNMENTS-RESALE SHOPS-ANTIQUES-VINTAGE-THRIFT-RESALE SHOPS, BOUTIQUES, EMPORIUMS, MARKETS,SHABBY CHIC, USED FURNITURE SHOPS, WORKSHOPS, CLASSES-RECYCLE-UPCYCLE-REPURPOSE-ANYTHING PRE-LOVED.
Our MYSTERY RESALE SHOPPING BUS TOURS were recently featured on WEDU-PBS. And, we were just voted as the BEST LOCAL TOUR COMPANY in April 2023 by SRQ Magazine- Celebrating 7 years of tours! WOW
For more information call us at 816-352-0975 or send us an email at thehappythriftershopper@gmail.comt
If you have a small group or a large group, call our box office to see how we can make it fun for your group, maybe we can save you a row of seats or maybe you want your own private bus tour. Give us a call for more details.
Each tour has 50 seats. All sales are FINAL, we do not offer refunds or exchanges. However, you are welcome to sell your ticket in case something comes up (we understand), we just need to know the name, phone number and email address of that bus patron. Or, you can pay your ticket forward with our company.
Sold out- once we are sold out, we will start a waiting list. NO REFUNDS.
From our Tip Sheet (everyone will be mailed a tip sheet before their scheduled resale tour)
Maybe it's the anticipation of being on a 45 foot motor coach bus, but our resale queens seem to be more thirsty than ever? Not sure of the science behind this, however that is why we encourage our Resale Queens👑 to *bring a cup or a bottle of water, coffee or wine, as long as it has a lid on it with them on the bus. We just want to be careful of spills. Remember our return times can be later due to traffic, season and more.
That way if we are stuck in traffic or you just want to wet your whistle, you will have something to drink until we get to our 1st resale destination. Some of us even bring a package of crackers or a snack in the purse.👜*from our Tip Sheet provided to each bus patrons.
BEST TIP EVER (BRING SOMETHING LARGE to store your goodies and please place your name on it (see photos above).- This tip is a MUST!
Bring a large reuse shopping bag, a plastic tub or even a suitcase with your name on it. After each stop, just put your purchase in the bag, case or tub you brought with you and at the end of our "SHOP TIL YOU RESALE DROP" tour, you can grab and go to your car so much faster. Makes it so much easier at the end of our resale tour for you and your resale gals.
GET YOUR TICKETS SOON! WE SELL OUT FAST!
About the organizer
HAPPY THRIFTER RESALE GUIDE NEWSPAPER and OUR MYSTERY SHOPPING BUS TOURS aka ULTIMATE RESALE SHOPPING BUS TOURS- ONCE AGAIN VOTED AS SW FL BEST!
Insight-Seeing the growth around our area from Tampa to Naples, Florida, it shows no shortage of quality shopping, it should come as no surprise that the thrift/resale scene is equally on-point. To make your life a little easier, THE HAPPY THRIFTER Resale Guide Newspaper, has gone and done the dirty work, rounding up the best places to score a serious steal around town with merchants ads, a stories about each merchant and a 4 page map to boot!
The thrift/resale scene can be defined as a thrift store, consignment store, an antique store, emporium store, a boutique, vintage store, a market, salvage or really, anything pre-loved!
Any questions, please call us at 816-352-0975 or email thehappythriftershopper@gmail.com
For advertising opportunites, let us know and we can send out a rate card/media kit your way.
Someone said, I always find beauty in things that are odd, secondhand and imperfect, they are much more interesting. LET YOUR RESALE ADVENTURE BEGIN WITH US!
CONTACT:
PJ Clark- Publisher of The Happy Thrifter Resale Guide Newspaper and the Founder of Mystery Resale Shopping Bus Tours
thehappythriftershopper@gmail.com
816-352-0975
Sarasota, FL 34241