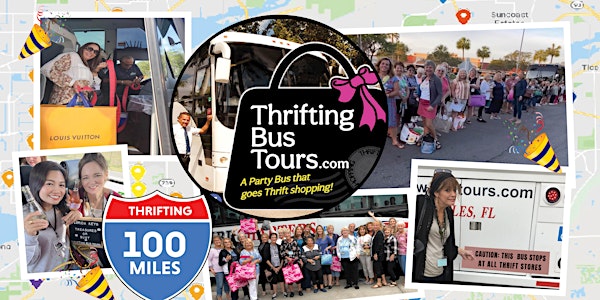 Thrifting Bus 6/8 Sip & Thrift Naples, Bonita, Ft. Myers Wine Tasting Tour
ThriftingBusTours.com Ride in a Comfortable Luxury Coach Bus as we go Thrift/Resale Shopping that includes a Wine Tasting stop!
By Thrifting Party Bus Tours
Location
BOARDING IN 3 locations #1 NAPLES 7:30AM 5991 Pine Ridge Road, Naples, FL #2 BONITA 8:00AM 12900 Trade Way 4, Bonita Springs, FL , #3 FT. MYERS 8:30AM 4770 Colonial Blvd, Ft. Myers, FL- MORE DETAILS BELOW! 5991 Pine Ridge Road PLUS ADDITIONAL PICKUP ADDRESSES Naples, FL 34119
About this event
8 hours 30 minutes

Mobile eTicket
Come have a great time on our Thrifting Bus Tour & Wine Tasting!
Our trips are so much fun! Come enjoy this day shopping Thrift stores in Lake Placid and Sebring with a Winery stop!
Lake Placid, a hidden gem with 43 beautiful larger than life murals depicting stories like the historic bank robbery of this interesting town. Pick up a mural book so you can read about the history of each mural and some clues about missing or hidden items in each mural. How many can you find? They also have 45 bird plaques, over 27 clown cut-outs and benches in this town located in the center of South Florida.
Our tour continues on to Sebring for break and a wine tasting! You can choose to participate in the wine tasting or not. The Winery also offers domestic beers, non-alcoholic beverages, sodas, and teas. Enjoy their selection of jellies, jams, marmalades and fruit butters.
Then off for more thrifting in Sebring with plenty of fun, games, prizes, and drawings along the way!
BOARDING LOCATIONS: ARRIVE 15 MINUTES PRIOR TO THE TIMES BELOW!
NAPLES 7:30AM: Publix 5991 Pine Ridge Road & Napa Blvd. in Crossroads Market (EAST OF I-75 near Regional Physicians Hospital) PARK IN THE FRONT BY THE PUBLIX SIGN. Returns 5-6pm*
BONITA SPRINGS 8:00AM: Publix 12900 Trade Way 4, Bonita Springs,FL 34135 in Bonita Grande Crossing (JUST EAST OF I-75) PARK TO THE LEFT OF PUBLIX. Returns 5-6pm*
FT. MYERS 8:30AM: Walmart 4770 Colonial Blvd. at Six Mile Cypress (NEAR I-75), Ft. Myers, FL 33966 PARK NEAR SIX MILE CYPRESS. Returns 5-6pm*
Watch for our BIG Black Bus!
*Return times can vary depending on traffic situations. Please do not have important plans the evening of our trip.
Bring your friends and your favorite bottle, for the best day ever, shopping for treasures!
Most stores will not allow large backpacks or extra large bags in the stores.
No need to bring luggage for your finds, the stores pack our goodies in boxes for storing in the bus undercarriage. You can bring a folding tote bag if you want to use it in the overhead compartment above your seat.
Party supplies and prizes included!
HEALTH & WELLNESS LIABILITY WAIVER
Each passenger is REQUIRED to sign a standard traveling health & wellness liability waiver BEFORE BOARDING. Please review the Health & Wellness Liability Waiver now. And mark "I Agree" in your ticket answers.
No Refunds. Please call if you are unable to make the trip so we are not waiting at the boarding location for you. Ticket cancellation calls within 3 days of the trip can not be transferred to another trip or resold, please offer your ticket to someone you know. You can text or call us with the name of the person taking your ticket at 239 676 3876.
Any questions, please contact us at 239 676 3876
GET ON THE BUS...
GET YOUR TICKETS NOW!! BUY TODAY or CRY TOMORROW!
WE SELL OUT VERY FAST!
About the organizer
Do you love thrifting treasure hunting? Let us take you to some of the best shops and party all the way! Ride in a/c comfort in a luxury coach bus, usb outlets, faciility on board and plenty of room in the under carriage for your treasure finds!