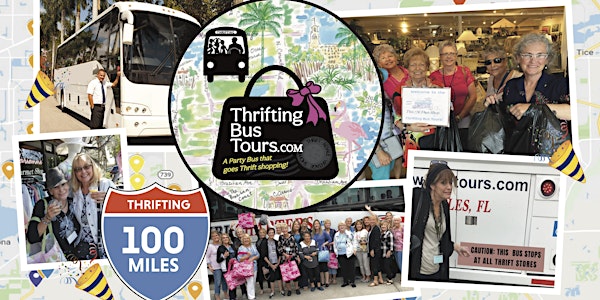 Thrifting Bus 6/15 Ft. Lauderdale & Miramar Goes to the Florida Keys!
ThriftingBusTours.com Come Party with Us on a Comfortable Luxury Coach Bus as we go Resale/Thrift Shopping !
By Thrifting Party Bus Tours
Location
BOARDING IN 2 LOCATIONS: #1 FT.L/SUNRISE 8:30am Sam's Club 13550 W Sunrise Blvd, Sunrise, FL 33323 #2 MIRAMAR 9am Home Depot 3183 SW 160th Ave, Miramar, FL 33027 13550 W Sunrise Blvd SEE 2nd Location in Miramar in DETAILS Sunrise, FL 33323
About this event
A Party Bus that Goes Thrift Shopping!
YES!! Come on our day trip to shop a variety of resale stores in the Florida Keys! Enjoy games, contests, drawings, and prizes all the way! This is a novelty trip so bring your friends for a girls day and B.Y.O.B. !! Restroom on the bus as well.
Our thrift shopping tour includes stops that offer a collection of open air specialty shops, galleries and boutiques. Grab a cold drink or cocktail like the famous loaded Trailer Trash Bloody Mary and enjoy the music as you browse through shaded paths and gardens offering a variety of local art, handmade crafts, custom jewelry, fashionable resort wear, and unique souvenirs.
Discover one-of-a-kind creations from artisans and renowned artists including sculptures, paintings, collages, jewelry, home decor and more! Seek some thrills by trying your hand at feeding massive tarpon, that began with a tarpon named "Scarface".
We will also travel over the 7 Mile Bridge to see Fred the tree. (Note: We will not go to Key West, there is only a tiny consignment store that can not accommodate our group of passengers.) We will make a final stop for Key Lime Pie or Key Lime Ice cream before we journey back to Miramar.
Boarding in Sunrise and Miramar (See below)
Ride in comfort on a luxury coach bus with wifi and plenty of room in the under carriage for your treasure finds! We can fit it on the bus if you can fit it in your car when we return! Bring your cell phone plug and cord, outlets at each seat.
TICKET: $79* per person for our all day adventure, includes catered lunch, afternoon sweet treat & soda, and plenty of cold water for the entire day available at each stop! (*plus applicable fees & taxes).
Our catered lunch offers your choice of Roast Beef on multi-grain bread (seeds on bread) or Turkey on white bread, both with lettuce, tomato and cheese, and packet of mayo & mustard. Our box lunch also includes Lemonade or Sweet Tea (we have water on bus also), cookies and a bag of chips! If you have special dietary needs, please feel free to bring a bag lunch to keep at your seat (we are unable to reduce ticket price).
BOARDING LOCATIONS: ARRIVE 15 MINUTES PRIOR TO THE TIME BELOW! Wait for our Bus, we could be delayed by traffic between boarding stops.
8:30am SUNRISE Sam's Club 13550 W Sunrise Blvd, Sunrise, FL 33323 Facing Sam's Club park in the far right side of the parking lot (along Sunrise Blvd.)
9:00am MIRAMAR Home Depot 3183 SW 160th Ave, Miramar, FL 33027 PARK STRAIGHT OUT FROM THE GARDEN CENTER.
RETURN TIMES CAN VARY DEPENDING ON TRAFFIC-PLEASE DO NOT HAVE IMPORTANT PLANS AFTER OUR TRIP.
No need to bring luggage for your finds, the stores pack our goodies in boxes for storing in the bus undercarriage. You can bring a folding tote bag if you want to use it in the overhead compartment above your seat.
Bring your friends and your favorite bottle, for the best day ever, shopping for treasures!
Party supplies and prizes included!
HEALTH & WELLNESS LIABILITY WAIVER
Each passenger is REQUIRED to sign a standard traveling health & wellness liability waiver BEFORE BOARDING. Please review the Health & Wellness Liability Waiver now.
No Refunds. Ticket includes breakfast snack, catered lunch, refreshments, games, prizes, and drawings! Please call if you are unable to make the trip so we are not waiting at the boarding location for you. Ticket cancellation calls within 3 days of the trip can not be transferred to another trip or resold, please offer your ticket to someone you know. You can text or call us with the name of the person taking your ticket at 239 676 3876.
By purchasing tickets, you agree and acknowledged to all parties purchasing tickets and participating on our Thrifting Bus Tour that each ticket holder must sign our Waiver and Liability Release form. It will be sent via the email you supply for your ticket.
Any questions, please contact us at 239 676 3876
GET ON THE BUS...
GET YOUR TICKETS NOW!! BUY TODAY or CRY TOMORROW!
WE SELL OUT VERY FAST!
About the organizer
Do you love thrifting treasure hunting? Let us take you to some of the best shops and party all the way! Ride in a/c comfort in a luxury coach bus, usb outlets, faciility on board and plenty of room in the under carriage for your treasure finds!