An evening of Baroque music composed by the greatest composers of 18 century - Bach, Handel, and Mozart.
About this event
DEAR MUSIC LOVERS,
WE SINCERELY APOLOGIZE FOR THE INCONVENIENCE BUT DUE TO TECHNICAL DIFFICULTIES THE CONCERT HAS BEEN RESCHEDULED FOR TOMORROW, OCTOBER 18TH AT 7 PM.
THANK YOU FOR YOUR UNDERSTANDING AND WE HOPE TO SEE YOU TOMORROW! LYRICA CLASSIC TEAM.
Lyrica Classic Entertainment presents OutSound Trio and its new concert program "Three & Three" that includes vocal and instrumental masterpieces by the three most famous composers of the 18th century - Wolfgang Amadeus Mozart, Johann Sebastian Bach, and George Frideric Handel. The music is rearranged for the classical guitar, domra, and soprano.
The event will be live-streamed on Lyrica Classic's YouTube Channel. After donating, you'll receive the information on how to access the live stream channel.
CONCERT PROGRAM
Johann Sebastian Bach:
Aria "Erbarme dich, mein Gott" from the oratorio St Matthew Passion, bwv 244
Air on the g string from the Suite Nr. 3 in d major
Aria "Bist du bei mir" from Cantata 508
George Frideric Handel:
Aria "Lascia ch'io pianga" for the opera Rinaldo
Aria "Tu del ciel ministro eletto" from the oratorio Trionfo del Tempo
Aria "Dopo notte, atra e funesta" from the opera Ariodante
Wolfgang Amadeus Mozart:
Aria "Deh, vieni, alla finestra" from the opera Don Giovanni
Aria "laudate dominum" from the sacred choral composition Vesperae Solennes de Confessore, K 339
Aria "Alleluia" from the sacred composition "Exsultate Jubilate", k. 165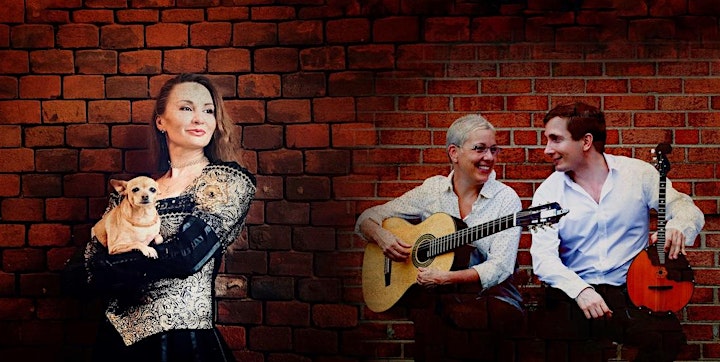 ABOUT THE ARTISTS
After graduating from the Gnessin Academy in 1988, Ms. Kusner pursued an active performing career in Moscow both as a soloist and in accompanying vocalists from both the Bolshoi Opera and the Moscow Philharmonic Society. In 1990, she moved to Israel to study classical guitar at the Jerusalem Academy of Music, graduating in 1995. Subsequently, she pursued a flourishing concert career in Israel, Greece, Cyprus, Turkey, and Egypt, appearing with prominent orchestras and chamber groups, while releasing more than a dozen CDs. For over 35 years, Anna taught the classical guitar at conservatories in both Russia and Israel, and she has continued her concertizing and teaching activities all over the United States since coming here three years ago.
After graduating from the Gnessin Academy in the special class of Alexander Tsygankov, Mr. Omelchenko quickly established himself as one of the most promising folk musicians of his generation, starting his career as a featured domra player with Moscow's Nekrasov Balalaika Orchestra and then "fleeting up" to the world famous Osipov Balalaika Orchestra, where he performed as a soloist and became one of the Ossipov's principal arrangers. Additionally, Peter became active with several smaller Moscow folk-instrument ensembles – both playing and arranging – and even appeared in stage and circus productions. Locally, in addition to performing with and occasionally conducting the orchestra of the Washington Balalaika Society, Peter plays with several chamber groups and has taken a growing number of music students under his wing.
Ms. Petrachuk studied at Moscow Tchaikovsky Conservatory and is a graduate of Bern Opera Studio in Bern, Switzerland. Her debut as a professional opera singer was with the State TheaterBern, Switzerland, in 2010. Yulia is specializing in contemporary operas and other forms of vocal music of the 20th century. She performed many World and US-premiers. As well, Ms.Petrachuk, through her teaching studio, instills the love for classical music to new generations. Ms. Petrachuk has robust experience in international performing art projects', execution, and collaborations in the USA and EU. Yulia is an active performer and a soloist of many famous venues as Salzburg Mozarteum in Austria, Carnegie Hall in NYC, Gotha Theater in Germany, Musikvereinin Vienna, Bolshoi Hall in Moscow and others.
Organizer of THREE & THREE - Live-stream