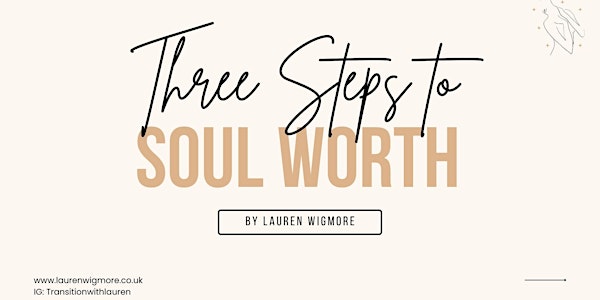 Three Steps to Soul Worth Free Masterclass
Three Steps to Soul Worth is a masterclass to get you moving away from low self worth towards your true soul worth!
About this event
It's going to be a packed hour of diving deep into low self worth and how to move towards our soul worth. Because maintaining low self worth doesn't serve anyone, and you are here to feel good, feel free and live an empowered life. We will cover moving from low self worth to soul worth, dive in to understanding the 3 core wounds I speak about as the key drivers, and how we can start to make changes today towards our soul worth.
This is for you if you are:
A woman
Who has areas of your life that are unfulfilling or toxic
Know you have untapped potential but don't know why you aren't tapping it
Spiritually inclined or open
Quirky or creative or 'odd'
Self-sabotaging unconsciously
Deep down know you are worthy of more
About me
Hi, I'm Lauren. I used to treat myself so, so badly. I suffered for nearly two decades with depression, then later anxiety joined too, I used addictive behaviours to numb and 'release' my pain. I chose unworthy romantic partners, I stayed in jobs that were below my ability. I never believed I was good enough and I wondered why nothing I ever did truly helped, and why nobody, including myself, loved me.
Sound familiar?
And then it all changed!
I now work with individuals who suffer with low self worth from small t-traumas manifesting as limiting beliefs and trapped energy in the body. I focus on a mind-body-soul approach and tackle it from a 'where spirituality and psychology meet' perspective.
I have an MSc in Psychological Sciences, and qualifications as a Reiki Master, EFT Practitioner, and an Introduction to Counselling Skills certificate, along with experience in Coaching, CBT, NLP and Energy Medicine.
www.laurenwigmore.co.uk
IG: Transitionwithlauren