Description
Three Knitting Workshops in One
with Patty Lyons
Friday, October 5 and Saturday, October 6
9am-4pm (both days)
WGGC member: $150.00
Non-member: $175.00
Chair: Barbara Eden
Patty Lyons is a nationally recognized knitting teacher and technique expert who is known for teaching the "why," not just the "how" in her pursuit of training the "mindful knitter". She specializes in sweater design and sharing her love of the much-maligned subjects of gauge and blocking. Check out Patty's web site. In this two-day workshop, Patty will share a bit of her vast knitting knowledge – designing a top-down sweater, fixing mistakes in lace, and knitting tricks.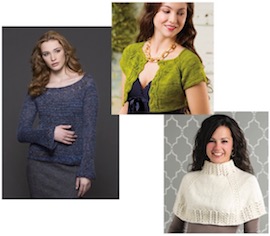 Design Your Own Top Down Raglan Sweater
A raglan sweater can fit well if you know the simple math of how the pieces work. After you learn how to properly measure yourself and get your own custom measurement sheet, we will explore every aspect of design from the cast on to the finish. We will learn a variety of necklines, waist shaping, and more. After this class, you will be able to create your own gaments. You will understand how top down patterns are written and how to alter them. Your perfectly fit sweater awaits you.
Skills Needed: Must know how to knit, purl, cast on, bind off, and simple increases/decreases without supervision. Having knit a top down sweater is helpful. SOLID knowledge of the math of gauge is needed!
Materials Needed: Pencil, pens, flexible tape measure, calculator, two (2) long straight needles for measuring. Wear a t-shirt or tank for ease of getting measured and whatever undergarments you usually wear under a sweater.
Homework (optional): Make a 6"x6" swatch in whatever stitch you would like to use. Do NOT add a garter stitch edge to swatch. Use the speed swatch method. Wash and block your swatch.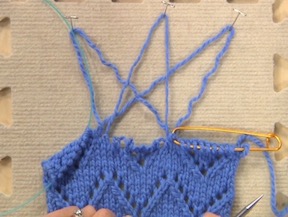 Lace Doctor: Fixing Mistakes in Lace
Fixing mistakes in lace can feel intimidating at first, and incredibly empowering once mastered. In this session. we will look at the tricks to unknitting increases and decreases in knitting, how to drop down and put in a missing increase or decrease, and the proper use of a lifeline. We'll practice fixing mistakes in a previous row as we purl back, and even repair a secton of our lace.
Skills Needed: Must know how to knit, purl, cast on, bind off, do basic increases/decreases, and have knit a simple lace project from a pattern or chart.
Materials Needed: Bring worsted or chunky weight yarn in a light color as you will be swatching, along with knitting needles appropriate to yarn, DPNs appropriate to yarn, locking stitch markers, stitch holders, T-pins, blocking mat (or cork board or bath/beach towel) to pin into. Optioinal: Thin contrasting cotton yarn or dental floss and a tapestry needle.
Homework: Will be distributed after registration by the Workshop Chair, Barbara Eden.

Patty's Bag of Knitting Tricks
Patty has decided to dig into her bag of tricks and put them all in one class – how to do a better SSK, make matching size YOs, how to avoid the gap at the end of a bind off, how to tighten the first stitch, how to make better neck divides, and more!
Skills Needed: Must know how to knit, purl, cast on, bind off, know simple increases/decreases. Experience knitting a sweater or following an accessory pattern is helpful but not required.
Materials Needed: Light color worsted or chunky weight yarn, small separate ball of different color but same weight yarn, and knitting needles appropriate for the yarn.
Homework: Will be distributed after registration by Workhop Chair, Barbara Eden.
Questions about this workshop? Email the Chair, Barbara Eden.

Cancellation Policies Regarding Student Fees
If teacher or Guild cancels workshop – full refund to all registered and cancelled students. Generally, the teacher or the Guild may cancel the workshop three (3) or more weeks before the workshop start date. This is stipulated in the contract but can be flexible if both parties agree.
If a registered student wishes to cancel, s/he must:

Contact the Workshop Chair
If canceling thirty (30) or more days before workshop start date, student receives a refund of the workshop fee minus a $50 cancellation fee.
Cancel twenty-nine (29) or fewer days before the workshop start date

Refund workshop fee minus $50 cancelation fee only if vacant spot is filled by another person (from waitlist or otherwise).
No refund if spot remains vacant.

Registered student may independently find someone to take his/her place at the workshop with no extra fees involved as long as no cancellation is performed through EventBrite. Workshop Chair MUST be notified. In this situation, the primary registered student is responsible for all fees, passing on information to their replacement, etc.