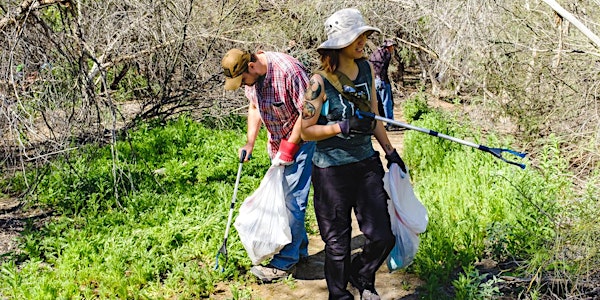 Three Creeks Confluence Cleanup with Seven Canyons Trust!
Come join us and Seven Canyons Trust to clean up Three Creeks Confluence!
When and where
Location
Three Creeks Confluence 950 1300 South Salt Lake City, UT 84104
About this event
Come join us and Seven Canyons Trust to clean up Three Creeks Confluence!
You can learn more about the event and Seven Canyons Trust here: https://sevencanyonstrust.org/events/2023/03/04/scws
The Seven Creeks | Walk Series, funded by Salt Lake County Zoo, Arts & Parks Program, David Kelby Johnson Memorial Foundation, and Intermountain Healthcare, engages participants in walking conversations and collaborative action along our creeks. Observe and share stories, insights, and visions to better manage, restore, and love these waterways. Engage in on-the-ground actions to build community connection in uncovering and restoring our buried and impaired creeks."
The Deets
Who: Everyone! Bring friends, family, and more friends!
When: 03/04/2023 from 9am-11am
Meet Location: 1210-1290 S 900 W, Salt Lake City, UT 84104 -- this coordinate will take you right to the front parking spaces at the park. We also highly encourage taking public transportation.
Where: We will be cleaning up along the confluence and river! We will have two focused areas: within the park and also to the west side of Three Creeks on the Jordan River Trail.
Stuff to Know:
Wear outdoor appropriate attire and your Keep Nature Wild gear is always a plus :) Shoes/boots and long pants are always recommended as well as a hat or some form of shade.
We will provide bags and gloves. Feel free to bring trash grabbers and buckets in lieu of bags.
You don't need any sort of pass or permit for this event.
Cleanup events are inherently dangerous and can be strenuous. We will be reviewing safety precautions prior to the cleanup.
If you're interested in learning more about our mission, our story, and the products we sell, check out our website www.keepnaturewild.com
**YOU DO NOT NEED TO PRINT A TICKET FOR THIS EVENT!**. Simply sign up and show up!