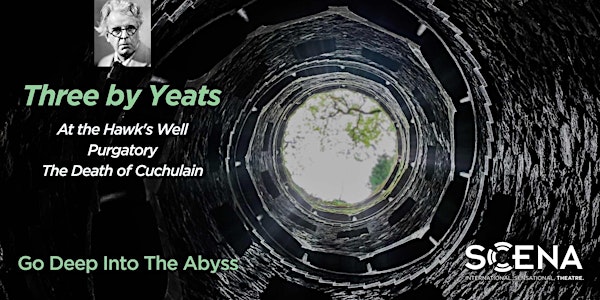 Multiple dates
Three by Yeats: short plays celebrating great Irish theatre, music & dance
This delightful and entertaining show features drama, music and song in a showcase of 3 acclaimed plays by W.B. Yeats!
Date and time
Starts on Thursday, May 11 · 7:30pm EDT
Location
DC Arts Center (DCAC) 2438 18th Street Northwest Washington, DC 20009
Refund Policy
Contact the organizer to request a refund.
Eventbrite's fee is nonrefundable.
About this event
Join us for an entertaining evening where we celebrate Irish culture with drama, music, dance and song! Scena Theatre continues its 34th Season in Washington with "Three by Yeats" — a trio of plays by the great Irish writer, William Butler Yeats.
Get to know the works of Yeats who represents the finest drama and culture from Ireland. Scena Theatre has a rich history of staging Irish plays by many great writers featuring both local and global talent with authentic accents and characterizations.
CAST: This production features many top actors and singers from the Washington, DC area including: Danielle Davy, Lee Ordeman, Ellie Nicoll, Kim Curtis, Buck O'Leary, Robert Sheire, Robert McNamara, Ron Litman, David Johnson, Aniko Olah and Melissa Robinson.
Our three plays include ...
At the Hawk's Well (1916) is based on the tales of Cuchulain, the mythological hero of ancient Ulster. The setting is a dried up well on a desolate mountainside—guarded by a hawk-like woman. An Old Man has kept camp there for 50 years hoping to drink the miraculous waters that seldom rise up. Cuchulain arrives seeking immortality. The Old Man recounts his wasted lifetime there and claims the Guardian is supernatural and carries a curse of violence. Suddenly, the well's Guardian falls into a trance, arises, and dances like a hawk. She exits, and Cuchulain pursues her—then the waters bubble up.
The Death of Cuchulain is a poem depicting mythic warrior Cuchulain of ancient Ulster in the 1st century. His wife Emer hears he is cheating with a "young and sweet" woman. So she sends her son Finmole to confront Cuchulain. Finmole fights his father, yet does not reveal his identity, and is sadly killed. Cuchulain discovers the truth and mourns his son's death for three days. While in the forest, the king tells his druids to cast a spell on the old hero and send him to his death in the waves. They do so, and Cuchulain fights with the sea for four more days before succumbing.
Purgatory is a drama that tells a family saga of decline and fall via an Old Man (the father) and a Boy (his 16-year-old son). It is set outside the former family home—which the Old Man's father had drunkenly burned down—leading him to kill his father as the building perished. The Boy is skeptical and repelled by the story of losing his own mother as she gave birth to him and the family's subsequent decline.

Please join us for a magical night of theatre and culture as we transport you to old Ireland! Three by Yeats will entertain and enlighten you through emotional drama, music and song!
OPENING NIGHT / PRESS NIGHT IS FRIDAY MAY 12 at 7:30 PM