Threadless 6th Annual Family Reunion

Saturday, August 25, 2012 at 11:00 AM

-

Sunday, August 26, 2012 at 2:00 AM
Event Details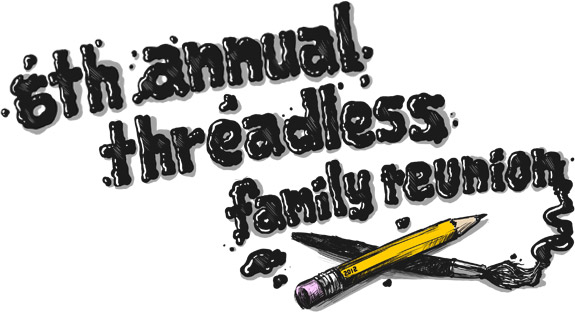 Join us Saturday, August 25th for the 6th Annual Threadless Family Reunion!
The Meetup is all about checkin' out cool art, hangin' out with your fave Threadless artists and bloggers, and partyin' with fellow Threadfans! We'll have guest speakers, live music, games, SWAG, and the opportunity to score awesome prizes!



11 am Doors Open. Snag your SWAG bag!* Say hi to all of your Threadfriends, screenprint your own Meetup tee, doodle on the Make Great Together backdrop, or upcycle some tees with Brianne!
12 pm Chow down on some free lunch and listen to live music from Tall Animals!
1 pm  Watch the hilarious Show 'n Tell show interview Threadless artists Justin White, Katie Campbell & Matheus Lopes!
2 pm #MakeGreat competition for the chance at awesome prizes
2:45 pm Presentation by Charles Anderson, founder of CSA images
3:15 pm Great Things: Threadstaff presentation
3:45 pm Official Threadless knock out game hosted by Speedy Joe! Get your photo taken in your new Meetup Tees! Check out the Black Rock Collective Art Show!
5:00 pm Dinner Break! Go get some food around the 'hood


8:45 pm - 2 am - BEACH PROM AFTER PARTY!
Get your heiny over to Bottom Lounge (1375 W. Lake St.) and grab a free libation or two! (If you're 21+)
8:45 - doors open.  
9:00 -12am - drinks on us!
8:45 - 9:45 - Get your beach prom photo taken in your hilarious get ups. (Costume NOT required, but isn't it fun to dress up?)  Need costume inspiration?
9:30 - 10:30 - Dance to an awesome performance by Prom Band, a hard rock cover band featuring a very dreamy Threadstaff member Danny
10:30 - 10:55 - Announcement of Bestees and Beach Prom King & Queen
11:00pm - 2am - get your karaoke on!
*If you need some "beach prom" attire for the after party, get some for cheap at our local Goodwill (1201 W. Washington Blvd.), open from 9 a.m. to 7 p.m.
Doors will close if the venue reaches capacity.


To book one of our reserved rooms at the Crowne Plaza hotel (just down the street from Threadless HQ) call 1-877-337-5791 and reference the code TFR or Threadless Family Reunion to get the discounted rate on a room, which runs $160/night. You must reserve by August 3rd in order to get the discounted rate.

*You must RSVP to get on the list for entry! The first 300 people to arrive on Aug. 25 will get an awesome SWAG bag and Meetup tee!

We can't wait to see you!
Lookin' for something awesome to do on Sunday?
Here are some awesome places to eat!
18x24 is a Gig Poster Pop-Up Shop featuring some of the premiere poster artists in the Midwest. Each artist will have a designated booth to exhibit and sell their work, including gig posters, art prints, apparel, etc.  In addition, Chicago-based natural foods producer Upton's Naturals will be on-site providing free samples to all while supplies last. 18x24 is completely open to the public, free of charge with no ticket or invitation necessary. 
Exhibiting artists include: Adam Hanson, Baker Prints, Bureau of Print Research and Design, CHema, Skandal!, Crosshair Studio, Dead Meat Design, Delicious Design League, Drug Factory Press, Fug Screens, Johnny Sampson, Screwball Press
The Bucktown Arts Fest is a non-profit, all volunteer-run, neighborhood celebration of the arts— with no corporate sponsorship. Admission is free. All proceeds from the Fest go to develop and support arts and education programming at Holstein Park and in the Bucktown/Wicker Park neighborhoods.
Celebrating its 27th year in 2012, the Bucktown Arts fest has grown to become a neighborhood tradition and one of the city's – and the country's – premier arts festivals showcasing close to 200 participating artists, plus countless musicians, dancers, poets & performers and attracting more than 40,000 visitors annually.
When & Where
1260 W. Madison
Chicago, 60607


Saturday, August 25, 2012 at 11:00 AM

-

Sunday, August 26, 2012 at 2:00 AM
Add to my calendar