Threadless 5th Annual Family Reunion

Saturday, September 10, 2011 at 11:00 AM (CDT)
Event Details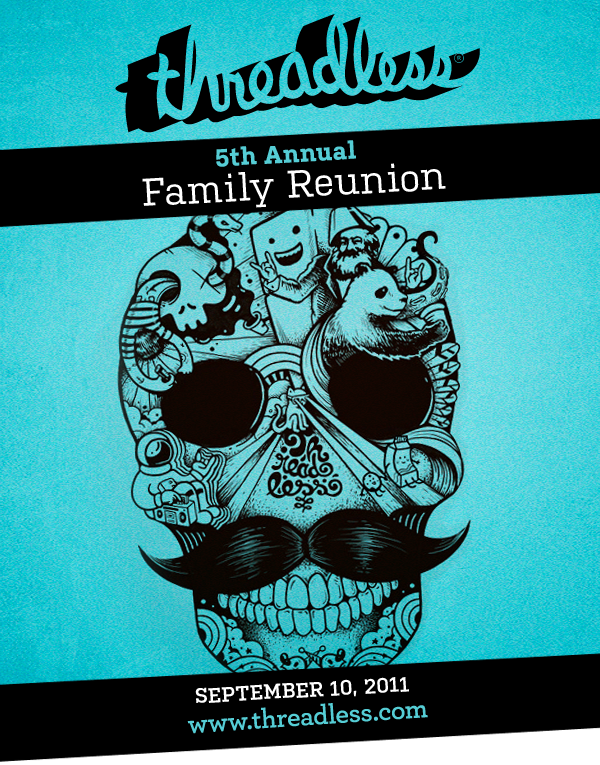 Join us Saturday, September 10th for the 5th Annual Threadless Family Reunion!

How do we make this year's meetup the best one yet?

During the day, we'll have fake tattoos, awesome mind-blowing artist presentations, amazing surprizes and many opportunities to soak Craig Shimala in a dunk tank.
Our after party will be a star-studded red carpet event (dress up in your best thrift store formal attire) for the 2011 Bestee award show followed by karaoke with your favorite Threadstaff.

Tat yourself with the the chosen design from our Temporary Tattoo Design Challenge: http://atrium.threadless.com/temporarytats/
Watch presentations by artists Alice X. Zhang, Phil Jones and David Schwen, and your 4 Threadless Ambassadors: Aled, Ian, Evan, and Alvaro
Check out the Threadless Remix Gallery Show by all of your favorite Threadless artists
Experience rad surprises (and prizes, too!)
Make something new out of your old tees at the No Sew Table with Brianne
MAKE the GREAT red carpet backdrop TOGETHER for the Bestee Award Show
Join us for a late night party at Bottom Lounge! Free drinks! (All can come, but only those 21+ can booze it up). Make sure to dress in your best thrift store formal attire and walk the red carpet. Watch out for paparazzi! (And, yes, we will give out a Best Dressed Award)
Move to the beat of DJ White Chocolate (Threadless CEO Tom Ryan)!
Sing karaoke with Speedy Joe! 
Make loads of exclamation points and memories!!!
It's all taking place at 1260 W. Madison, our swinging Chicago hangout! Be there to support the fam. If you're not planning on coming, we'll guilt you into it somehow.
We have a block of rooms at the nearby (walkable to both HQ and Bottom Lounge) Crowne Plaza Metro Hotel on 733 W. Madison St for $179/night (1 King or 2 Double Beds if you are sharing). Email community@threadless.com if you're interested, and we'll hook you up.

Friday unofficial meetup spots:
Lunch:
Butterfly
(Sushi) - 1131 W. Madison St. 
Wishbone
(Cajun Comfort Food) - 1001 W. Washington Blvd.
Drinks:
Beer Bistro
 - 1060 W. Madison St.
If you need some thrift store formal attire for the after party, get some for cheap at our local
Goodwill
- 1201 W. Washington Blvd, open from 9am to 7 pm!
Saturday, the BIG OFFICIAL party:
11am:  Doors Open. Snag your grab bag, slap on a kickin' temporary tattoo or two and say hi to all of your Threadfriends! And don't forget to doodle on our 2011 Bestee Make Great Together Backdrop!
12pm:  Lunch!  NOMZ NOMZ NOMZ
1pm:  Presentation by Artist Alice X. Zhang
1:45pm:  "It's so cold we draw a lot." Double Presentation by Minnesotan Artists Phil Jones & David Schwen
2:30pm:  Dunk Tank & Tattoo Break - Dunk Craig "Rain Cloud" Shimala and tattoo yourself with a design your mama would be proud of! (It's our dream to dunk Craig, too!)
3pm:  "Ask the Ambassadors" - Presentation by your 4 Threadless Ambassadors
4:30pm: Doodle & Dominate 
5:30pm: Dinner Break!  Go get some food, ya Dingus!
8:45pm: Get your heiny over to
Bottom Lounge
(1375 W. Lake St.) and grab a free libation or two! (If you're 21+) Walk the red carpet in your fancy/hilarious get ups (remember, thrift store formal attire). Watch out for paparazzi!
Sunday unofficial meet-up spots:

Lunch:
Piece
(New Haven Style Pizza) - 1927 W. North Ave.
When & Where

New Threadless HQ
1260 Madison
Chicago, IL


Saturday, September 10, 2011 at 11:00 AM (CDT)
Add to my calendar
Organizer
Threadless
Threadless is a community-based t-shirt company that prints awesome designs created and chosen by you!