THOMAS THORSPECKEN WS_6 "Beyond Paper and Pencil: Digital Sketching on Loc...
Description
WORKSHOP 6: Beyond Paper and Pencil: Digital Sketching on Location
DATE: Saturday, September 29, 2018 6:00 pm to 9:00 pm
INSTRUCTOR: Thomas Thorspecken
LOCATION: Downtown Orlando. Location TBD
For the second year, Urban Sketchers Orlando is taking part in 10x10, the worldwide initiative to offer educational workshops wherever sketchers live. Launched in celebration of Urban Sketchers' 10th anniversary in 2017, the program brings a variety of courses on urban sketching techniques taught by talented local instructors in their home cities. In 2017, cities around the world began offering 10x10, a series of 10 courses telling the stories of our places. For 2018, Urban Sketchers have a new creative plan of long term workshops.
DESCRIPTION:
Sometimes paper and pencil just aren't ideal for a project. Get out and sketch digitally, a fast and forgiving way to capture dark places such as theatres or concerts, night time scenes with incredible lighting, or just for a change of pace. Straight from the World of Sketch-reportage journalism Thomas Thorspecken will guide you through Digital sketching medium and onto your iPad.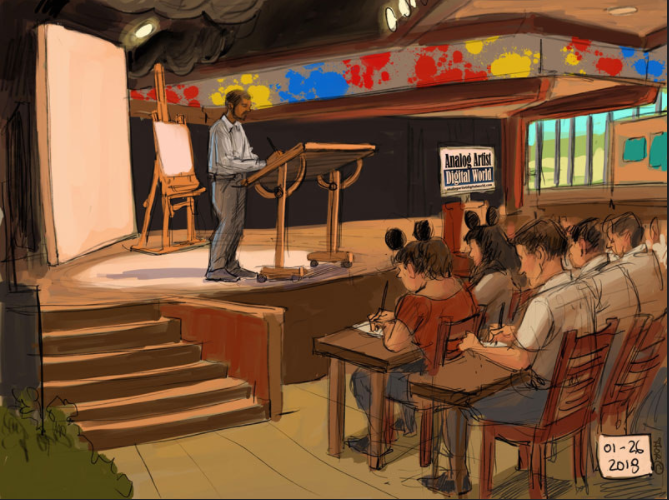 SUPPLIES:
Digital sketching materials recommended:
iPad, iPhone, iPencil, Procreate, or other digital program.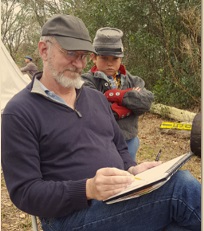 Thomas Thorspecken (Orlando, FL)
Thorspecken is a correspondent for the Urban Sketchers organization since 2009 and has been an official Urban Sketching instructor for two years. An illustrator and journalist he is working in and around Central Florida and has been documenting arts and entertainment for eight years in one sketch a day for his online news site, Analog Artist Digital World. Thorspecken was an animation artist for Disney for 10 years and has taught courses at Full Sail University and Elite Animation Academy. USk Correspondent
CLICK HERE TO SELECT MORE COURSES FROM OUR 10X10 WORKSHOP SERIES