Thomas Mantz - Partnerships Beyond Profit

Thursday, April 14, 2016 from 6:00 PM to 8:00 PM (EDT)
Event Details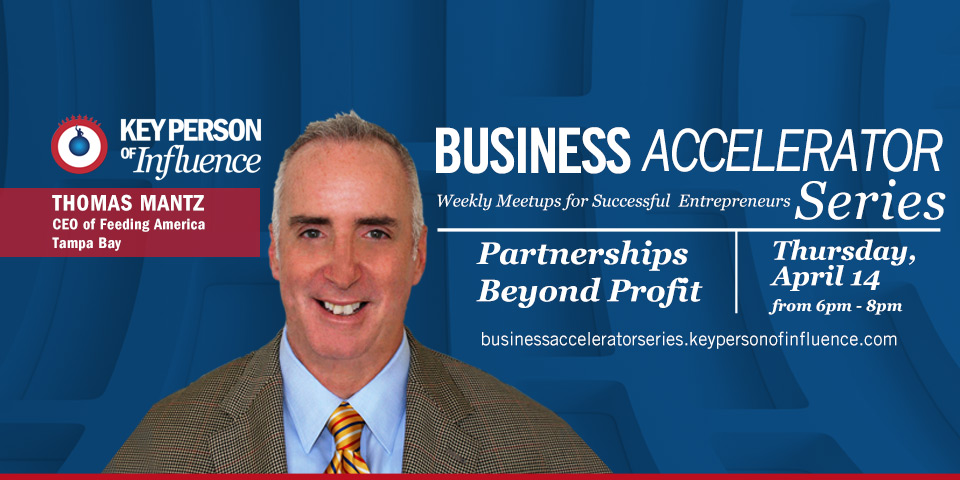 ---
THIS WEEK'S TOPIC: 
PARTNERSHIP: Partnership Beyond Profit

with Thomas Mantz

$20 At the Door / $10 Advance Purchase through EventBrite

At this Business Accelerator event, one that is special to our hearts, you will get to know more about a Tampa Bay non-profit organization that is supporting the health and well-being of Tampa Bay's hungry kids and hard-working residents. As business owners, we are always looking for meaningful strategic partners to align with in order to grow our client bases and improve our profit margins, but some partnerships go beyond profit and provide deeply-meaningful value to your personal, corporate, and community ethos.
This is sure to be a memorable business accelerator event, as we will be hearing from one of Tampa's most influential leaders in the non-profit sector.  He will share why he left a high paying corporate life to serve a higher purpose for a lower salary and still finds it more rewarding than anything he's ever been a part of.  This event won't just share successful strategies to develop and forge powerful community partnerships, it will reconnect you with what really matters in business.  At Key Person of Influence, we firmly believe that entrepreneurs are to make money so that we can contribute back to our society in meaningful and powerful ways.  And this doesn't necessarily mean that we make money to give it away, either.  Here's an example of how our Managing Director, Topher Morrison, partnered with Feeding Tampa Bay to create a deeper impact in Tampa Bay.


About Feeding America Tampa Bay:

In this Business Accelerator, you will have the opportunity to spend two hours with Thomas Mantz, CEO of Feeding America Tampa Bay, and find out how he has forged powerful alliances with some of Tampa Bay's most influential organizations, like Winn Dixie, by locking arms to improve the wellness of our community, for no measurable revenue-generating ROI. That's a tough sell for any company who has a COO with a sharp pencil. Why is it important for a growing company to align with the right non-profit or community organization? You'll find that out, too, along with other insights like:

How to approach someone for sponsorship

How to ensure partnerships are going to be beneficial for both parties

What are the key motivators large corporations use to justify sponsorships

How to get through to the decision-makers and avoid wasted meetings with people who can't help.

WHO SHOULD ATTEND?
Business owners who want to align with the right non-profit or community-focused organization

Business owners who want to make a contribution to their community beyond just making money

Business owners who seek to create out-of-the-box alliances with other companies

Business owners who are looking for insights into large corporate sponsorships


Business owners who want to network and associate with other established business owners

Key Executive Management Leaders who need to forge alliances with other companies

Business Acumen Rating: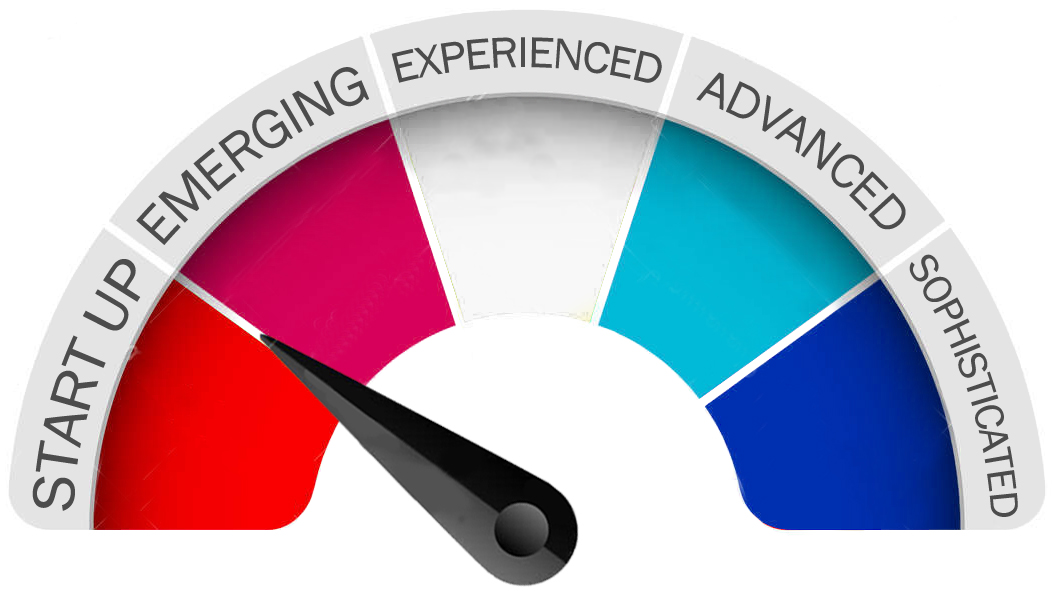 Ticket Price: $20 At the Door, $10 In Advance
ABOUT THE CONTRIBUTOR: 
Thomas Mantz

Thomas Mantz joined Feeding Tampa Bay as Executive Director in October of 2012. During Thomas' tenure with the foodbank the organization has seen significant growth.  In three years meals to the community have doubled from 20 million to 40 million delivered, direct service programs have increased, fundraising has risen by over 30% and in the fall of 2015 the organization launched a new strategic plan while unveiling major upgrades to facilities and capacity in order to better serve the food insecure in Tampa Bay.  In 2014 Feeding Tampa Bay was named 'non-profit of the year' by WEDU and was a finalist for non-profit of the year in 2015 for the Tampa Bay Business Journal.  The organization was also given the prestigious "Neighborhood Builder' award from Bank of America in 2013.

Previously, Thomas served as the Executive Director of Second Harvest of Jacksonville from 2009 to 2011, after five years as the chief operating officer at Christ Episcopal Church in Ponte Vedra Beach. Prior to that, Mantz worked as executive director of the Episcopal Foundation of Florida (2002-04) and as president of the First Coast non-profit organization, Dignity U Wear Foundation, Inc. (2000-02). During a 17-year career in the finance industry in Jacksonville beginning in 1982, Mantz spent his years as an operations executive in the banking industry in Florida, New York and Moscow, Russia, before returning to Jacksonville and beginning his work in the non-profit community in 2000.   

Some of Mantz's accomplishments include the creation of a free medical clinic serving the working poor in Jacksonville Beach, Florida; the fundraise and build out of a $12 million capital campaign for new church facilities; the increase of food delivered into the community by almost 300% during his tenure at Second Harvest North Florida; and the funding for and completion of a schoolhouse in Belize.  Mantz has been a fundraiser in the secular and faith-based communities and has specialized in building the capacities of each organization with which he has been involved.  He has also served on the boards of several non-profits including the Beaches Medical Center, Amistad, a Bolivian orphanage, and The Sulzbacher Center, as a member of their medical services sub-committee.  While a member of the for-profit community, Mantz led an effort to start a joint US-Russia financial services company in Moscow, Russia in 1995 and 1996 and worked as a key executive for several Fortune 50 companies, providing leadership for customer service and operations over his career.

Thomas is a graduate of the University of North Florida with a B.A. in Political Science.

About Feeding America Tampa Bay
Founded in 1982, Feeding Tampa Bay is the largest food rescue and distribution organization in the community, serving over 700,000 hungry Floridians over a 10 county area. Feeding Tampa Bay recovers surplus food donations from growers, manufacturers, supermarkets and organized community food drives and distributes through a partnership network of more than 600 faith-based and other incorporated non-profit hunger relief organizations.  Feeding America Tampa Bay supplied more than 47 million pounds of food in 2015, enough to provide more than 3 million meals every month to those who would otherwise go hungry. 

When & Where

Key Person of Influence-USA, Tampa Offices
412 E. Madison St.
Suite 800
Tampa, FL 33602


Thursday, April 14, 2016 from 6:00 PM to 8:00 PM (EDT)
Add to my calendar
Organizer
Welcome to the Key Person of Influence events page for Eventbrite. 

Our Profitable CEO Workshop Series is exclusively for owners and C-suite executives of successful, growing, professional service companies. Most of these workshops are ticketed events through Eventbrite.
These workshops aren't generic or boring presentations; they are highly-interactive conversations backed with implementable, proven strategies. You will be able to ask your specific questions to get the answers you need for your business to excel in this new collaboration economy.
Our KPI CEO Socials are are casual but highly-vetted, high-level gatherings for the sole purpose of connecting with area leaders, and connecting them to one another.  These socials are by invitation-only and are limited to 12 attendees. To be considered for an upcoming CEO Social, visit our landing page for list of qualifications and for more info:  CLICK HERE FOR INFO
To learn more about our Personal Brand Accelerator program, and for video testimonials from some of our clients, visit our website: KEYPERSONOFINFLUENCEUSA.COM

---