THNK Beyond Black is a virtual panel event. It's a holistic discussion (cultural, economic and political) on black identity in the present.
About this event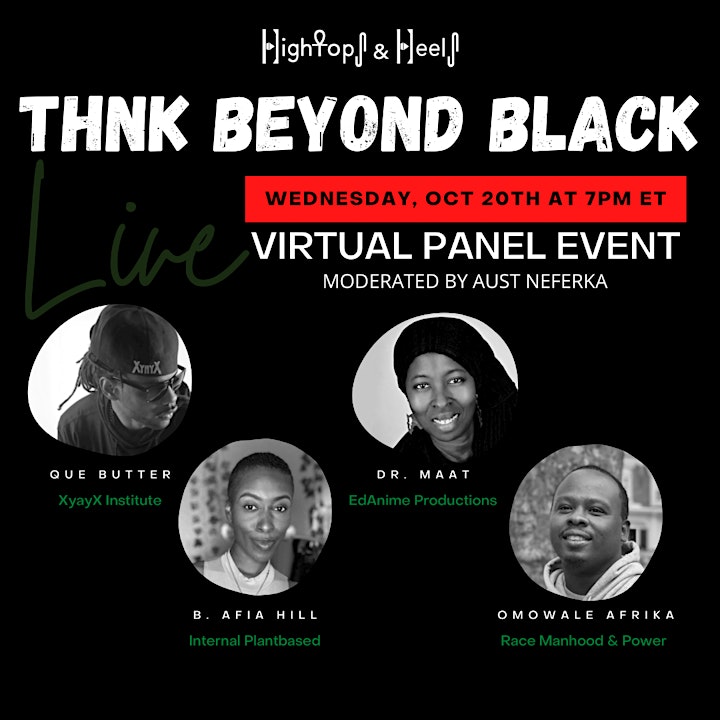 Hightops & Heels presents THNK Beyond Black
This is a private panel event. You must register to get the URL link.
Engage esteemed educators on this powerful panel of active architects who are doing real work. We'll dig into the problems and opportunities we face collectively in regards to identity, and explore the possibilities of an identity that can finally unify our global nation.
Our Panelists
Dr. Oya Adwoa Ma'at is a dedicated educator native to Baltimore, Maryland. She is the Co-Founder and CEO of EdAnime Productions and Truth to Power Talk. Dr. Ma'at is a strong advocate of education and is deeply committed to making learning enjoyable for children.
Based in the heart of Brooklyn, Quinton "QueButter" Spikener is the Founder and CEO of XyayX Institute, XyayX Multimedia Productions and XyayX Music Group. QueButter's passion for music and strong dedication to uplifting his community is commendable.
An original wombman, mother and wife born and raised in Harlem, New York, B. Hill is Founder and CEO of BHill Artistry Inc. She also founded Art Education with B. Hill, an international art education foundation. Afia is also a Holistic Health Consultant and Co-Founder of a family business, Internal Plantbased.
Omowale Afrika is an educator with over 17 years of student & community organizing experience. He is a Philly native and actively serving in several community organizations. Omowale is the Creator of the Race Manhood and Power Podcast and Cobra Calisthenics Training.
Moderator: AUST NEFERKA
Farmer, Healing Artist and Organizer, Aust NeferKa is an educator, cosmic wisdom keeper, and spiritual warrior. Her modalities include restorative agriculture and herbalism. She is the Co-Founder of Tehuti Ma'at and Hightops & Heels.
❤️🖤💚
Hightops & Heels aims to unite the Afrikan diaspora through creative content, visual art, music, and journalism to take ownership of our dynamic collective narrative. Hightops & Heels is the media branch of Tehuti Ma'at.
Tehuti Ma'at is a revolutionary instrument focusing on the liberation of Afrakan people worldwide through institution development in the areas of Healing, Art and Education.
THNK is our holistic education platform which you can learn more about here: tehutimaat.org/thnk
These virtual events are also an opportunity to invite monetary resources to support the work of Tehuti Ma'at. We choose to ask for donations instead of setting a price because we welcome the spirit of giving reciprocally aknowledging that money is unable to truly capture the value of the offering.
We trust that those who are interested will honestly offer what they can. For those who need a hint or baseline, we suggest a minimum of $11.
All contributions are valued, no matter how small. Clearly no one is turned away for lack of funds.
We look forward to being with you.
Organizer of THNK Beyond Black
Hightops and Heels is the digital media brand of Tehuti Ma'at Association. Tehuti Ma'at serves as a resource mechanism to foster the political, social and economic empowerment of people of African ascent through healing, knowledge and implementation. Our areas of focus are: HEALING, EDUCATION and ART