Sales Have Ended
Registrations are closed
Thank you for registering for THIS WORKS SUMMIT! We look forward to meeting you on June 29!
Sales Have Ended
Registrations are closed
Thank you for registering for THIS WORKS SUMMIT! We look forward to meeting you on June 29!
Description
Over the past years, the headlines surrounding Southern Europe have pained a doomsday picture of the region. But a group of people did not give up - social entrepreneurs like Sandra Schurmann, founder of JobAct from Germany and Alvaro Osuna, director of Lanzaderas from Spain seized the opportunity and are working together to create new models that offer a more dynamic approach to resolving local, national and European unemployment.
THIS WORKS Summit will provide European and national policy makers, as well as social investors and philanthropists a unique opportunity to meet 10 outstanding social innovators and their partners and discuss how the programmes they developed could be transferred and applied elsewhere in Europe to scale their social impact.
The Summit is part of THIS WORKS initiative launched in 2014 by Ashoka and the Robert Bosch Stiftung from the conviction that focusing on opportunities and existing innovative proven solutions instead of problems is one of the keys to putting an end to the employment crisis in Southern Europe.
The event is an excellent platform for policy makers, philanthropists and social investors to
Meet 10 outstanding social innovators and discover their solutions for challenges connected to employment, migration, skills mismatch, youth empowerment...
Discuss how policy makers and philanthropic actors could contribute to transferring these solutions elsewhere and scaling their impact through innovative EU employment and entrepreneurship policies
Learn from what worked and what didn't work in scaling innovations across Europe
Stimulate collaborations and new partnerships across Europe and beyond sectors.
Come to discover innovations like JobAct from Germany which increases employability by fostering self-discovery through theatre and arts and outperforms state agencies' rates by 24%. Or learn from Alvaro about Lanzaderas from Spain, a new methodology which creates self-help teams of 20 unemployed and empowers them to tap into each other's resources to find a job. According to a recent impact study, the job placement rate of people benefitting from Lanzaderas is 20.9 percentage points higher, 60% of them finding a job as a result of the program. The impact of the project also led the Spanish authorities to sign a partnership earmarking ESF funds to scale the model to 550 Lanzaderas and reaching over 11,000 people by 2020.
Join us on June 29 and help us spread these solutions not only in one or more Southern European countries, but also inspire other Member States to adapt them to their own contexts!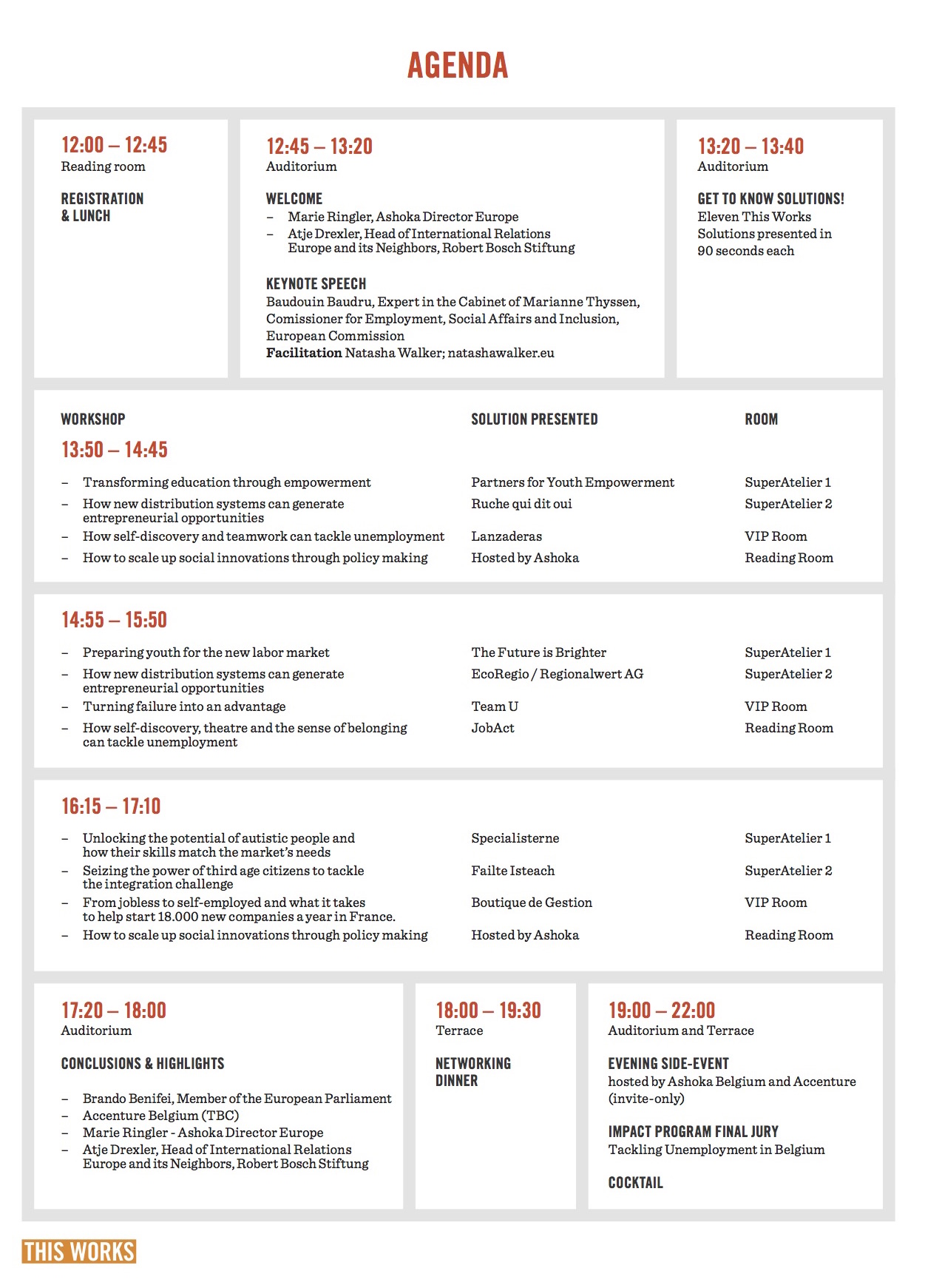 Discover here more about THIS WORKS Summit Solutions and download the agenda!