Description


Enjoy wine, beer, and snacks while listening to one of the world's leading authorities on information warfare describe the new global un-reality.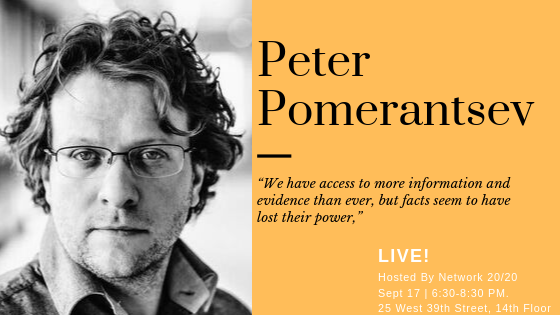 Perhaps the most important global trend of the last few years has been the rise—and transformation—of information warfare. In the digital age, real military engagement matters less than how it is broadcast. The result is a constant deluge of lies, shock humor, absurdity, and fear-mongering—a circus atmosphere created to disorient us and undermine our sense of truth. Explore the contours of this new global order with Peter Pomerantsev, who learned information tactics from Twitter revolutionaries and pop-up populists, trolls, "behavioral change" salesmen and Infowar charlatans, Jihadi fan-boys, Identitarians, truth cops, and bot herders, and, perhaps most surprisingly, the KGB officers who forced his own family into exile.
Peter Pomerantsev is author of This Is Not Propaganda: Adventures in the War Against Reality and is a Visiting Senior Fellow at the Institute of Global Affairs at the London School of Economics, an author and TV producer. He studies propaganda and media development and has testified on the challenges of information war to the US House Foreign Affairs Committee, US Senate Foreign Relations Committee, and the UK Parliament Defense Select Committee. He writes for publications including Granta, The Atlantic, Financial Times, London Review of Books, Politico and many others. His first book, Nothing is True and Everything is Possible, won the 2016 Royal Society of Literature Ondaatje Prize, was nominated for the Samuel Johnson, Guardian First Book, Pushkin House and Gordon Burns Prizes. It has been translated into over a dozen languages.