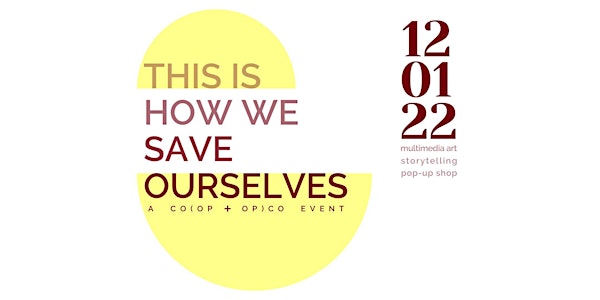 This is How We Save Ourselves - A Multi-Day Event
Multi-media art exhibit, pop-up gift shop, restorative yoga & story-art workshop benefiting survivors of sexual trauma.
When and where
Location
Wallspace 7701 Santa Monica Boulevard West Hollywood, CA 90046
About this event
Join us for a powerful and uplifting weekend of community gathering.
We believe in the alchemical power of art. By processing our trauma through creative expression, we move it out of our bodies and into material form where we can see it instead of just feel it. In this exhibit, we want to honor what we've survived. By uplifting this work, we can claim ourselves as separate from what happened to us, and cultivate collective conversations.
This event is hosted by CO(OP, a community of sexual trauma survivors, and OP(CO, a platform dedicated to publishing, exhibiting, and archiving survival stories.
THURSDAY, December 1, 6:00pm- 9:00pm
Exhibit Opening: This is How We Save Ourselves Multi-Media Exhibit
An evening celebrating survival featuring multi-media art, film, and stories from survivors.
FRIDAY, December 2, 7:00pm - 9:00pm
An Evening of Restorative Yoga
A time to rest, restore, and connect.
SATURDAY, December 3, 3:00 - 5:00
Trauma-Informed Group Art Workshop
Use art and storytelling to help process your trauma. We'll explore how trauma-informed storytelling can be a container for your experiences, and how those stories can be told via words and images.
All events are free. Space is limited. Click "Reserve a Spot" and select which part(s) of the event you would like to attend. This will ensure entrance.
All proceeds from this event benefit our Micro-Grant Program launching early 2023, where survivors can apply for small grants to fund their healing.
For more about CO(OP + OP(CO, visit us on Instagram.