Description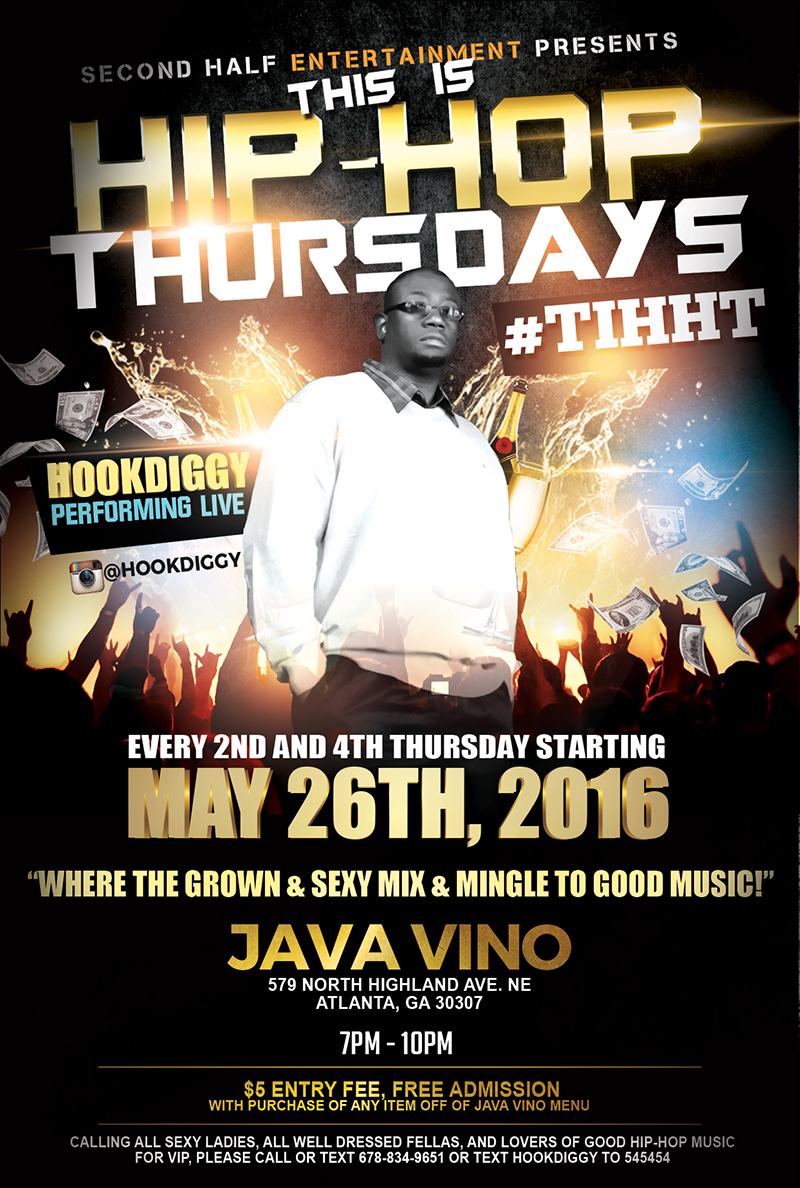 THIS IS HIP-HOP THURSDAYS! EVERY 2ND & 4TH THURSDAY STARTING MAY 26TH, 2016!

WHERE THE GROWN & SEXY MIX AND MINGLE TO GOOD MUSIC!

Calling all sexy ladies, all well dressed fellas, and lovers of good hip-hop music. Come out and join us every Thursday starting May 26, 2016 at JavaVino in Atlanta for This Is Hip Hop Thursdays #tihht. This is a hip-hop music night featuring a live performance by Progressive Hip-Hop Artist Hookdiggy as well as the hottest hip-hop music and environment. This is a great place to come mingle, party, dance, have a drink, and network with other lovers of hip-hop music and the culture.

Admission is $5, but you can get in for free if you make a same day purchase at JavaVino. We're all about support!
FAQ:
Is THIS IS HIP-HOP THURSDAYS an artist showcase?
No. #TIHHT is hip-hop music night put on by Second Half Entertainment to celebrate hip-hop culture. The only performance will be by the label's artist Hookdiggy.

Can I perform at THIS IS HIP-HOP THURSDAYS?
Not at this time. We are currently only focused on promoting the label's artist and associate brands and vendors.

What can I expect at THIS IS HIP-HOP THURSDAYS?
A chill vibe and celebration of hip-hop music. Networking and kick back winding out. There will be a DJ, plenty of photo ops, food and drink, and from time to time vendors who will be showcasing hip-hop gear and other paraphernalia related to the genre. Then to top off, the evening, there will be a performance by progressive hip-hop artist Hookdiggy featuring J Spence on the drums, and singer Ceedro.
How can I get special VIP treatment THIS IS HIP-HOP THURSDAYS?

Sign up on our mailing list to be added on our VIP list!
So what, I signed up for list, what do I get as a VIP at THIS IS HIP-HOP THURSDAYS?

VIPs get free entry to the first show on May 26th and half off entry for the remainder of the year. VIPs also get preferred seating as well as other swag given away during the evening. So sign up already!
Text HOOKDIGGY to 545454 for Exclusive Entry and for VIP Section, call 678-834-9651.
Be sure to follow @secondhalfent and @hookdiggy on Instagram. Call or text 678-834-9651 for media inquiries, VIP access, or more information.

Check out the promo videos at: http://www.secondhalfent.com.
Like us on Facebook at: http://www.facebook.com/thisishiphopthursdays