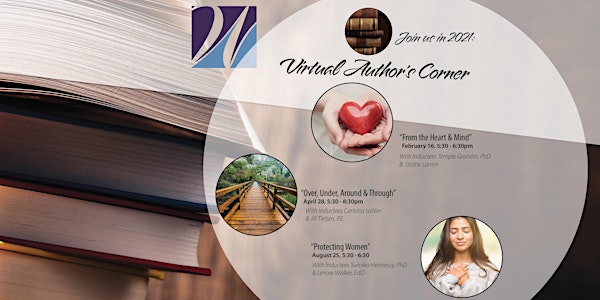 THIS EVENT HAS BEEN POSTPONED Virtual Author's Corner #3 "Protecting Women"
Author's Corner - "Protecting Women": August 25, 2021
About this event
Join us for the Colorado Women's Hall of Fame's third and last Author's Corner for 2021 - August 25, 2021 from 5:30 - 6:30 featuring Hall Inductees Sumiko Hennessy, PhD, and Dr. Lenore Walker.
This event is free but donations are appreciated! Donate

About Sumiko Hennessy, PhD
Always interested in both foreign service and social work, Sumiko Hennessy attended school in Belgium before receiving a social work degree in New York and a doctorate from the University of Denver. She was a founding board member and executive director of the Asian Pacific Development Center in Denver, which provides outpatient mental health services, information and referrals, drug and alcohol abuse counseling, and domestic abuse assistance to the Asian immigrant and Asian-American population. Currently she and her husband founded Crossroads for Social Work, LLC to train mental health professionals both in Japan and the United States.
About Dr. Lenore Walker
Dr. Lenore E. Walker has been a pioneer in the field of domestic violence in her private practice as well as at the state, national, and international levels. She is a licensed psychologist and, prior to moving to Florida, was president and chief executive officer of Walker & Associates of Denver. She also founded the Domestic Violence Institute, which conducts research on family violence. Lenore has been instrumental in the design and development of policy, training programs, and legislative reform and frequently testifies as an expert witness in legal actions involving abused persons. She wrote "The Battered Woman," a groundbreaking book of interviews with abused women that won the Distinguished Media Award in 1979. Her newest book is a mystery novel, "Madness to Murder" that soon will be available on Amazon. Visit Dr. Walker's site: