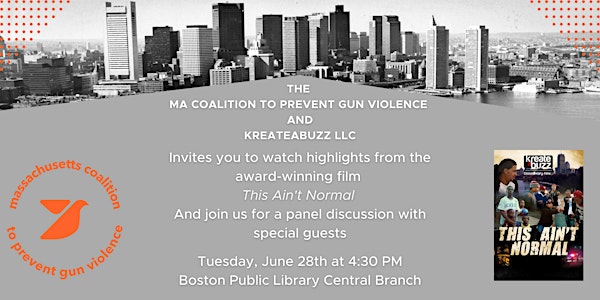 This Ain't Normal film screening at the Boston Public Library
Location
Boston Public Library - Central Library
700 Boylston Street
Boston, MA 02116
Join us for a screening of documentary film This Ain't Normal and a panel discussion about the impact violence has on youth in Boston
About this event
Join the Massachusetts Coalition to Prevent Gun Violence, Kreatabuzz Films, and the Boston Public Library for a screening of highlights from the Emmy nominated documentary This Ain't Normal, a film focused on violence and the impact it has on youth in Boston, followed by a panel discussion about the importance of violence prevention. This event is generously sponsored by the Galen Fund.
The screening will start at 4:30 at the Boston Public Library Central Branch.
Panel discussion:
Moderator: Ruth Zakarin, MA Coalition to Prevent Gun Violence
Trey Pound
Beverly Mayo
Donald Osgood Sr.,
Coach Dennis G. Wilson
Special guests: Leon Smith (CfJJ) and Frank Farrow, Black Male Advancement
This Ain't Normal is an Emmy nominated and award-winning documentary film that lasers in on this national crisis of gangs in major cities, introducing five young men, each with wrenching histories, and a proven Boston intervention model to help these endangered youngsters exit gangs. The street mentors reveal their own stories of gang life, jail and trauma. With the street cred to win their young proteges' trust, they redirect these youths to education, job training, and counseling. The take-away? As disastrous as gang violence is across U.S. cities, This Ain't Normal unveils a workable solution, one that can lower the toll of jail terms, gun violence, high homicides rates and help inner-city youth survive and thrive.