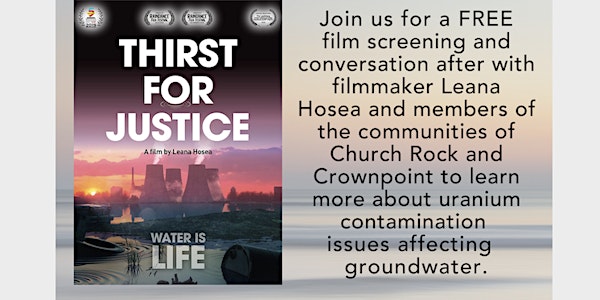 Thirst for Justice Film Screening for Indigenous Peoples Day
Film Screening of "Thirst for Justice" and Conversation with filmmaker Leana Hosea & members of Eastern Navajo Diné Against Uranium Mining
About this event
The Museum of Indian Arts & Culture and the New Mexico Environmental Law Center are co-hosting a FREE film event on October 10th, 1 - 3 pm in honor of Indigenous People's Day 2021.
Water is life. Water is the lifeblood of the planet. Access to a clean environment is vital to the continuation of language and culture. Each indigenous community has their distinct cultural and spiritual ties to the land and the environment which provides subsistence and natural materials for traditional practices and art.
Storyline for the film:
You might think America is a democracy, where freedom of speech and basic rights are guaranteed. But at its heart, there is a great injustice. Against all the odds several extraordinary citizens are banding together and fighting back for their basic right to clean water. Armed only with facts and their illnesses, they risk arrest to take on the might of industry and government. From Flint to the Navajo Nation, via Standing Rock, this is their story.—Leana Hosea
The threat to groundwater by extractive colonialism is an environmental justice issue that many communities of color face. The Navajo Nation and its people have suffered disproportionately from the legacy of uranium mining and processing on Navajo lands. Many Navajo uranium workers and their families have become ill, and many have died, from diseases associated both with the uranium work itself and with living near uranium mines, mills, and waste dumps. Other tribes, like the Ute Mountain Ute community of White Mesa in southeastern Utah, Acoma and Laguna pueblos, Hopi and Zuni Nations, Spokane Tribe of Indians, Oglala Sioux Nation, and the Havasupai Tribe in the Grand Canyon, also face threats posed by present day uranium operations.
Join us in this FREE online event to learn more about the Eastern Navajo Diné Against Uranium Mining's petition to the Inter-American Commission on Human Rights against the United States for "its acts and omissions that have contaminated and will continue to contaminate natural resources in the Diné communities of Crownpoint and Church Rock". Representatives from these Diné communities will join filmmaker Leana Hosea in a Q/A session after the film screening.
Zoom link will be sent after registration.