Learn how to make Specialty Coffee with Breville Espresso Machines from US Barista Champion Andrea Allen. Ideal for new & existing owners.
About this event
Coffee Industry Professionals from Onyx Coffee Lab will guide you along in your journey of re-creating Third Wave Specialty Coffee beverages at home.
Learn how to create café quality drinks at home with your Breville Espresso Machine. These classes will go into detail on how grind size and dose amount play a crucial role in extracting the right flavors, signs to look for and how to adjust your settings to perfect your espresso extraction results. Class is designed to be interactive. Volunteers can ask questions live and share their screen to receive tips from the instructor.
In addition, you will earn some basic milk steaming techniques, giving you the fundamentals to experiment with latte art. Can't wait to make some great espresso with you.
Virtual Setup Recommendations
Best viewing is seen via large monitor(s) vs a handheld smartphone. Laptop/Desktop with audio and video capabilities.
High Speed Internet Access
Best experience is to set up next to your home espresso machine as you will be asked to pull shots and texture milk.
What to have on hand for your virtual class
1 Gallon Milk - Whole Milk If using a Milk Alternative, we recommend Oat Milk for optimal results.
Espresso machine and Grinder
Milk Jug
Tamp
Portafilter
2x Cleaning towel
Event Ticket Details
By signing up for this Complimentary event, you are opting in to receive Breville marketing emails. You can unsubscribe from these emails at any time.
About Onyx Coffee Lab
Our approach to serving coffee begins way before there's a customer in front of us. Teaching the fundamentals of coffee and espresso, from farming to cupping to preparation starts with in depth classes, hands on skillset development, and repetition in our training lab. We are proud of the time and expertise our trainers spend with each of our staff members, and this knowledge extends to our wholesale partners and the coffee enthusiast. We host curriculum for high end cafes and home users alike.
Learn more about Onyx Coffee Lab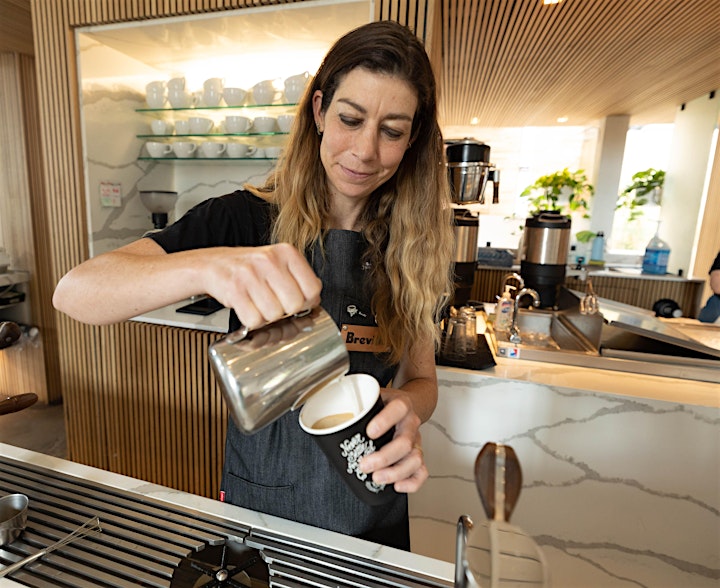 About Andrea Allen
Andrea Allen is the 2020 US Barista Champion and Co-Owner of Onyx Coffee Lab in Arkansas. Business owner, mom, and wife she loves all things brewed coffee and espresso.
FUN FACT: Andrea once super glued a cup back together and then used it to serve a milk drink in a competition.