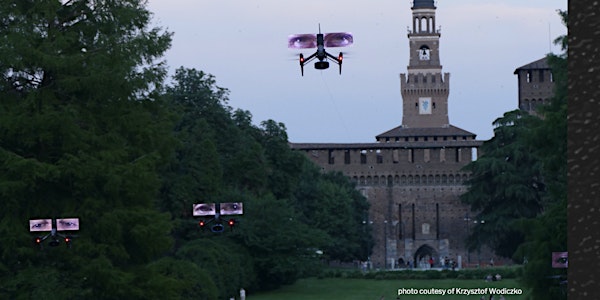 Third Thursday:Krzysztof Wodiczko
Ken Lum in conversation with artist and professor Krzysztof Wodiczko about his large scale visual art projections.
About this event
Ken Lum is known for his conceptual and representational art in a number of media, including painting, sculpture and photography. A longtime professor, he currently is the Chair of Fine Arts at the University of Pennsylvania's Stuart Weitzman School of Design in Philadelphia.
Krzysztof Wodiczko is born 1943 in Warsaw, Poland, lives and works in New York City, Cambridge, Massachusetts, and Warsaw. His projections on architectural facades, and monuments as well as especially designed performative instruments give a public voice to the marginalized city residents. Krzysztof Wodiczko has held retrospective exhibitions at numerous museums and his work has been presented at Documenta, Venice Biennale, Whitney Biennial, and many other art festivals. He received the 4th Hiroshima Art Price "for his contribution as an international artist to the world peace". He is a former director of the MIT's Center for Advanced Visual Studies and Professor of Art, Design and the Public Domain, Emeritus, at G.S.D, Harvard. His is presently teaching as a Distinguished Visiting Professor at Weitzman School of Design, UPenn The film documenting his artistic work The Art of Un-War directed by Maria Niro and released in 2022, is distributed by New Day Films.Krzysztof Wodiczko's books include Critical Vehicles, MIT Press, Krzysztof Wodiczko, The Abolition of War, and The Transformative Avant-Garde, published by Black Dog Press.