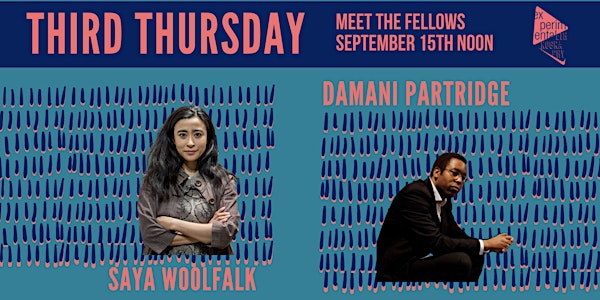 Third Thursday: Meet the Fellows
Introducing Damani Partridge and Saya Woolfalk
About this event
Come join us for our first Third Thursday of Fall, where we introduce our incoming Fall Fellows, Dr. Damani Partridge and Saya Woolfalk.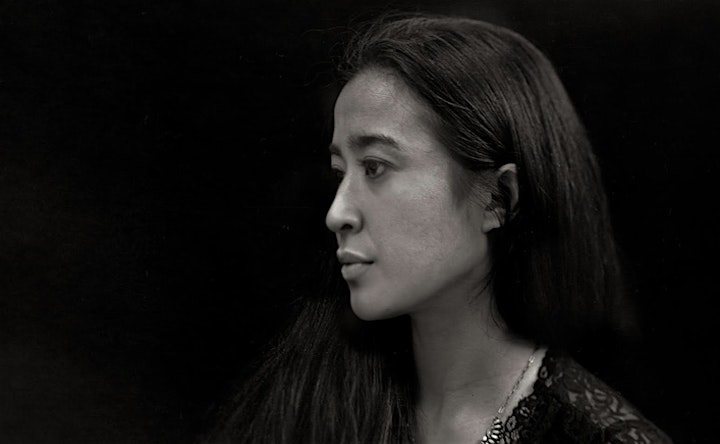 Saya Woolfalk
Photo by LaMont Hamilton
This Fall, we will welcome Saya Woolfalk as one of our two incoming fellows. Saya Woolfalk (Japan, 1979) is a New York based artist who uses science fiction and fantasy to re-imagine the world in multiple dimensions.  With the multi year projects No Place, The Empathics, and ChimaTEK, Woolfalk has created the world of the Empathics, a fictional race of women who are able to alter their genetic make-up and fuse with plants. With each body of work, Woolfalk continues to build the narrative of these women's lives, and questions the utopian possibilities of cultural hybridity. 
She has exhibited at museums, galleries, and alternative spaces throughout Asia, Europe and the United States including solo exhibitions at the Montclair Art Museum (2012); the Chrysler Museum of Art (2014); SCAD Museum, Savannah, GA (2016), among others, and group shows at the Studio Museum in Harlem; MoMA PS1; the Warhol Museum, the Museum of Contemporary Art, Chicago, among others.
Works by the artist are in the collections of major institutions, including ) the Whitney Museum of American Art and the Seattle Art Museum where her major multi-media installation, commissioned and acquired by the Museum, is on extended view.  
Woolfalk is the recipient of numerous honors, awards, and commissions. She has delivered numerous public lectures at museums and universities throughout the United States including a recent TED X Talk. She is represented by Leslie Tonkonow Artworks + Projects, New York and teaches in MFA program at Yale School of Art as well as in the BFA and MFA programs at Parsons: The New School for Design.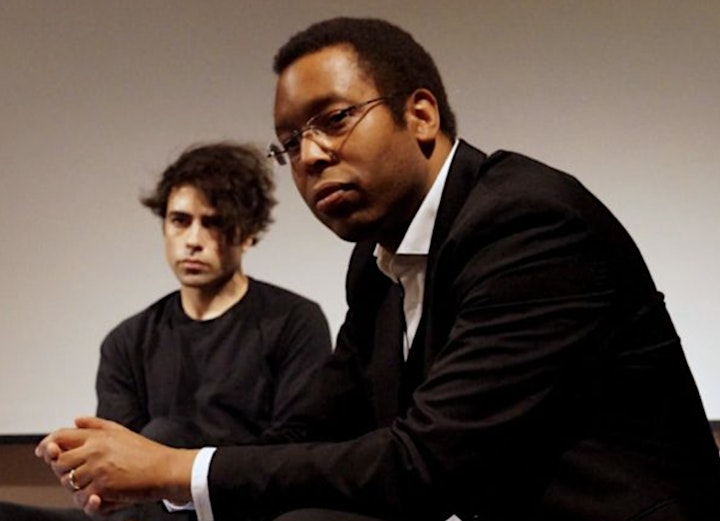 Damani Partridge
Dr. Damani J. Partridge joins us as Fall 2022 Spring Fellow. He is a Professor of Anthropology and Afroamerican and African Studies at the University of Michigan, as well as an affiliate with the Department of Germanic Languages and Literatures. Dr. Partridge has published broadly on questions of citizenship, affect, urban space, sexuality, decolonization, post-Cold War "freedom," Holocaust memorialization, African-American military occupation, Blackness and embodiment, the production of noncitizens, the culture and politics of "fair trade," and the Obama moment in Berlin.
He has also made and worked on documentaries for private and public broadcasters in the United States and Canada, and currently directs the Filming Future Cities Project in Detroit and Berlin. In Berlin, Dr. Partridge worked with students from Canada, the UK, the US, and over 15 refugees from Syria, spending over a month making short films about pity, solidarity, flight, depression, gentrification, and the (im)possibility of simultaneously being an artist and a refugee.  The first screening at Berlin's Moviemento theater was filled to capacity.
In Detroit, students created three short films that offered rare opportunities to see young people's perspectives on the future of Detroit.  They see and imagine Detroit through music, dance, anthropology, architecture, literature, history, school life, and life after school.  They also approach Detroit from the perspectives of race, gender, sexuality, wealth, democracy, urban life, suburban life, job prospects, creative projects, education, and the future.  In thinking about the future, they think about the extent to which Detroit is representative of American futures more broadly, and to what extent it is the exception.  They also examine Detroit's place in the world.
His first book, Hypersexuality and headscarves: Race, sex, and citizenship in the new Germany, was published in the New Anthropologies of Europe series with Indiana University Press in 2012. His forthcoming book, Blackness as a universal claim: Holocaust heritage, noncitizen politics, and Black power in Berlin will be published with the University of California Press in 2022.