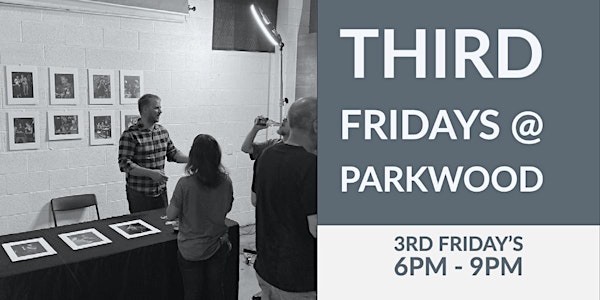 Third Friday Art Experience & Open House
Friday Art Shows is a city-wide EXPERIENCE, not just one single Location! Add Parkwood Studios to your Fridays route! Free admission, fre
When and where
Location
Parkwood Photography Studio 2212 East McDowell Road Phoenix, AZ 85006
About this event
Third Friday is a city-wide EXPERIENCE, not just one single Location!
Add Parkwood Studios to your Third Fridays route!  Free admission, free parking, family-friendly, and 7000+ square feet of cool air-conditioned comfort - plus refreshments!
Parkwood Studios is a creative space inviting all lovers of art to take in the beauty and creativity of experienced and emerging local artists and performers in a fun, casual atmosphere.  The art changes regularly; anything from handmade crafts to jewelry, fine art photography, painters, aerialists and pen & ink drawings to musicians and occasionally even jugglers!.  You can be certain to find something beautiful, thought-provoking, impressive, uplifting, or intriguing.  And if you fall in love, most pieces are available for purchase - just ask the artist! DID YOU KNOW... just two hours per week of art exposure can dramatically improve mental health and overall well being?  Research shows that just spending two hours appreciating art increases optimism and self-esteem, and reduces stress.
Come out and participate in one of the largest monthly art events in the nation.  Bring friends or come solo.  Mingle, nosh, and enjoy art.  Chat with the artists and attendees and enjoy the friendly vibe!  Local artists are revitalizing downtown Phoenix with amazing work.  While you're here, check out the huge mural on the north face of our building!
Doors open at 6 pm - Parking is always Free.  Parking available in front or rear lots of the building as well as free street overflow.
*Light Refreshments are provided compliments of the artists.