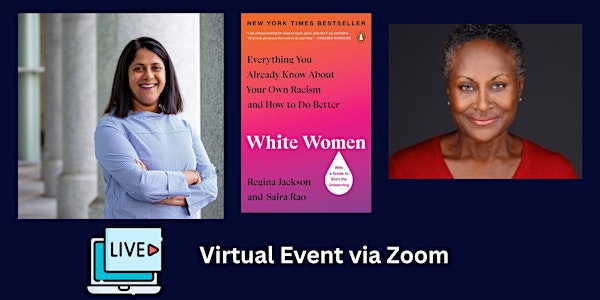 Third Eye Books Presents: Regina Jackson & Saira Rao - White Women
Regina and Saira will be discussing their book White Women Everything You Already Know About Your Own Racism and How to Do Better.
About this event
Refund Policy
All tickets are nonrefundable.
Eventbrite's fee is nonrefundable.
About this event
Third Eye Books Accessores and Gifts LLC is excited to have Regina Jackson and Saira Rao 100% of the proceeds raised for this virtual event will be donated to the Third Eye Books Expansion Fund.
By registering for this event, you agree to be respectful towards authors and other audience members and to refrain from inappropriate or disruptive behavior and/or harassment of any kind including, but not limited to: hate speech, spam comments, slurs, obscenities, etc. Any attendees who violate these community guidelines will be immediately ejected from this event and barred from attending future virtual events hosted by Third Eye Books Accessories and Gifts LLC.
Zoom Link Info:
The Zoom link will be available 30 minutes before the virtual event starts.
Please be advised you will be asked to enter the six-digit passcode in order to gain access to the zoom meeting; you will be placed in the waiting room the host will open up the meeting a few minutes before the event starts. We highly recommend that you login in a few minutes early to make sure that all technical issues on your end are resolved should you have any issues with the link please contact Michelle Lewis at sales@thirdeyebag.com.
About the Book:
"Deconstructing white women and white supremacy has never been more necessary than it is right now, and I am always looking for ways to learn, grow, shut the F up, and listen. This book gives you the tools to do just that." - Chelsea Handler -
"This book is a sharply-defined lens through which white women who consider themselves allies need to see themselves, especially if they have any hope of stopping their patterns of harmful behavior towards Black and Brown and Indigenous folx of color, truly divesting from whiteness, and actually taking action in the fight against racism and white supremacy. I hate how necessary and important this book is, but for the white women who are willing to read with open hearts and ears, Saira and Regina tell it exactly like it is. If and when white women are ready to commit to racial justice, they need to move quickly beyond performative wokeness and graduate from fragility, and this book is a foundational text for that master class. — Tina Strawn, author and activist
In WHITE WOMEN, Regina Jackson and SairaRao deliver a no frills, radically honest book that takes white women on a journey to confronting themselves and eradicating racism and white supremacy. As the founders of Race2Dinner, an organization which facilitates conversations between white women about racism and white supremacy, Jackson and Rao have noticed white women's tendency to maintain a veneer of niceness, and strive for perfection, even at the expense of anti-racist work.
The authors pose tough questions such as, how has being "nice" helped Black women, Indigenouswomen, and women of color? Has being "nice" helped white women in their quest to end sexism?Has being "nice" earned white women economic parity with white men? Beginning with freeingwhite women readers from a commitment to niceness that upholds oppression, Jackson and Raodeconstruct and analyze nine aspects of traditional white woman behavior--from tone-policing toweaponizing tears--that uphold white supremacy society and hurt all of us who are trying to live anequitable life. With it's real-talk style, White Women is a call to action to white women looking to take the next steps in dismantling white supremacy. To the unexpecting reader, this book could really unsettle you. Maybe even agitate you. If you feel uncomfortable reading this, great, that's thepoint. When you choose to face those unpleasant feelings, that's when the work of dismantling your racism and white supremacy begins.
About the Authors:
Saira Rao grew up in Richmond, Virginia, the daughter of Indian immigrants. For forty years, she wasted her precious time aspiring to be white and accepted by dominant white society, a futile task for anyone not born with white skin. Several years ago, Saira began the painful process of dismantling her own internalized oppression. Saira is a lawyer-by-training, a former congressional candidate, a published novelist and an entrepreneur.
Regina Jackson, born in 1950, remembers an America where everything was in. Black and white. Burned into her memory are; the beatings and horrific treatment of civil rights workers throughout the south, the Goodman, Chaney & Schwerner murders, the murder of Viola Liuzzo, the murder of Martin Luther King, Jr. and the murders of President John Kennedy and his brother Robert. The violence perpetrated on innocent people going about their lives, by white people. It is these memories that drive Regina to push for real change in America. Which is why she co-founded Race 2 Dinner.
More praise for WHITE WOMEN
"This book dares to tell necessary truths. The kind of truths that can save lives, and if heard with an open and heart — may even help save the soul of this lost nation."— Frederick Joseph, author of NewYork Times bestsellers Patriarchy Blues and The Black Friend
"I am excited for what this book means for us all. In a world where critical race theory is banned in classrooms across the USA, because the white people were not properly taught to think critically about their complicity in systemic oppression, this book is timely. We tend to tiptoe around whiteness, and this book rips the bandage off. This is the book many BIWOC have been needing to give to the white women in our lives; from our white co-workers to our white mother-in-laws, this book is no-holds-barred. This is the answer to many of our prayers." — Prisca Dorcas Mojica Rodríguez Author of For Brown Girls with Sharp Edges and Tender Hearts: A Love Letter to Women of Color
"Delivering clear and deliberate messaging, White Women enables white women to understand how our overt civility and desire to be nice above all else directly equates to racial avoidance and upholds white supremacy. It is the invitation you didn't realize you needed: accept it!" — Jo Lorenz, writer and co-founder of The Progressivists social media network