Third Eye Books Presents Author: Paula Chase - Keeping It Real
Third Eye Books is SUPER EXCITED! To host Paula Chase author of Keeping It Real.
About this event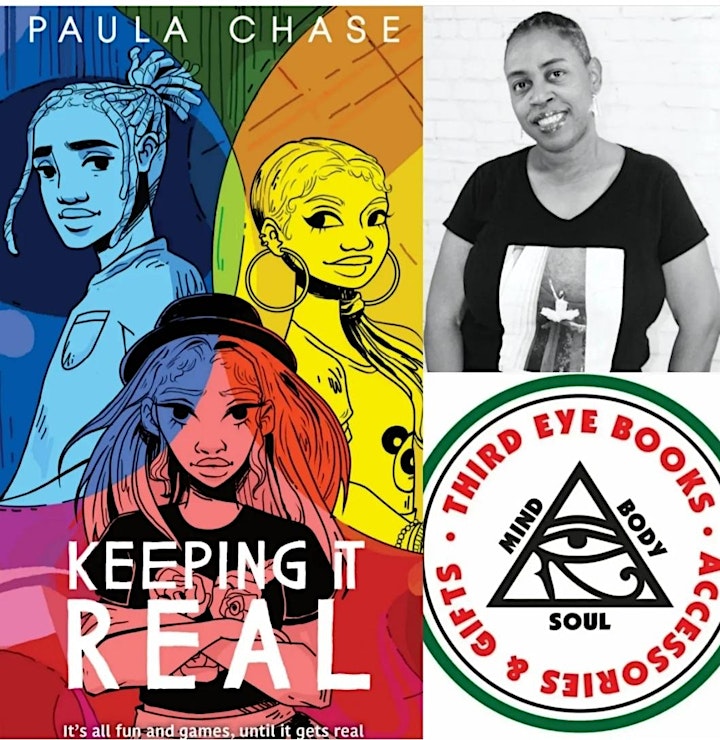 Paula Chase - Literary Warrior
Paula Chase has been wielding inclusion like a light saber against inequality in literature for more than 13 years. She has often been referred to as a Literary Warrior saving readers through her books that are making the transition from picture book to tween and middle grade literature.
With nine children's book to her credit, Chase is a long-time advocate for both readers' choice and diversifying the type of fiction featuring Black characters to go beyond the Black pain narrative that publishing continues to prop up as "the" average depiction of the Black experience - which is typically an urban story often marked by violence. Determined to stop the erasure of Black middle class life, in children's literature, Chase's goal is to create novels that showcases the cultural dynamics within the wider Black community of middle and working class.
The author uses her books to open discussion that explores:
Importance of reading as a lifestyle.
How frequently Black parents demand "lessons" in books for Black readers and how that can negatively impact a young readers desire to read for pleasure.
Encouraging the use of books as springboard for tough discussions between young readers and adults. Books can be used to discuss issues such as: family secrets, classism, cultural code switching, and defining Blackness by income.
Why we tend to lose readers as they enter middle school often because of lack of representation, emphasis on lessons and struggle vs. regular teen life through their eyes.
Chase's debut book So Done (Greenwillow/HarperCollins) was named a 2018 Kirkus Reviews Best Book, a Chicago Library Best of the Best Book and a 2020-21 Louisiana Young Readers Choice nominee. So Done and its companions, Dough Boys, and Turning Point are blazing the trail for books that tackle tough and sometimes taboo topics for younger readers. All of her books based in Black middle, upper middle class or working class communities, reinforce that the Black experience goes well beyond the single narrative of adversity over urban violence.
Her latest, Keeping It Real (Greenwillow/HarperCollins, October 19) is a powerful exploration of what happens when parents pick and choose what they shield their children from. Timely and memorable, Paula Chase's Black character-driven story touches on creativity, art, fashion, and music. A great choice for tween and teen readers stuck between traditional middle grade and young adult novels.
In 2008, Chase co-founded the award-winning blog, The Brown Bookshelf, with authors Varian Johnson, Kelly Starling Lyons and author/illustrator Don Tate.
The blog was designed to highlight the myriad of Black kid lit voices that didn't get attention in the mainstream media. The Brown Bookshelf's annual 28 Days Later campaign published in February draws thousands of views to under-the-radar authors and illustrators and won a 2019 Children's Book Council Diversity Award. The blog from its inception has advocated for diversity in children's literature, specifically books by Black writers and illustrators which have garner the attention of the publishing community.
Chase holds a B.S. in Communication from James Madison University. She resides in Maryland with her husband. Together, they've raised two daughters. More about her writing can be found
Organizer of Third Eye Books Presents Author: Paula Chase - Keeping It Real